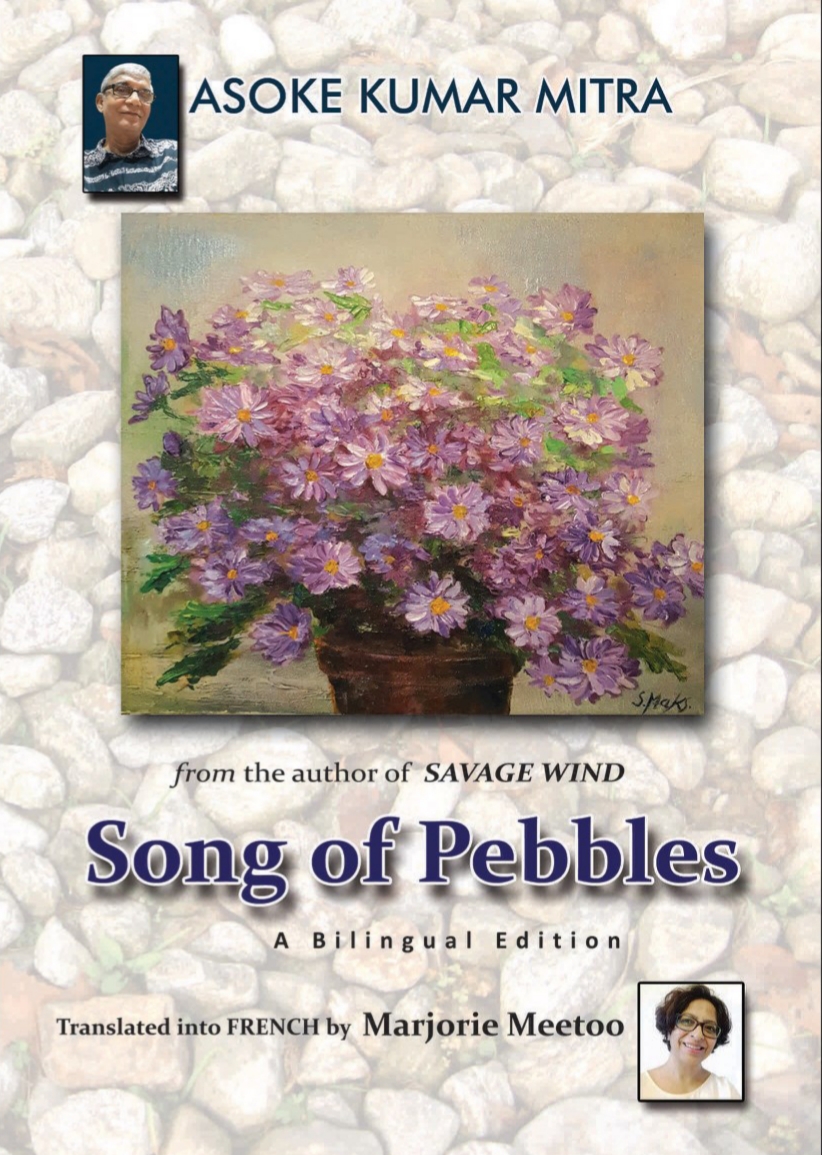 Song of Pebbles, Asoke Kumar Mitra's second book of English poems well translated into French by Marjorie Meetoo, is enmeshed in dream-like thoughts that take us to his enchanting world of love, beauty, reverie, spirituality and mysticism, philosophical realization and poetic summation, with perfection. Endowed with captivating sweetness and lyrical effusion his poems tend to explore certain moods and feelings through a variety of apt symbols, stirring metaphors and glowing images and bring to the fore his wonderful verbal painting depicting myriad of emotions and ideas sentimentally unifying the entire humanity of the world. He explores the world of love, longings, desires, passions, fantasies, peace and serenity and expresses his ideas, thoughts and delicate feelings articulated with fantastic imagery and incongruous juxtaposition of the content. A lot more, mostly untold, is to be understood when a reader enjoys his poems. Mitra, in the poem "A Fim Actor", remarks:
I did not tell you yet
The whole story of my life
Light, action, camera,
Fade in, fade out
Time flew as the butterfly
A serious reading of his poetry reveals that his poems are pregnant with intense feeling of love, loving memories, lovely sights and soothing sounds. Elements of love- subjective and objective- are palpable in most of his poems dealing with the beauty of nature and their objects in general and that of his beloved in particular.
To begin with, the first two poems – "This Morning" and "That Evening" are antithetical in tone and tenor, and texture. They brilliantly exemplify the contrastive patterns of his poetic thoughts. "This Morning" is a riveting piece of longing and desires sung in the sea of silence while the poem "That Evening" is a romantic reverie, a melancholic note of nostalgia and frustration. The poet laments:
Cries of night birds
A dream that mocks me
The darkness deepens
Wet earth in our cupped palms
Endless darkness swallowed up the stars.
The juxtaposition and contrasts brought forth in above poems point to the similarities among universal emotions and feelings. Hence, even in the gloomy atmosphere of melancholy the poet tends to celebrate the 'beautiful mistake' with a sensuous touch. There is a varying intensity of feeling: sometimes he is overjoyed, sometimes engulfed in grief, sometimes, he is lost in reverie and other times he becomes melancholic. So the theme of 'feeling insecure' forms the subject matter of a few poems such as "Uncertain', Not any more", " Someday", One day", Sometimes", Never ever" etc.
Love and nature are major preoccupations of Asoke Kumar. His evocative poetry rich in diction and images. His love addressed to in the poems is manifold and subject to multiple explications depending on the level of one's understanding. He expresses his love, its intensity and depth, through objects of nature and its beauty. His expressions have Wordsworthian touch. Let's see the following lines grabbed from the poem "Winter Nights":
Cloud, wind, rain and storm, under my skin
You want to come back through my veins
Your passion strained my heart
You play the anthem of salvation
Like Wordsworth he, in some poems, sings the song of humanity and creation and in this rendition objects of nature give him a helping hand in proper articulation. Let's see some instances in the poem "Song of Butterflies":
Waiting for a song to sing together
Song of humanity and creation...
We are butterflies
Between a thousand flowers
Nature is captivating to him. He is elated and exalted at the sight of nature's loveliness. He gives an exquisite picture of birds, clouds, landscapes, sea, butterflies etc. with a creative contrast between darkness and lights in his poetry.
Songs of silence reverberate in his poetic creativity. Silence and whispers give voice to his thoughts and color his deep feeling running through the lines of romantic reflection on the beauty of not only love but nature also. It can be heard towards the end of the said poem when he reveals:
Sea waves, winds and sea shells
Sky and clouds
Talking to each other
Our secret poetry dissolve in perfect silence...
Asoke Kumar Mitra is not only a poet of love and nature but also a speaking poet of profound silence in which he hatches his poetic nuggets with sincerity. He also listens to ' the music of falling leaves.', ' a song within my heart'. He makes an epigrammatic remark in the poem "Stroke of Words":
Being alone is quite different from being lonely.
Love for ever remains an empty room.
He finds manuscripts of his poems 'lost', 'in the eyes of his beloved. He seems to attach more importance to the beauty of nature- the physical aspect of creation. As already pointed out, he believes in 'symphonies of silence.'
It is said that 'all deep things are songs'. His poetic feeling is so intense and deep that his utterance turns into a sweet melody just because of its lyrical opulence. To him, his muse is the source of creation of the melody echoing the symphony and harmony- unification of thoughts and feelings. The loving melody rekindles the 'fire of desire' in his heart. The poem "Your Melody" is reflective of his desire:
Your Melody, melts into one sweet harmony
Sound of flute and violin
Spreads wings endless
My heart longs to join
Melts into your melody.
To him, life has 'clumsy corridor' and 'knows no boundary' at all. In the poem "Love For Grass Flower", he further remarks:
Love grows, relationship grows
The warmth
The fire
Torrents of passion
An apprehension
A few poems contain his unique perspective on Time and Destiny. As twists and turns of existential reality time is a major preoccupation of the poet. He believes in the power of time and this is the why he uses different metaphors and symbols to show its toll on life. In the poem "Sometimes", he remarks:
Time a translucent curtain
You opened the window
The clock strikes slowly, no hurry
My heart knows
Shaken dreams, obstinate crossroads
No definite place to go.
Another poem dealing with the theme of time is "Staircase" which presents exquisite imagery of time and beauty of the moon:
Here the grey twigs of time,
An old house under the restless sky
Midnight moon anchored on the old staircase
Dark ruins of passions
In the broken sea of memories
Moon shedding her silk clothes
Angst and frustration also pervade in his poetry. However, he expresses it in a veiled, sublimated and poetized way. One can feel it in the following lines of poem "Never Ever":
You are in the galaxy
With my darkness
Let's forget
The mystery
Better you walk away
Never look back
With the above words of pain he also mentions that 'pretention hurts the most'. Nevertheless, he goes along with affirmation like a poet of celebration of both joy and grief alike and turns suggestive:
Let's celebrates our own way
In this way we that Asoke Kumar Mitra is evidently brilliant and mesmerizingly very effective in Song of Pebbles in terms of precise expression and presentation of myriad of varying moods with special eye on movements of objects of nature. His writing is notable for a brevity of expression and economy of words. With contours of love and romance with nature, dreams and fantasy etc. his poems have lyrical spontaneity coupled with profound emotions. Barring a few typos and shortcoming with the front or cover page which should have been a bit thicker the book is interesting and riveting in all respects. Like his first book of poems "Savage Wind", the book under analysis "Song of Pebbles" can be termed as the greatest example of objective correlative and the unification of sensibility. Like a seasoned poet he successfully objectifies his inner experiences as the external objects, used in his poetry, transmit, in turn, his internal experiences and moods.