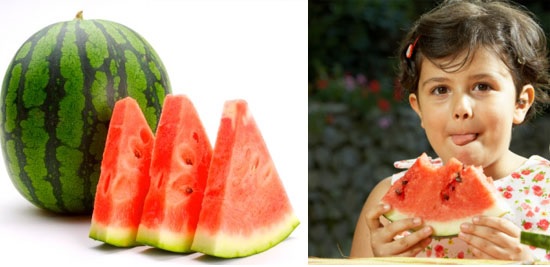 Gorgeous, luscious and delicious – the watermelon holds a unique place in the hearts of people around the world. As summer approaches and the mercury begins a steady rise, one finds mounds of plump watermelons on roadsides and fruit stalls. There is not much that gives you more satisfaction on a hot, dusty summer afternoon than a crisp, juicy slice of pink watermelon.

Origin and History: Africa is believed to be the place of origin of the watermelon. Historians trace its origin to the Kalahari desert of Africa. The first recorded watermelon harvest occurred nearly 5000 years ago in Egypt and is depicted in Egyptian hieroglyphics on the walls of their ancient buildings. Watermelons were often placed in the burial tombs of Kings to nourish them in their afterlife.

From Egypt watermelons spread throughout the countries along the Mediterranean sea by way of merchant ships. By the 10th century it found its way into China, which is now one of the world's major producers of the crop. The 13th century found watermelons spreading through the rest of Europe via the Moors.

In 1615 the word 'watermelon' first appeared in the English dictionary, according to John Mariani in his book "The Dictionary of American Food and Drink".

Cultivation in India:
Watermelon, scientific name Citrultus Lanatus, is an important food crop in tropical countries. It has been in cultivation for a long time in India which is often considered as the secondary center of its origin. It is a common summer crop and is grown in the lower Himalayan regions to South India.

World Production:
Turkey and China are the world's leading producers of watermelon. The United States ranks fourth in worldwide production of this fruit. It is widely cultivated throughout the world today and is a staple in households across the globe. Over 1200 varieties of watermelon are grown worldwide. The flesh ranges from white to greenish-white, yellow, orange, pink and red. The rind may be striped or solid and its color ranges from grey-green to dark green.

Characteristics:
The watermelon grows on vines and is considered by horticulturists as a vegetable. It requires a long, warm growing season. It develops from the yellow flowers of the watermelon plant after the blossoms are pollinated. It has a smooth rind and juicy, edible flesh. It has many seeds. Watermelons may range in weight from 2.3 Kg to 18 Kg on the average. The shape may be oblong or round.

Health benefits:
This wonder fruit does great things for your body. In the first place it is rich in electrolytes (sodium and potassium) that we lose through sweat. Also the fruit is very filling, has less calorie content and above all is very nourishing.

The watermelon consists of 93% water. A two- cup serving of watermelon contains many important vitamins and minerals. It is a multi-vitamin fruit and contains vitamins A, B6 and C to potassium and iron, which will surely boost your health. Dieticians advise that we should begin the morning with diced melon as they cleanse the body. A bowl of watermelon every morning starts a summer day off with close to no- fat, high fiber goodness. Taken with breakfast, it helps to protect you from the heat. Watermelon is also recommended to be taken in the evenings which are filled with physical activity.

Watermelons are great antioxidants that help you fight free radicals.

Watermelon contains lycopene which is a carotenoid and pigment that gives fruits and vegetables their red color. Preliminary research shows that consuming foods containing lycopene are associated with a decreased risk of prostrate and cervical cancer. Watermelon contains higher concentrations of lycopene (15-20 mg per two-cup serving) than any other fresh fruit or vegetable.

Diverse Uses in Food:
Watermelon can be incorporated in our diet in a number of ways. Apart from having it on its own in chunks or in the form of juice the fruit can be included in many recipes including slush, granita, smoothies, sherbets, salsa and gazpacho. If you are not fond of having it as it is, chop it up in a bowl and sprinkle sugar or drizzle honey on it. Watermelon juice with mint leaves thrown in is very refreshing on a hot day.

Watermelon salads with shrimp or combined with cucumber and tomatoes are a favorite with many. The fruit can be had at breakfast, lunch or dinner, even as a dessert. Watermelon is a perfect addition to a salad, salsa or cold drink. Topping chunks of sweet watermelon with fruit flavored sherbets is a good idea. You can sprinkle chaat masala on watermelon chunks for a tea time snack. The rind of the watermelon is often pickled and relished. Watermelon seeds are also fried and eaten. Fruits are seldom cooked as a vegetable when immature.

You can make a gorgeous and eye- catching center- piece for your dinner party by making a watermelon basket fruit salad. Cut a slice of the rind so that the watermelon can 'sit' firmly on a plate without rolling off. Cut the top portion and gently scoop out the flesh. Fill the cavity with fresh fruits, including watermelon chunks and hey presto – a lovely edible fruit basket is ready. It is also ideal to carry to picnics . Chop the fruits, chill them and carry them in a plastic bag. Assemble it just before serving. You can also make a watermelon 'boat' centerpiece in a similar way.

Watermelons can also be beautifully carved in different shapes. Watermelon 'sculpture' competitions are often held at various places. The red, white and green combinations of the fruit make it eye-catching for 'designers' to carve out beautiful designs for dining tables at weddings and parties.

As a Beauty Aid:
This versatile fruit is also a well-known beauty aid. It is widely used in beauty products like lipsticks, lip-gloss and shower gels. Watermelon essence is added to bath and body fragrances.

Watermelon juice protects the skin from the sun. It also clears the skin leaving it free from blemishes, fresh and lovely. Grate a watermelon, squeeze out the juice and apply on the face for 15 minutes. Wash with hot water and then splash on cold water. Your face will feel fresh and clean.

The fiber content in watermelon ensures toxins are scrubbed out of your system leaving your skin healthy and glowing. Mixed with a pinch of gram flour the pulp makes for an excellent scrub.

Watermelon pulp also makes for an excellent 10 minute pack, re-hydrating and exfoliating the skin, leaving it toned and glowing.

To close gaping pores, try rubbing watermelon juice frozen into ice cubes with crushed mint leaves, over the face.

Watermelon Festival:
A watermelon festival is held annually since 1986 in late July in Fair Bluff, North Carolina, USA. Started by two best friends, Monroe Enzor Sr and A.J Worley, both semi-retired farmers who wanted to try out a fun hobby, this festival has become very popular. It features competitions, sporting events and a beauty contest. According to the Guinness Book of World Records, the biggest watermelon grown weighed 262 pounds.

Choose the Right Watermelon

While buying a watermelon, keep a few important points in mind.
Look the watermelon over, choose a firm, symmetrical one that is free of bruises, cuts and dents. Look for the dark green variety. It should ideally be dull, rather than shiny and the underbelly should have a pale yellow color.
Lift it up- the watermelon should be heavy for its size, as it contains almost 92% water. There should be a melon-like smell or fragrance.
Turn it over – on the underside of the watermelon there should be a creamy yellow spot from where it sat on the ground and ripened in the sun.
A ripe and sweet watermelon makes a hollow thud when thumped.
Avoid watermelons that are very hard, white or very pale green in color on the underside, as this indicates immaturity.
An immature watermelon will be slightly acidic in taste.
Before buying a watermelon, check the source. It should be bought from a clean environment. Do not allow the fruit seller to stick a knife into it to prove its hidden credentials. If you are particular about the color of the pulp, carry your own knife and a clean plastic bag or cloth to wrap the melon in immediately.
Avoid buying cut watermelon pieces as far as possible.
Storing Tips:
When harvested ripe and handled carefully, watermelons keep well for 1-3 weeks at 2.2 to 4.4 degree Celsius and 80-85% relative humidity. They can be shipped to long distances even without refrigeration. Color, sugar content and flavor are the chief attributes of a ripe watermelon.

Watermelons can be kept for short periods of time – up to 2 weeks- uncut, at room temperature. Store them for too long and they lose their flavor and texture. Freezing causes the rind to break down and produces a mealy, mushy mixture.

Keep watermelon chunks, slices or juice in your refrigerator during summer. Pack a slice in your lunch box.

The watermelon is considered a vegetable. It is related to cucumbers and pumpkins and is a part of the gourd family. In ancient times, travelers used watermelons as a source of transportable uncontaminated water. In China and Japan, watermelon is a popular gift to bring for the host. In Israel and Egypt the sweet taste of watermelon is often paired with the salty taste of feta cheese. Every part of the watermelon is edible, even the seeds and the rind. The redder the melon, the better it is believed to be for our health and skin.

In Conclusion:
Thus this sweet, healthy and refreshing fruit with its unique crisp texture is a worldwide favorite. Attractive to look at and versatile in use, it is wise to include it in our diet. It is the perfect answer to the rising mercury and can do wonders for your health and skin.
Image under license with Gettyimages.com