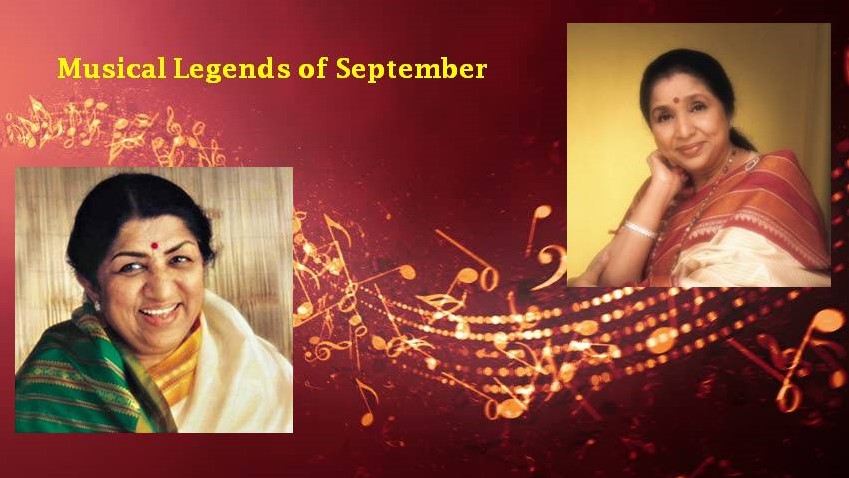 Surprisingly, the singing nightingales of India Lata Mangeshkar and Asha Bhosle seem to have been born in the month of September 28 and 8 respectively. While Lata turns a nonagenarian this year Asha crosses the middle side of octogenarian.

The siblings hailing from the same family are daughters of Pandit Deenananth Mangeshkar, a Marathi musician. Lata is said to have started to try her luck in film industry from the age of 13. Her voice was considered to be 'too thin' and offers eluded her. But Madame Luck smiled at her in the year 1949 for the song 'Ayega aane wala' in the movie 'Mahal' for a not so famous music director Kemchand Prakash. This was followed by Raj Kapoor's hit movies like 'Barsaat', 'Awara' etc. There was no turning back and the rest is history. She has sung more than 25000 songs and almost with every music director of India with her special loyalty to Laxmikant-Pyarelal. It is difficult to single out songs of excellence from Lata's great repertoire; yet my favorite solos even today are 'Mujhe kisi se pyaar ho gaya', (Barsaat), 'Woh chaand khila' (Anari), 'Do pal rukha' ('Veer Zara' duet with Sonu Nigam) and 'Solah baras ki' ('Ek Duuje Ka Liye').

Asha is completely different from Lata, in my opinion. She is fact, is more versatile as she could croon a oomph number for Bindu or Helen and with consummate ease and could easily switch over to melodious numbers too. It is even today difficult for any singer to imitate Asha's voice. It is unique with a special tenor. Asha's career seemed to have taken off with 'Maang ke saath tumhara' in 'Naya Daur' for the music director OP Nayyar, who had never touched Lata's voice for any of his songs till death. Asha Bhosle also created history with more than thousands of songs. The Mangeshkar duo had ruled the Hindi filmdom for nearly five decades. Asha's market touched pinnacle with her association with RD Burman who also had given special touch to many of his risqué but likeable numbers. Here too choosing the best is no fun. But my favorites of Asha include 'Jayiye aap kahan', 'Yeh hai reshmi zulfon' (both from 'Mere Sanam' and music by OP Nayyar), 'Jab tak rahe' fromj 'Samadhi' (RD Burman) and 'Do lafzon ki hai' (duet with Kishore in 'Great Gambler'), 'Gun guna rahe' (with Rafi in 'Aaradhana' music by SD Burman) and 'Saara pyaar tumhara' (with Kishore Kumar and music by Shyamal Mitra for 'Anand Ashram'). I never feel tired of these numbers.

Suman Kalyanpur came very close to Lata in many songs but so far none could bring the special vocal dexterity of Asha.

The sisters' achievement, range and status for such a long time are nothing but awesome and legendary.

Blessed siblings!