The simplicity stands out even after four and half decades
How is it watching a movie of this title which is exactly 45 years old?

The news and article on actor Vidya Sinha's demise (15 Aug 2019) in Filmfare and the mention of her debut movie 'Rajnigandha' (released in Sept 1974) made me watch it in the net. I remember to have watched it in Emerald Theatre in the Safire complex 45 years before but remembered the story thread of the film. The film's story seems to be still old as it was written in the format of a diary in 1960 under the title 'Yehi Sach Hai' by Mannu Bhandari, one of the modern Hindi littérateurs.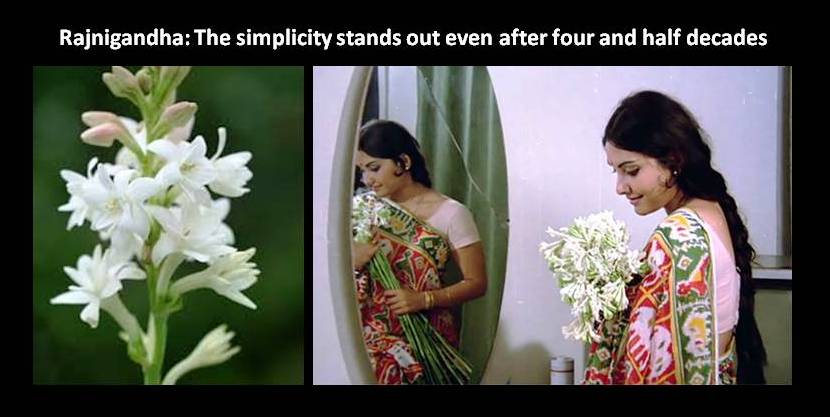 The 110 minute movie is in a way still engaging because it deals with the unsteady and wavering human psyche. Deepa (Vidya Sinha) is in love with Sanjay (Amol Palekar), an office addict, forgetful and lackadaisical young man. Deepa travels to Bombay for an interview for the post of a lecturer happens to meet her college days' friend Navin (Dinesh Takur) who takes care of her extremely with great care, attention and punctuality. Deepa's mind compares him with Sanjay and she wishes that Navin expresses his old love for her. But, he is not. This haunts her even after her return to Delhi. However, when Sanjay meets her with the news of his promotion, she decides to leave the past and go ahead with Sanjay.

In fact, the narration is leisurely in typical Basu Chatterjee style. Vidya Sinha looks young and fresh but in a way she looks a bit odd with her messy plait, unkempt hair and unimpressive saris. Anyway, she couldn't make it big in the commercial circuit also later. At any day neither Amol Palekar nor Dinesh Takur can be considered as star materials. There are only two songs tuned by Salil Chowdhury.

The film became hit with critical acclaim and mouth publicity as it stood out with its simplicity and down to earth story and narration. Recipient of Filmfare Award, it poignantly highlighted the inconsistency of human mind. It appealed to me even today just because of that even after four and half decades.

Post Script: 'Rajnigandha' (Tuberose) is a tall flower; spikes with numerous tubular blooms and a fragrance that is rich, sultry and seductive.