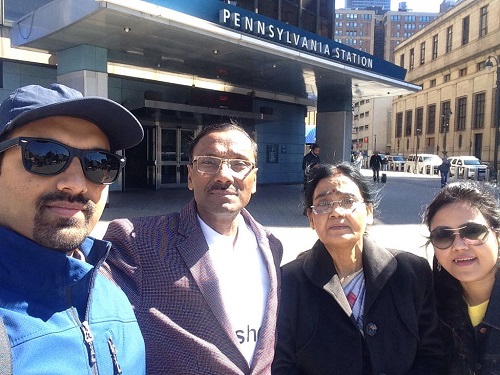 When we reached 42nd Street close to Times Square in New York, it was evening 7pm. But still the sun was in the sky but the cold gust of wind blowing to freeze us inside our overcoat. Daughter asked me if I was hungry. Yes, but what to eat. Choice of good food for Indians especially for those who live in Kolkata is very difficult. We take street food for at so cheap rate. Here food is healthy but very costly. I saw many Americans sipping cans of cold drinks and gulping chips and rushing with the bottle on the street. In the train too I noticed many eating burghers and cold drinks. We bought biscuits and green apple but there was no knife for cutting the fruit.

In Kolkata we could get help from the street kiosk. But here no one is to extend help like that unless you buy anything from their stall.

We had a little confusion in finding the 42nd Street, but our son-in-law was prompt in using google map and we easily reached Madame Tussauds New York museum. Tickets were purchased earlier. So we had no trouble in getting in. In Kolkata we saw Mother's Museum in New Town. But on reaching Madame Tussauds in Times Square we felt a thrill. Astonished and excited at the same time, we came to know that Marie Tussaud was a wax sculptor and the museum is now being operated by the United Kingdom-based entertainment company, Merlin Entertainments. It opened in New York in November 2000 with five floors of attraction space and over 200 figures.

Daughter was ready with her mobile camera and I started giving pose. There was the same rush for clicking and selfie mania everywhere. All crave for going close to the famous and the superstars. Life needs colour and thrill to overcome daily dullness. Even the wax figures of Nelson Mandela, Barack Obama, Charlie Chaplin, Marilyn Monroe, Mahatma Gandhi the Big B or Shah Rukh and Ash can draw huge crowd everyday here. I missed our Netaji Subhas Bose, Tagore or Mahanayak Uttam Kumar or Bhupen Hazarika here as the Americans do not know him.

The funny incident occurs when I stood in between Michelle and Barack Obama as if I were lecturing to the people of the United States. In the location of President Trump I put my legs on the table and posed as talking over the phone. They told I could get the photo of this in print from the Museum. Even here Trump business is hugely mimicked as the President does not mind my cross legged pose on his table as his Personal Secretary. Each moment we enjoyed loitering from figure to figure. I saw my favourite writer F.Scott Fitzgerald and posed a click with him. It was a sheer fun when I looked avidly at Marilyn Monroe and my wife felt a little jealous in spite of her smile on her dry lips. I thought I should have a walking stick while I posed for Chaplin. We sat on the corridor after getting out of the lift that took us to the fifth floor. There was a haunted house with ghosts terrible enough to make us shiver in fear. One cafetaria was there but we took biscuits that we brought with us and sipped coffee from our own flusk.

Our inquisitive son in law was explaining like a professional guide that Tussaud created her first wax sculpture of Voltaire and began sculpting death masks of notable victims in the French Revolution which were held up as revolutionary flags and paraded through the streets of Paris. In 1794 Marie's mentor Dr. Phillipe Curtius died and Tussaud inherited his entire collections. Marrie settled down in Baker Street and opened a museum in London. Some of the sculptures done by Marie Tussaud herself still existed. But they were not in New York museum. We saw the Times Square location from the balcony of Madame Tussauds.

The photo taken of the Times Square locations made us astonished. The nocturnal glamour of the and Midtown Manhattan section of the New York city, the commercial intersection reminded me of the many names given to Times Square - The Crossroads of the World, the Center of the Universe, The Great White Way, the Heart of the World. It is one of the world's busiest pedestrian areas drawing approximately 50 million visitors annually and 330000 people daily and the hub of the Broadway. Daughter told me that Times Square was formerly known as Longacre Square and renamed only in 1904 as Times Square which is not a square but a polygon in the geometric sense.

We earlier went to the northern triangle called Father Duffy Square where there was a statue of George M. Cohan and on the red sloped triangular set of bleacher like stairs we sat talked and took photographs. My wife had her knee pain as usual from the long walk in the cold wind swept street of New York. What strikes us is the speed and free movement of the people on the street. Night in New York City was cold but warmest from the angle of entertainment. We went to the Port Authority Bus Terminal which people mentioned as Port Authority here or just PABT. It is the main gateway for interstate buses into Manhattan owned and operated by the Port Authority of New York and New Jersey. The bus terminal is located in Midtown at 625 Eighth Avenue between 40th and 42nd Street where we visited Madame Tussauds.

As we have to go to Faller Drive, we purchased tickets from digital counter by credit card. It is a huge terminal and the largest in the United States., the busiest in the world by volume of traffic serving about 8000 buses and 225000 people on an average weekday and more than 65 million people a year. My wife was dog tired and was nearly drowsy. The Bus that was to take us from PABT was 167 and the seats were so comfortable, Here the bus moved fast and smooth and the cold night seen from the air-controlled bus through glass panes made me feel as if we were travelling in a different planet that made me recall Allen Ginsberg's poem on New York:

"Sometimes when my eyes are red
I go up on top of the RCA Building
and gaze at my world, Manhattan
my buildings, streets I've done feats in/ lofts,beds,coldwater flats
on Fifth Ave below which I also bear in mind
its ant cars, little yellow taxis, men
walking the size of specks of wool
Panorama of the bridges, sunrise over Brooklyn machine,
Sun go down over New Jersey where I was born. ..'.

I imagined I were travelling like Sister Carrie of Theodore Dreiser's novel moving from Ohio by train to New York in search of a job. While walking back home in Brookchester I was reciting some lines from Allen Ginsberg again

"Time to go home & cook supper & listen to
the romantic war news on the radio.
.. all movements stops
& I walk in the timeless sadness of existence".

Ginsberg wrote this poem in the year when I was born.