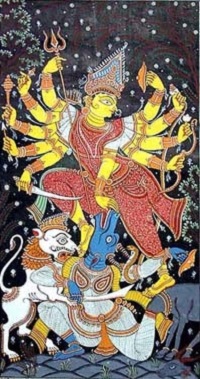 Durga Puja holds a special place in the heart of all Bengalis. Durga Puja in Bengal is not only a religious occasion, it is a celebration of life itself. It is a major event in Bengal's social calendar and is waited for eagerly all the year round. During the five days of the festivities Bengal unites in celebrations and Calcutta becomes the epicenter of this gaiety.

It is the season to rejoice, to celebrate the victory of good over evil, to indulge in mindless festivities and to participate in age-old rituals. Goddess Durga is welcomed into the family fold in a frenzy of sights and sounds as devotees vie with each other to catch a glimpse of the resplendent goddess and worship their favorite deity. The mesmerizing beats of the plumed dhaks (drums), the hypnotic sounds of the conch shells, people dressed in all their finery, the sight of the proliferating kaash flowers and heady scent of the sheuli flowers, blinking lights, appetizing aroma of sweets and other delicacies and elaborately decorated pandals all herald her arrival and build up the frenzy.

Legends: Hindu mythology is replete with stories and legends about Goddess Durga. She is depicted as the Mother, Shakti, Destroyer of Evil or a Celebration. She is the entity and ethos of Bengal and a symbol that is universally recognized.

A popular story celebrates Durga in the form of Mahishasura Mardini, which is worshipped during the festival. It is a powerful vision of a stunning goddess astride a fierce lion, whose 10 mighty arms carry lethal weapons as she triumphantly slays the buffalo demon, Mahishasura. This image of Durga symbolizes the victory of good over evil.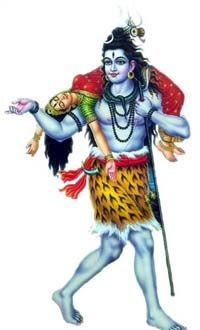 Legend goes that the fierce demon Mahishasura, earned the favor of Lord Shiva after a long and hard penance. A pleased Lord Shiva granted him a boon that no man or deity would be able to slay him. Mahishasura spread his reign of terror through the universe and did not spare even the gods. The gods then implored the Trinity – Lord Brahma the Creator, Lord Vishnu the Preserver and Lord Shiva the Destroyer – to help. Pure energy blazed forth from them which was concentrated at one spot and Durga was born. The gods then gifted her weapons and a divine power to help her in her battle against the demon. Thus Durga carries several weapons including Shiva's trident, Vishnu's disc, Varuna's conch and noose, Agni's spear, Vayu's arrows and Indra's thunderbolt. From Himavat, the god of the mountains she received jewels and a lion to ride. She also received new clothes and a garland of immortal lotuses. Then she set out to slay Mahishasura.

Another legend goes that Durga or Uma was the daughter of the Mountain King Giriraj Daksha who resided in the Himalayas. Uma, a devotee of Lord Shiva, vowed to marry him. However when Shiva came to ask her hand in marriage, Daksha refused as he did not approve of this bairagi (wanderer) groom. Though Uma did eventually marry him, Daksha did not allow her to go to her husband's home after the wedding and even insulted Shiva subsequently after a yagna.

Ashamed and deeply hurt by her father's behavior, Uma fasted to death. Besides himself with rage, Shiva lifted the body of Uma on his shoulders and danced the powerful Tandav (dance of fury) which threatened to destroy the universe. Lord Vishnu came to his rescue and with his sudarshan chakra (disc) chopped the body of Uma into pieces in order to slow Shiva down. Shiva was pacified as the last piece flew from his shoulder and Lord Vishnu gave Uma a new life as Parvati. Daksha relented and Uma was allowed to accompany her husband home.

Another legend goes that Lord Rama invoked the goddess in autumn before his decisive battle with Ravana. That is why Durga is worshipped in Autumn. In the worship of the goddess a certain number of blue lotuses are required. As the legend goes, Durga wanted to test Rama. She took away two of the lotuses just before Rama was to sit for the Puja. Then she appeared before Rama and informed him of the shortfall. Rama was undeterred and gave his two eyes in place of the missing lotuses. Satisfied, the Goddess returned his eyes and blessed him. In the north, Dussehra celebrates the victory of Rama (good) over Ravana (evil).

Daughter's Homecoming: Durga Puja is the occasion where married daughters come to their maternal home and there is a lot of rejoicing. As per the above legend during the month of October (Ashwin in Bengal) Uma visits her parents for a few days and even today Bengalis worship Uma to celebrate her homecoming with pomp and enthusiasm. Accompanied by her children – Ganesh, Kartick, Lakshmi and Saraswati – she arrives in full regalia. Her devotees prepare lavishly for this homecoming that they have been waiting for in breathless anticipation throughout the year.

The actual Durga Puja is spread over 3 days – Saptami, Ashtami and Navami. On the day before Saptami, Sashthi puja is performed with the bodhan of the goddess. The bael tree is painted by the priest. On Saptami, the goddess is invoked and navapatrika puja is performed. The priest makes offerings to the bael tree, invokes Ganesha and Pancha devata to it. He further invokes Devi Chandi for the good of all and goes on to the ritual bathing of the navapatrika. On Ashtami the priest invokes a group of Vedic gods and goddesses. Pushpanjali (offering of flowers) is performed. The astra puja (worship of weapons) is also performed and the priest offers veneration to Asura the demon. The pre-pubertal girl is worshipped as Kumari on Ashtami and Navami days. The 10th day Bijaya Dashami is the the day of victory, when the goddess is immersed in the holy river at sundown amidst much fanfare. It symbolizes her return to Shiva's abode.

Other facets of Durga: Goddess Durga is also worshipped as Shakti – she is the strength of the devatas, rishis and demi-gods. She is not only the source of energy but also stands for justice in society. She is stree shakti or woman power, sustainer, creativity and innovativeness. She fights only male demons and any male assistance or influence is conspicuous in its absence. Durga represents the stronger, fiercer and dignified side of womanhood. Her 10 arms and what she carries in them shows her multifaceted nature and multi dimensional personality which is inherent in all women. She is the dashabhuja (having 10 arms), what every woman wants to be, juggling different roles at the same time.

Durga also represents the image of Mother (Ma Durga). For many Durga stands for the goddess who holds the promise of fulfilling their wishes. She is the embodiment of the Divine Mother who protects mankind from evil. Durga is the maternal force who rights all wrongs, listens to our problems and makes life worth living.

Durga is not only the picture of valor and strength but also of femininity.

The goddess is equated with Mahamaya – the supreme creator of illusions and attachment. For believers she is also Lakshmi (goddess of wealth), she is buddhi (knowledge), she is lajja (modesty) and even shraddha (respect). She is Sati, Kali, Parvati, Bhawani, Basanti, Amba, Jagadhatri, Tara, Ambika and Annapurna.

Making the Image: Traditionally the clay image of the goddess is made at a place called Kumartoli in West Bengal where generations of artisans work tirelessly to mould images of the goddess. There are various stages in the making of an idol. Beginning with a basic wooden foundation, a rough form is created with straw and ropes. The straw structure is then caked with clay and left to dry. Layers and layers of clay are applied to the structures with each being given enough time to dry. The cracks that appear on the idols are finally smoothened out with a sandy clay mixture. Hands, feet and faces are molded separately and attached to the body structure.

The clothes, her jewelry and other embellishments are added last, after the face is painted. Traditionally the goddess is given 'vision' on the day of Mahalaya, the beginning of the Devi Pakshya. According to custom only a Brahmin can paint the eyes of the goddess on the anointed day and only after an elaborate ritual. However many such rituals are being done away with today. Another little known custom is to mix the soil from a prostitute's home to mix with the clay used to make the idol of Durga. The origin of this custom was to include people from all walks of life in the celebrations.

At the beginning of the 20th century most Durga Pujas were held in stately homes of prosperous Bengal – be it in villages or in Calcutta. People from outside were allowed entry to watch these paribarik (family) pujas from a distance and offer prayers but not to participate actively in the preparations and celebrations. These restrictions forced the para (neighborhood) Puja into being – people of a neighborhood getting together to collect money and start their own annual celebrations. Today there are thousands of community pujas all over Bengal and elsewhere.

Shopping: In Bengal Durga Puja is the time for unbridled shopping – not only for new clothes but also jewelry, footwear and household goods. Shops vie with each other to lure customers by offering Puja discounts. "Puja sale" is announced in most shops and markets are clogged with eager customers. Most people also get a Puja bonus which they splurge at this time. Young and old alike throng the markets to buy different items and the frenetic pace builds up as the festival approaches. Bengali families also gift and receive a lot of clothes on this occasion. Commercially Durga Puja is a boom time for tradesmen – clothiers, tailors, cobblers, weavers, idol makers, decorators, electricians, restaurant owners and many others – who end up doing brisk business.

Pandals: The elaborate decoration of the Puja pandals are a sight to see. The para pujas vie with each other in decorating ideas, many of which are kept a closely guarded secret lest others copy them. In Calcutta, prizes are given to the three best decorated pandals and the competition is very tough. Innovative ideas like pandals made of used earthen tea cups, thermocol, sugarcane, chocolate, ice cream sticks, bamboo, granite etc are great crowd pullers. Devotees indulge in a lot of pandal hopping, often walking for miles as the roads are too crowded for cars to pass through. Decorators erect meke-shift temples or mandaps that are brightly lit and imaginatively illuminated, sometimes reflecting the flavor of the season. Replicas of the Twin Towers, Mother Teresa, Princess Diana and Titanic have drawn appreciative gasps in the past. A large number of stalls are set up near the pandals selling eatables, decorative items and other things.

Gourmet's Delight: Bengalis are great connoisseurs of food and Durga Puja is the time to give in to one's taste buds and hog to one's heart's content. Apart from elaborate traditional home cooked meals replete with different varieties of fish, meat and chatni, a lot of people indulge themselves by eating out. Delicacies like rolls, kebabs, Mughlai parathas and a mind boggling variety of sweets beckon people to try them out. Community bhog (offering) and meals are also organized in the paras (localities) where people get together for meals.

Cultural Fiesta: The rich and varied cultural heritage of Bengal is showcased during the Pujas. A number of soirees, musical programmes, recitation programmes and plays are organized which draw huge crowds. Jatras and folk dances also add local flavor. Artistes and singers are in great demand by Puja organizers. Children's competitions are also organized by the local Puja pandals. Leading publishers capitalize on special Durga Puja issues and new Puja albums do brisk sales.

Family Bonding: Durga Puja is also a great time for family bonding. Relatives who haven't met during the whole year (even if they are living in the same city), get together during the Pujas. After Bijaya Dashami, young people touch the feet of elders and seek their blessings. Men do kola kuli (Milan) and married women have sindoor khela (play) in the morning. Greetings are exchanged and old feuds are forgotten. A lot of family misunderstandings are also ironed out during this time when everyone is in a relaxed mood and there is goodwill all around. The younger group get together with cousins and exchange notes.

Durga Puja is also the time to let your hair down, enjoy and unwind. Children are also allowed a little more freedom and the whole mood is one of fun, festivity, gaiety and frolic.

Changing Times: However, with changing times, Durga Puja, specially in Kolkata is gradually becoming commercialized. This is in the form of corporate sponsorships for the pandals. Materialism is in the forefront and traditional forms of Bengali art, culture and customs are slowly getting lost in all the glitz. Each locality tries to outdo the other with innovative themes and elaborate pandal decoration and lighting in order to attract huge sponsorships. Advertisers, shopkeepers and stall holders alike jostle to find space in the puja pandals.

Also the carnivalesque nature of the Pujas distracts attention from the socio-religious aspect of the festival. Specially the younger generation is not much aware of the traditions, rituals and customs associated with Durga Puja.

In Conclusion: However, all said and done Durga Puja remains the unique and favorite festival of Bengal and is unmatched in fervor, gaiety and revelry. Months in advance Bengal starts preparations and plans for the forthcoming festival – be it buying new clothes, going for a holiday or just relaxing. During the festival Bengal seems to be at a standstill, while people immerse themselves in festivities and devotion. It has a unique charm of its own, unparalleled anywhere else and people look forward to it with enthusiasm and fervor year after year.