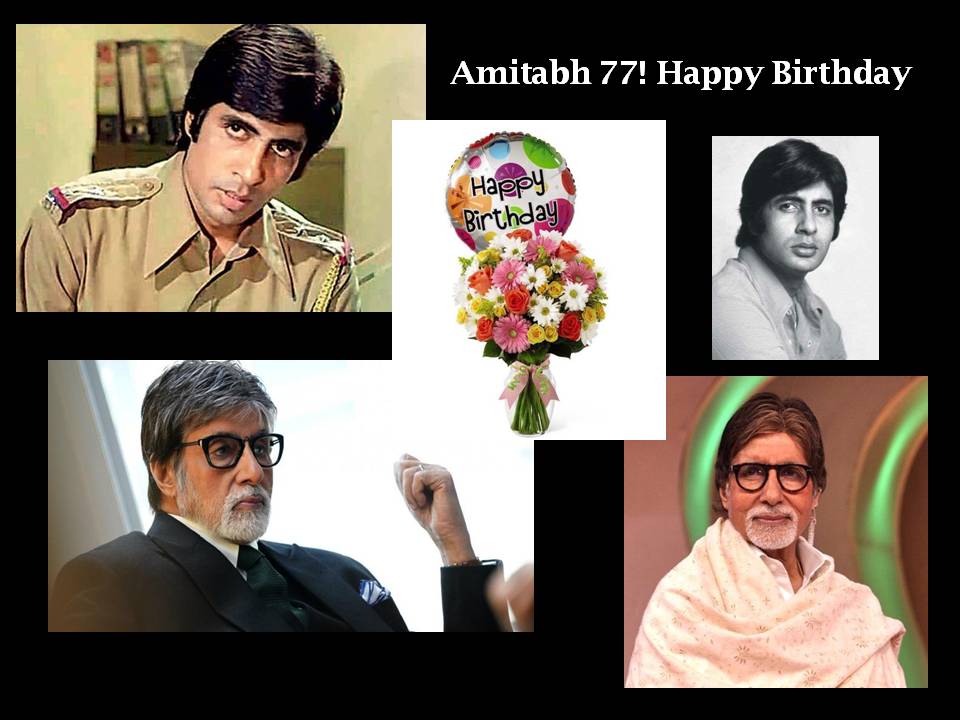 Happy 77, Mr. Amitabh Bachchan!

The famous Indian star Amitabh Bhachchan's celebrated his 77th birthday on 11 October with his family, the news said.

Amitabh Bachchan, in my opinion, is a star who made it big with great hard work against several odds. When he entered the filmdom he had nothing in his favor, except, perhaps his baritone voice and clear enunciation.

His entry into films as a narrator in 'Bhuvan Shome' and as one in seven in 'Saat Hindustani' (1971) got him nowhere. But, his notable break came through Hrishikesh Mukherjee's 'Anand' where his costar was scene stealer Rajesh Khanna. A cynical doctor who gets invariably irritated by the antics of the terminal patient Anand (Rajesh Khanna) he was noticed and won the best supporting actor award from Filmfare.

After some useless movies, he struck luck with 'Zanjeer' (1973) as a revenge seeking youth. In fact, the real heroes of the film are Salim-Javed and their taught screenplay and dialogues brought them several movies as well as laurels later. Amitabh turned out to be there in some way or other. His next big hit was 'Deewar' again with Salim-Javed duo. Soon with many films more or less on the same lines and also same name Vijay or something, he somehow became the darling of masses. Though many of them were not worthy, success pushed him up. As one reader once wrote 'playing Vijay in one film and Ajay in another depicting the same character shouldn't be misconstrued for variety'. True; it was and for a long time except movies of Hrishida like 'Mili', 'Chupke Chupke', 'Abhimaan' all the other movies of Manmohan Desai or Prakash Mehra carried the same stamp including a drunken soliloquy before the mirror. Romance was never his forte. He suffered an accident in the shooting of 'Coolie' and down with some strange ailment termed mysthania gravis in 1983.

His comeback was not a success until he got his movie 'Khuda Gawah' (1992) with Sridevi. Suddenly, Madame Luck smiled at Amitabh and he appeared in roles with a difference in 'Kabhi Kushi Kabhi Gum', 'Black', 'Cheeni Kum' which brought Amitabh in different shades suited to his age and disposition.

Though Bachchan was in useless films in parallel, his movies like 'Piku', 'Pink', 'Paa', and the recent 'Badla' brought out the real variety and talent in him. The roles suited his age and he also performed with elegance though he had miserable flops side by side the last being 'Thugs of Hindustan'.

While his short stint in politics was forgettable, his role as a host in 'Kaun Banega Crorepati' is a smash hit. But, I still hear Bachchan has not comeout from his financial crisis. Perhaps that alone prompts him to act in any stupid ad films like 'First-Cry,' toffess and biscuits.

Amitabh Bachchan is a director's actor; most of the actors are, to be honest. A strong story, well etched character and competent direction bring the best in an actor. Bachchan's voice and diction are his fortune and that was exploited well in many Hindi movies.

Wish Amitabh Bachchan a long and healthy life and also wish he chooses more author backed characters suited to his age and experience in which he excels with èlan!