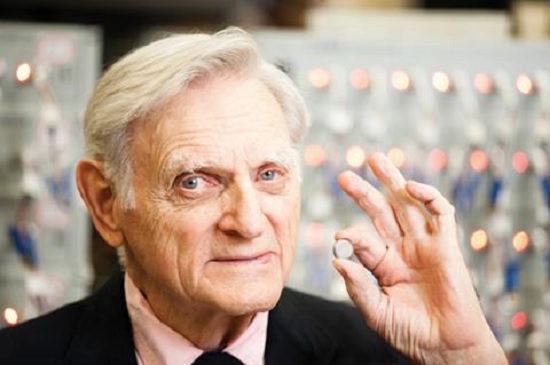 The father of lithium batteries, John Goodenough, who has been awarded Nobel Prize in Chemistry for 2019 along with two others is still very active in research at the age of 97.
John Goodenough of the University of Texas at Austin won Nobel Prize in Chemistry for 2019 along with two others — Stanley Whittingham of Binghamton University, New York and Akira Yoshinoof Meijo University — for his work on rechargeable lithium-ion battery that today powers everything from cell phones to laptops and electric vehicles.

Goodenough, aged 97, is the oldest ever winner of a Nobel Prize. It was in the '80s that Prof. Goodenough, who, on moving to Oxford from the US as professor, picked up the work that Prof. Whittingham carried out to develop lithium batteries as a scientist at Exxon in the US in the early 1970s but discontinued the same in the early '80s as the oil company cut back its expenditure on research.

Prof. Goodenough, predicting that a cathode made of metal oxide than a sulphide would have greater potential, had improved the battery's performance by introducing new materials — cobalt oxide — for its electrodes. The Nobel committee has considered this has a "decisive step towards the wireless revolution".

Prof. Akira Yoshinoof and his colleagues at Asahi Kasei, the Japanese chemicals company, picking up Goodenough's cathode as a basis and using petroleum coke — a carbon material — in the anode, developed the first commercially viable lithium-ion battery in 1985.

Thus came into market a lightweight hardwearing battery that could be charged hundreds of times before its performance deteriorated. Their introduction in 1991 had revolutionized our lives. To quote Akira, "the way [these] batteries store electricity makes them very suitable for a sustainable society."

So, rewarding such a work with a fitting prize is, no doubt, a good news. But to my mind, what struck as a real big news is: Prof. Goodenough is actively pursuing his research interests — "studying relationships between the chemical, structural and electrical properties of solids, addressing fundamental solid-state problems in order to design new materials that can enable an engineering function" — as Virginia H. Cockrell Chair in Engineering at The University of Texas at Austin, USA, at the age of 97 and even publishing research papers.

This 97-year-old professor, believing that "We have to … make a transition from our dependence on fossil fuels to a dependence on clean energy" and saying, "So that's what I'm currently trying to do before I die", comes to his lab every morning before 8 a.m. and with a small flock of graduate students and postdoctoral researchers works on designing a new battery to reduce our dependence on fossil fuels.

In line with this ambition, he along with a colleague, Maria H Barga, a senior research fellow, published a paper in Energy & Environmental Science in December 2016 about a glass battery — a type of solid state battery with a glass electrolyte and lithium or sodium metal electrodes, that indeed generated controversies, because they have also claimed that its storage capacity increases with age.

Controversies because: thermodynamics perhaps maintains that a battery only deteriorates over many charge-discharge cycles. Of course, Goodenough and Barga have an explanation for the controversy raised. According to them, their glass electrolyte is of ferroelectric material. Its polarization switches back and forth in the presence of an outside field. As a result, the charge-discharge cycles are indeed jiggling the electrolyte back and forth and over a period, this is perhaps leading to emergence of an ideal configuration of each electromagnetic dipole.

Controversies apart, what is worth noting here is the active engagement of Prof. Goodenough in research even at the age of 97 and his craving to develop and offer a product that is good for the world. His desire to do good for the society well echoes in his comments on science and its utility, which indeed merits everyone's attention: "Technology is morally neutral — you can use it for good and for evil. You can use it to explode bombs under somebody's vehicle. You can use it to steal a bank account. As scientists, we do the best we can to provide something for society. But if society cannot make the moral decisions that are necessary, they only use it to destroy themselves."

Above all, there is another statement that he made after receiving the Nobel Prize that calls for our deep reflection: "They don't make you retire at the University of Texas at a certain age, so I've had an extra 33 years and I'm still working every day."

This makes me wonder, why our Universities are not encouraging such possibilities in our campuses. …. Secondly, whatever little of such possibilities that we hear from here and there, say for instance one such facility offered to retired professors by JNU, unfortunately, they are all steeped in murky controversies. Bothe the professors and the administrators appear to be busy with futile exercises rather than research.

Now the disturbing question that a layman on street often encounters on listening about such greats as John Goodenough and their singular pursuit of academic interests is: Are we not capable of cultivating and nursing such a healthy work culture in our universities?