Tirumala, the Kaliyuga Vaikuntam, The Hindu Publication, Rs. 250.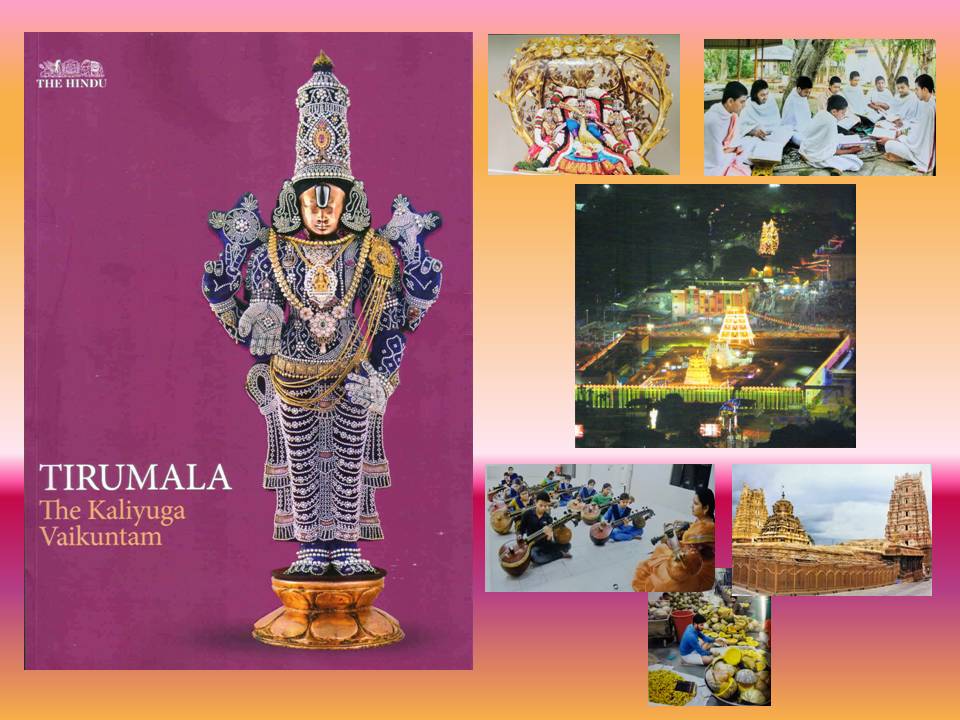 Let me be honest. Today, I am an agnostic; but, always an admirer of art, culture and beauty. My habit of browsing through the books in the book shop Odyssey I came across the The Hindu Publication 'Tirumala the Kaliyuga Vaikuntam' of the book and its contents. On a cursory turning of the pages I stopped short after reading two contents 'Counting the Lord's riches' and 'Golden Tales of the Lord'. Awesome!

It stated that while the Hundi offering per day crosses Rs.3.3 crore per day, the temple's gold assets are almost 2 percent of India's sovereign gold holdings held by the RBI. Wow! Though I am not a real 'baktha,' I am definitely an inquisitive reader. I bought the book instantly and started going through the interesting and informative articles and eye catching photographs.

The handy book carries 15 articles covering the various facets and activities of the highly and unbelievably celebrated shrine of Tirumala, supporting the articles with catchy photographs. While the religious ones may be interesting to the staunch devotees, I was really impressed with the unbiased articles on 'Counting the Lord's riches', 'Golden tales of the Lord,' '

Some donations are troublesome', 'Food for the soul', A Green Tirumala by 2010', 'Where Krishna listens to music' and 'The Lords's own Veda pathasala' since they are precise and provide very interesting reading.

For me the book is as impressive as a vibrant and quaint Deepavali Malar; for ideal Bakthas it should be a treasure.