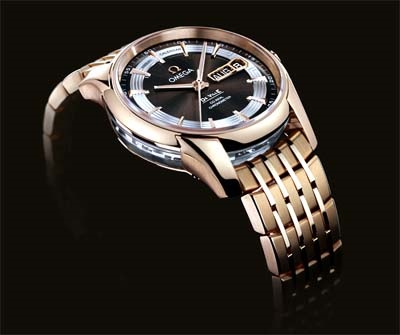 The watch on your wrist may no longer be an ubiquitous contraption to tell the time – it is an all important accessory, a fashion statement, a personal signature and more. Gone are the days when wrist watches were sturdy and practical objects, only to be glanced at to follow the passage of time. Today they come in a mind boggling array of shapes, sizes, designs and colors, made from materials ranging from plastic to platinum and to cater to all tastes, suit all pockets and satisfy our personal whims and caprices.

Peter Heinlein, a German locksmith, traditionally has been credited with making the first watch. In the early 1500s, Heinlein invented a mainspring to power clocks. Until then clocks had been driven by falling weights and had to remain stationery and stand upright for the weights to operate. Mainsprings enabled clockmakers to produce small portable clocks. Watch making soon spread to England, France and Switzerland.

Portable clocks were first used during the 1500s by town watchmen in Europe. As the watchmen made their rounds they carried portable clocks on straps round their necks. As other people began carrying time pieces the name was shortened to 'watch'.

The earliest watches were heavy and inaccurate. They weighed so much that they had to be suspended from a cord or chain and worn around the neck or hanging from a belt. Early watches had only an hour hand and their cases were spherical or drum shaped. Unusual shapes including skulls and crosses became popular during the mid 1600s.

Most watches were fitted with a minute hand by the late 1600s but a hand for the seconds did not become common until the 1900s. The balance spring and escape lever mechanisms had been developed by the late 1700s.

During the late 1600s watches became small and light enough to fit into a pocket of a jacket or waistcoat. These pocket watches were the most popular style of watch for more than 200 years. Wrist watches became common in the late 1800s but they were designed for women only. During World War I (1914-1919) soldiers realized that wrist watches were more convenient than pocket watches. As a result wrist watches soon became accepted as accessories for men as well.

Today men as well as women are going in for more and more fancy designer watches. While some rich and famous wrists flash an Omega or a Cartier, many lesser known companies are churning out exclusive and delicate watches which are being lapped up by the eager and discerning customer. Watch companies have suddenly launched millions of types of watches into the market and the demand seems greater than the supply.

The concept of embellishing a wrist watch is more than a century old. In 1858 Frederic Boucheron, the founder of this watch brand started coordinating with jewelers to develop a jewelry watch. The collaboration led to the creation of the first wrist watch for women designed by a jeweler in 1890.

However it took another 15 years to perfect the art of synchronizing technology with beauty. Now there are any number of brands that make jewellery watches both for men and women. Among those available in India are Omega. Mont Blanc, Christian Dior, Chopard, Piaget, Cartier etc.

Titan has recently launched a range of jewelry watches under the brand name Nebula. Made from 18 karat gold the watches come in the form of bracelets or bangles. Some have gold filigree work on them while others are embellished with pearls and diamonds. Omega recently launched its Constellation collection, comprising three lines – Aquila, Berenices and Cassiopeia – each named after a different constellation. The white and gold watches are set with square shaped diamonds, rubies and sapphires. The dials are mother of pearl while the stick hands are made of 18 karat gold.

Apart from using the latest technology some of the latest watches have so many features that they can be best described as wrist worn devices. Various models now have standard stop watches and time functions, they also have world time calculators, telephone data storage and schedule management capabilities. If all that's not enough they can measure altitude, distance, direction as well as blood pressure, apart from doing mundane jobs like calculating.

Using the latest technology watches can now even save lives. Breitling's Emergency watch could become a life saver; it is able to transmit a radio distress signal in the event of an emergency and is designed to save lives.

While men usually prefer their watches to be big, show and macho, often with a built in alarm, computer etc, ladies prefer theirs to be dainty, delicate and a part of their jewelry. Ladies' watches today are available in a wide range of eye catching designs ranging from the 'bracelet' ones to 'chain' ones or those which are studded with diamonds emeralds or rubies. Delicate pure gold watches with tiny diamond figures and a diamond clasp are an all time favorite of the rich and the famous.

Watches have become a statement of one's taste in fashion. From diamond encrusted watches that are pieces of jewelry they are also engraved bracelets in gold or silver. Apart from yellow, white or pink gold, some designs are made with platinum. Even colored diamonds are used for a unique look.

A Diaget watch belonging to Jacqueline Kennedy beat the records during Sotheby's special auctions in New York a few years back. One of the only watches on sale among an important lot of real and custom made jewelry, it was estimated between 2000 and 3000 US dollars and finally sold at a staggering price of 55000 US dollars! This watch was in 18 carat yellow gold with the famous 9P extra flat mechanical movements and a jade dial set with 24 diamonds and 4 emeralds.

Time today is more colorful than ever before. Watches are no longer only on black or brown straps with white or champagne colored dials. Now we have richly hued dials and fine watch straps in a variety of colors to suit every ensemble. The watches we choose reflect the way we want others to see us. Colorful and exciting, confidently big or bold, refined, elegant or slim – the choice is ours. We can even vary our watch according to our mood and place – practical, sturdy watches for office wear and dainty elegant ones for party wear. Watches can reveal our personalities- slim, young or trendy, sophisticated or classical.

Most modern watches are worn on the wrist. Before the 1920s they were almost always carried in the pocket or handbag. In the past women sometimes used watches as decorative accessories wearing them as necklaces, lockets, rings, brooches or pins, Today's watches range from plain models costing very little to ones decorated with precious stones that cost more than an expensive car.

Watches have traditionally displayed the time by means of hands pointing to numerals or markers on a dial. This method is known as analogue display today. Liquid crystals are also used to display time by a method called digital display.

Every watch has two main parts, the case and the movement (or works) inside the case. The movement shows the time, provides power to run the watch and regulates the speed of the watch. Watches differ according to how their movements perform these functions. Watches may be broadly classified into two main categories – mechanical watches and electronic watches.

One of the best known watches is Omega's Speedmaster which was worn by Neil Armstrong when he became the first man to set foot on the moon. It is also credited with saving the lives of astronauts on the later Apollo 13 space mission when the spacecraft's on board time systems failed completely at a critical moment.

Watches today are made dust proof, water proof and shock proof. Rolex Oyster's innovative construction provided one of the earliest and most enduring forms of protection against water and dust, the worst enemies of any watch. First used in the 1920s the concept is still at the heart of most Rolex watches.

Today apart from being fashionable watches have reached the outer limits of technical wizardry. Modern watch designers pay great attention to dials and hands, perfecting every minute detail and offering infinite variety. There seems to be no limit to their innovativeness and imagination. Winding buttons and the buckles on straps are often turned into design features in their own right. Roam numerals feature strongly today making bold statements in classical style.

Few products in fact have ever been made that last as long as a fine watch. Their appeal ironically is almost timeless. Watches have been handed down as heirlooms from generations. Classical watches made by Cartier, Rolex, Omega, Bertolucei, Patek Phillipe and others are collector's items. A decade or so back International Watch Company (IWC) introduced the Da Vinci, a mechanical watch programmed to show the right date for the next 514 years. Its design was inspired by Leonardo da Vinci's 1499 plans for fortification of a harbor.

More and more watch manufacturers are targeting mainly women customers as the wrist watch makes a bold fashion statement. Piaget has introduced the Tanagra jeweled watch for ladies. Acknowledged masters in the field of jewelry watch making this watch is a superb jewel watch, entirely set with diamonds; a time piece of unparalleled sophistication.

Christian Dior was the first fashion house to branch into watches and some exclusive designs for ladies. Patek Phillipe has recently launched "Ellipse" which is the first line designed by this great watch house exclusively with women in mind.

Many world famous watch companies are using celebrities as their ambassadors like Cindy Crawford, Sophia Loren, Shah Rukh Khan, Aishwarya Rai etc.

As time becomes an increasingly valuable commodity in today's fast paced world, the wrist watch is gaining more and more importance. While deadlines control our lives at almost every moment we cannot turn back the clock. So hail the entry of the wrist watch – our friend, philosopher and guide – a true companion, a fashion accessory and more. It is an era of wrist management.
Image (c) Gettyimages.com