Email Etiquette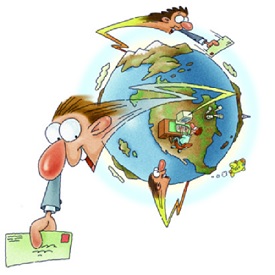 In today's technologically advanced world email is definitely the fastest and most effective forms of communication. From official emails to e cards, from chat rooms to browsing, email is omnipresent in our lives. However there are a few tips which we should remember while sending emails as an email is often the first impression a person gets of us.

The greeting: Always begin with a greeting. While "Hi" is OK among friends, for formal emails, "Dear Sir/Madam" is more appropriate. Don't write "Good morning" as you never know what time of the day the receiver will access the mail.

The ending: Among friends "Cheers" or "see you soon" is OK but for formal emails "Regards" is the safest option. Also don't write "immediate reply awaited" or a similar phrase as that seems more of an order. "I look forward to hearing from you soon" is a better option.

The subject line: We often get emails with "URGENT: OPEN IMMEDIATELY" or "IMPORTANT; PLS FORWARD TO ALL" in the subject line. These are against email etiquette. One should mention the actual subject in brief like "birthday greetings", "reminder for today's meeting" etc so that the recipient is aware of the contents of the mail before he opens it.

The body of the email: As far as possible keep the email brief. People are busy and have no time to go through long mails. If at all you want to send a document, include it as an attachment.

Grammar and style: An email full of typos, spelling mistakes and grammatical errors gives a very poor impression. Read it through before you hit the "send" button. Make use of "spell check" but also proofread manually. Use simple but correct grammar and be polite and courteous. Don't use big paragraphs, break into smaller paras.

Bullets: If you want to make several points, or send a list or a check list, it is better to give them in bullets as it is easy on the reader's mind.

Attachments: Never send unnecessary attachments or long attachments which take time to download. People are usually wary of downloading unknown documents. So don't write " see the attached file", better mention in a sentence what the file contains. If you want to send a large file as an attachment it is better to seek permission first.

CC and BCC: Don't send unnecessary CCs to all if it is not relevant to them. BCC should be used with caution as the main sender is often unhappy with BCCs to others.

Don't write an email when you are in a hurry or angry: Once an email is sent there is nothing you can do. An email sent in a hurry or in a fit of anger can cause untold damage to fragile relationships and no amount of apologies later can undo it. If you are angry or hurt, draft the mail and then go back to it a couple of hours later. Possibly you will feel like toning it down before sending it. If you are in a hurry, you can write "will mail you soon" instead of mailing a poorly worded email.

Don't overquote: If you are quoting someone's reply or message, only quote the relevant portions and not the entire thing. I often get emails quoting my entire previous email with a "thank you" at the bottom!!!!!!!!!!!

Treat with confidentiality: Don't be in a hurry to forward emails to others. Some emails may be sent in confidence or something may be written which is for your eyes only. Forwarding emails in a hurry can cause severe embarrassments later.

Smileys and emoticons: Don't overuse smileys and emoticons as it looks very casual. These are of course a no-no in all official or semi official emails.

Be careful of names: Make sure you get the name right. If you write John instead of Joan and Seeta instead of Geeta the recipient may not be amused. Try not to use nicknames in mails as it sounds very informal.

Avoid repetition: I often get repetitive emails which mention the same point over and over again and are very irritating. Mention clearly whatever you want to say and do not repeat.

Beware of misinterpretations and ambiguous words: These can be the cause of many a misunderstanding and have even led to litigation in companies. Be very obvious with the meanings of the words you write and when in doubt check with the dictionary or choose a familiar word. Bombastic language is not for emails.

Happy emailing!!!
Image (c) Gettyimages.com
09-Nov-2019
More by : Dr. Anjana Maitra
---