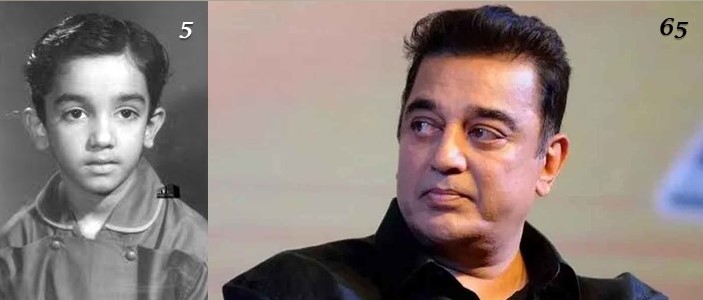 A baby boy who had started facing the camera at the age of 5 has completed 60 years of his successful film career. Lot and lots have been written about this actor who had demonstrated extraordinary talents in many fields related to show business. He must be the only Indian actor who had acted in six Indian languages (only one in Bengali is also included) and was successful and noted for his charming looks and talents. Though he couldn't make it big in the other languages, he reigned supreme for a short period in Hindi. His main field is Tamizh and one can vouch for the fact that he hadn't left any type of character in a host of films he had acted. He is a pride of Tamizh Nadu as for as film industry is concerned.

The child of 'Kalathur Kannamma', in fact, appeared as adult in a negative role of a highly self-centered younger brother in veteran director K Balachander's 'Arangetram'. In fact, the different roles KB offered him subsequently also were not any heroic ones. Remember the lascivious philanderer of 'Sollaththan Ninaikkiren' and 'Manmatha Leelai' or an obstinate and irritating rebel in 'Apoorva Ragangal' and 'Varumayin Niram Sigappu'? But, his characters came as a whiff of fresh air into the cloyingly honest, straight forward, emotional, over dramatic or impossible heroes who were not only aged but also testing the movie goers' enormous patience during those period.

Honestly speaking, this actor tried to prove that he is different from others in many of his movies and because of that, notwithstanding the fact that many of them drew blank in box office are still remembered and catapulted him to the top. Examples, 'Raja Paarvai', 'Moondru Mudichchu', 'Uyarnthavargal', 'Avargal', 'Nizhal Nijamakirathu', 'Aval Appadiththan' and 'Meendum Kokila'. At the same time there are several mediocre to penitent movies had hit the jackpot many times and helped him to ascend the steps of success.

While KB identified the immense talent in this young man and shaped him to do any role, as he grew he achieved greater heights in his acting prowess and improving his knowledge in different areas of film making; from screenplay- dialogue to direction. It is again a rare phenomenon for a successful actor because most of the popular Indian actors are entirely bank on their so called 'image'. But, this actor never bothered about that image and he was ready to break it at any point of time if the story is strong and the character is well defined.

While the commercially successful movies gave him the courage to try new vistas in film making sometime it showed his whimsical and eccentric sides also. Yet, he proved himself to be a director's actor too on many occasions. Apart from his acting abilities his sense of humor is something exemplary. That became the center point of many of his highly successful movies which are laugh riots; one example: 'Michael Mandana Kama Rajan'.

While as an actor he showed great poise and talent, on the personal side his life was a far cry from the normal Indian's 'happily married family man'. His relationships were impossible and short lived and his partings were also not without pain.

But, in recent times his idiosyncrasy taken a new form and his entry into political arena was something not only unexpected but also laughed at by many. It is still hazy and confusing because of his obscure orations makes one wonder what this remarkable artiste tries to prove in politics. All his ardent fans know that he likes experiments, however lethal it might be. Probably, this political entry must be one such outing. One needs to wait and watch.
Well, a brilliant career of 60 years is no small achievement; many happy returns of the day (7 Nov) Mr.Kamalhassan!