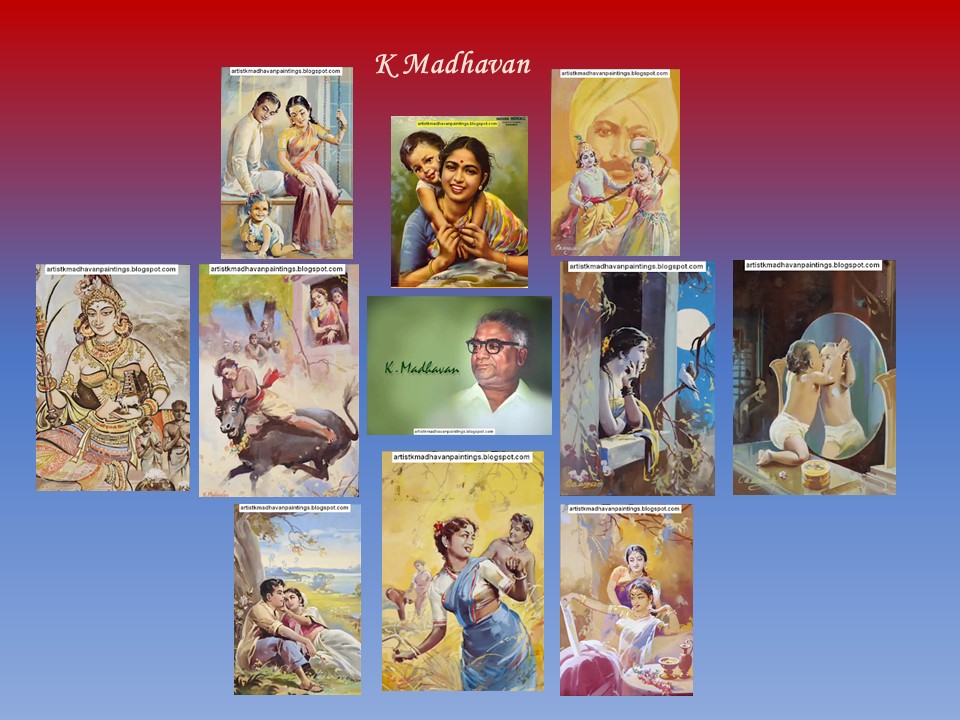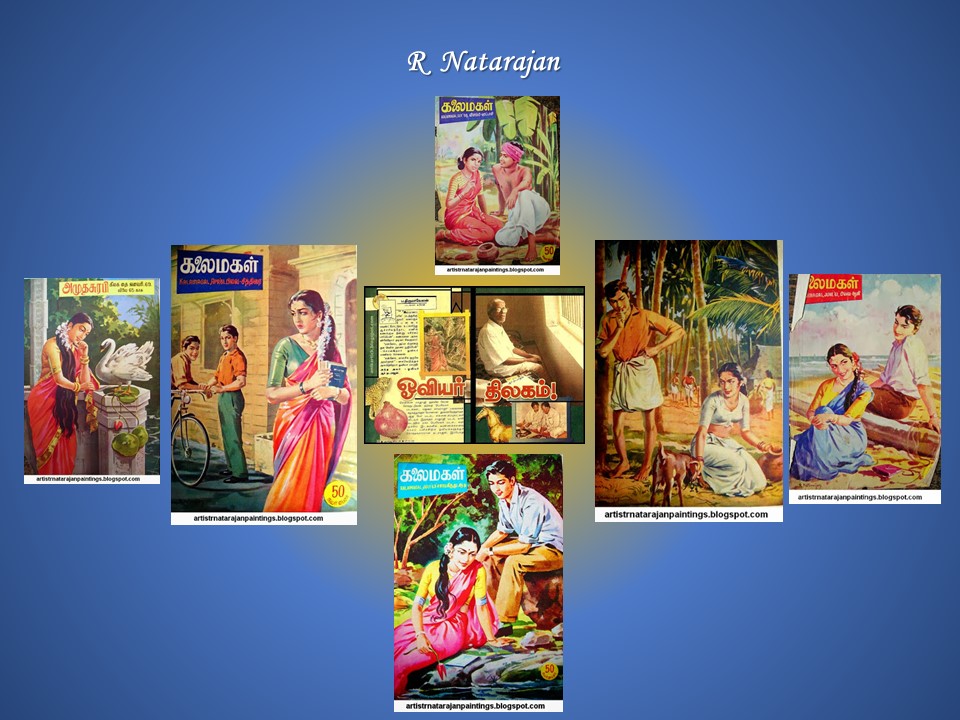 Though I am an ardent fan of Artist Gopulu, I have always enjoyed the art work of two very old artists of yesteryears. They are K Madhavan and R Natarajan.

Their works carry lot of similarities but at the same time one can find the individuality of each artist distinctly in their presentations. I have seen many of their works in magazines and I was very much attracted to them during my school and college days because I could see K Madhavan's wonderful art collection in Anand Theatre, Mount Road. The theatre has been closed and I wonder where those paintings are preserved. Owner Umapathy, I understand was a great admirer of Madhavan.

I have read about this great artist now and then but recently I have gone through the internet and struck on the blog 'Oviyar Madhavan's Oviyangal' which gave me a good account about the artist's life and professional achievements. He seemed to very popular among the politicians and film stars of that time, but today none knows about him or his works, I feel.

The greatness of Madhavan's work is its well defined bodies of the humans and animals and his absolute vision on the buildings and backgrounds. The expression on the face of his characters is another strong favorable point. They are absolutely realistic.

Those who want to know more about artist K Madhavan can click here:

Another artist R Natarajan was so much like Madhavan and he had been promoted a great deal by the Tamil magazine Kalaimagal. Many of his art works have appeared in Kalaimagal covers and Deepavali Malars in 1950s and 60s. Natarajan's life has been briefed in Anandavikatan in the year Nov 2002 with inputs from artists Maruti, Maniam Selvan and actor Sivakumar. This blog (click here) also carries several paintings or R Natarajan which are exceptional, realistic and beautiful.

It is sad in the present day world and in India only some geniuses alone get their due. Madhavan seemed to have been very popular during his time. So also Natarajan. But, none seems to care or preserve or promote these great artists works whereas many of the olden day artists are highly celebrated in the west. We ape west for many things but not on such important traits.

Sad!

Nevertheless, I thank the internet and memories about these artists which made me search and enjoy their exceptional works.