Two Indias and Other Poems
Author: Bhaskaranand Jha Bhaskar
Authorspress-2019/Rs. 295/p 116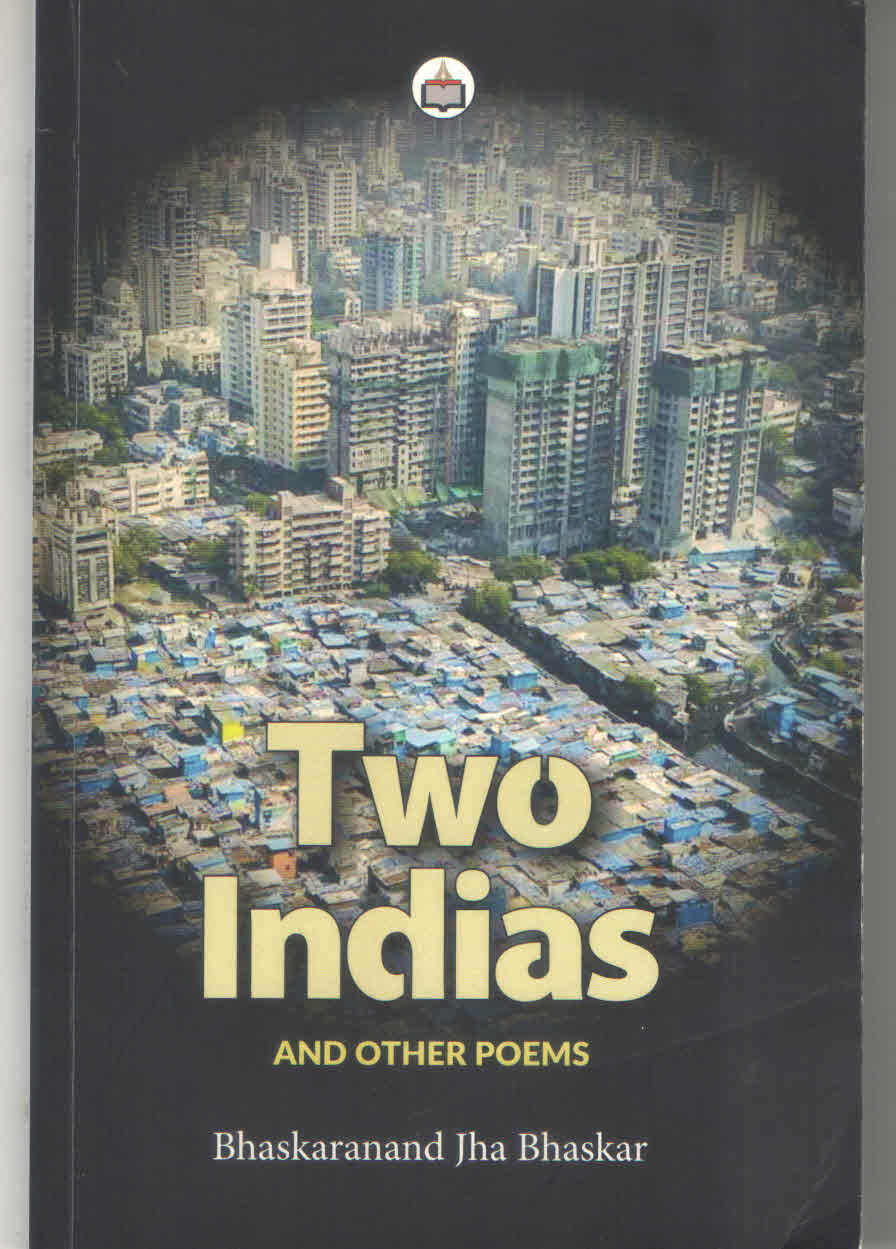 Two Indias is the second poetry collection of Bhaskaranand Jha Bhaskar containing 80 poems on various issues relevant to the democratic set-up in our society, which is yet to attain flawless levels of functioning in various arenas. Through this work, the poet has succeeded to bring forth his concern for the country and its people, his perceptions and resolutions and thereby does his part to bring social order.

Flipping through the pages, the first thing that comes to one's notice is that the book is dedicated to 'the neglected and marginalized people and the martyrs of India who laid down their lives for the safety of rest of the people living here', and this more than acts as a testimony to his noble poetic stratagem. U Atreya Sarma has given a rich foreword to the book giving glimpses of examples and states that 'Jha's voice is stimulating, thought-provoking, sparkling, bold and a voice that doesn't mind being politically incorrect in the current charged up milieu of our society', which this reviewer also endorse in full.

The poet is saddened at the callous attitude towards our hard-earned freedom forgetting the sacrifices of thousands of our predecessors, the cross-border terrorism which is shaking and ruining the very foundation and fabric of our fraternity and the increasing violence against women and children. Through powerful diction, bold expressions, honesty, brilliant metaphors and at times satiric takes, Jha is able to put across his views vividly.

Floral Tributes is a succinct, yet eloquent poem. I quote it here in full.

"Those who follow don't lead
Those who lead don't follow
Some men of politics
Face wreaths of our wrath
Throughout their lives.
A very few deserve
Shrouds of floral tributes
Just after they die in harness.

In 'Cacophony of the world' the poet talks about deafening eardrums ruptured with dreams and he is distressed as he is dead to the voice except sweet words of love through the ears of his heart.

The title poem 'Two Indias' is a slice of history when India was divided into pieces, unmindful of the sacrifices of the freedom fighters, their spirit and the purpose for which many of them laid down their lives and the poet stirs the conscience of the readers when he says:

India under the democratic rule
Still sobs and heaves
For her people are divided
Indulged freely in spree
The unfettered descendants
Of those rules over
Highhandedly with iron rods
Are the Indians,born blind
To their self-sacrifices
To the plight of the poor people
Born deaf to the sad saga
Of their tragic moans and woes
In our independent country
English past still haunts the present.

'1947' is again a page from the history when the country was divided into two during the midnight hour of August 14-15, usurped by power-hungry demagogues which left Mother India throbbing, bleeding, writhing and left in utter pain and anguish on communal flare-ups and mass killings, insensible of the huge sacrifice of their fore-fathers, who paid it all with their blood. Jha makes his point bare when he says,

So-called 'Tryst with Destiny'
Phenomenally brought forth with a bang
A new dawn of freedom-
The free dome of sumptuous spree
But only for a few mean mongers.
The old rogues
In newly sewn Indian attires
Life a wolf in sheep's clothing
………………

The poet pays his obeisance to the two greatest leaders in Indian history, Gandhi and Shastri who share the same date of birth October 2 in poem titled "October 2: Birthday of Two Idols"

Gandhi's love and non-violence
And Shastri's Jai Jawan, Jai Kisan slogan
We hold in high esteem
As our idols and nationalistic paragon.

Poem 'Cries of the Country' deals with religious fanaticism and in the last two lines, the poet brings before the readers the absurdities of people mentally blinded by the lights of religions.

In barbarian exercised of their perennial superstitious beliefs
Where religion lies, humanity dies, God flees, and society cries.

The communal flare-ups, deep-rooted bigotry, fanatic hatred, etc., that make the roses of Kashmir bleed give us a picture of gloom, yet the poem 'Bleeding Roses of Kashmir' ends with a positive note.

The delicate roses lose their beauty
Under the sullen smoggy sky'
Yet the billowing fragrance
Lingers in the gusty winds of hope!

Bhratri Dwitiya is an ode to our traditions, a celebration of sibling love. Jha says that 'our tradition has a lot to say and teach/ for monotony and animosity/into joyous moments of life/to cherish forever'.

Another poem that celebrates traditions is 'Hands that Tie Rakhi'. The poet here doesn't fail to point out that the rules of patriarchal society are not women-friendly, those that vilely soil and defile sanctity of sisters' soul and make the readers aware that women feels insecure in every corner of her life and thus tying Rakhis on weak wrists loses its inherent meanings. A sensible reader can't read this poem without feeling morose about the pitiable state of our own sisters.

None can repudiate the fact that Delhi has become infamous having witnessed in the past the worst cases of rapes and violence against women. The poet expresses his genuine concern over such happenings. In poem 'Oh, Delhi' he comes sharply at this and equates such sex-maniac, sex-starved, sex-ridden people to Duryodhans and Dusshashans of modern Mahabharata and for curing this, he suggests medication of spirituality.

Oh Delhi, Why don't you
Cure them with the medication of spirituality
And make them drink syrup of ethical values
That your glory has been using since long,
To treat all the global rotten malaise?

Similar theme is dealt with in the poem 'Sexual Assaults'. Jha's words are hard-hitting here at the heinous sexual crimes small girls are subjected to and he reiterates that time is now ripe to impart ethics-value based education with a dose of spirituality to contain these perversions.

Through the poem 'Screams of Sonagachi', Kolkata's red light area, Jha draws the picture of pain before the readers, the pathetic state of women in perennial woes and bearing invisible wounds tattooed in their red tears destined to woo midnight customers forgetting the long lacerated ignominious scars on their thick thighs. Any humane person will feel a lump in his/her throat after reading this poem.

'Sex Vultures' is another poem with the same subject and Jha nails hard on the human psyche the nefarious greed of inhuman breed due to which women are brutally assaulted and he concludes the poem thus, necessitating no explanation:

The vaginal ruptures
Of the busty or the flat-chested
Writhing in traumatic pain
With multiple bites, spinal fractures.
Curse and shame on sex-maniac vultures.

Jha's love for nature is amply displayed in his poems "ode to the beauty of Andaman' and 'Boat in the Krishna River' to quote specifically and many other poems throughout the book.

In 'Silence of Sounds', Jha makes a factual observation that 'Deeds and misdeeds both bleed/Good deeds are crippled and crawl' and that the lamenting sounds go unheard, but ripples of remorse swirl in hearts. This situation is pathetic as sounds of deeds echo with it does nothing good for the rescue of the harassed victims.

A poem each to pay tribute to Atal Bihari Vajpayee, Dr. APJ Abdul Kalam, Maharajadhiraj Kameshwar Singh, Bapuji, father of the nation , Maithil Kavi Kokil Vidyapati, Mamta Banerjee, PM Narendra Modi all with extreme obeisance, reverence, purity of purpose and with poetic excellence find place in this book.

Hailing from Mithila in Bihar, it is no wonder that glory of Mithila and a few of Mithila's famous personalities have drawn the poet's attention. Poems titled Resurgent Mithila, Sobbing Sita, Mithila: Land left in Lurch are a few examples to quote.

Cross border Terrorism instigated and supported by our neighbour forces us to combat it tooth and nail and 'Surgical strike' deals with India's pain on the division which is like a painful pus removed to heal a chronic wound.

The poet through his bold expressions in 'Award wapasi' exposes the ulterior motives of some politically motivated persons and he affirms like this:

..to gulp down more
In future
From the generous donors
With an extra-large heart.

The richness of metaphors in the poem 'Railway Platform' is amazing, for e.g:

First, fast and fittest
Countless sperms crawl in the ovum
Of the pregnant platform.

In our country, 'n' number of statues are coming up in all nooks and corners of political leaders and various other dignitaries from different walks of life, whose contribution to the country's welfare are significant. Poem 'Statue of Unity' deals with this and the poet here leaves the conclusion to the time saying 'time alone will pass the judgment."

There are poems on Gays and Lesbians and Queer Theory which deal with gender equality. The other areas touched upon are natural disasters like floods, earth quake etc. In poem 'The Earthquake can't Shake Our Spirit', the gist goes like;

It is the indomitable spirit
Of the survivors
That boosts them to rise
From the ashes of the ruins
Or severe grief;
They stand up on their feet
Time and again………

And we have seen this spirit of togetherness and brotherhood on many an instance in several parts of the country and he concludes the poem on a positive note.

The quake can shake
The vulnerable earth;
But not our indomitable spirit.

All the poems in this book remind us of our socio-political history, struggles and sacrifices of our people for freedom, good deeds of our great leaders, contemporary concerns and solutions and I feel many of these poems are fit to be included in the academic syllabi. Jha has grown to be a formidable literary figure in Indian English poetry and I wish him much more glories in the years to come.