Sir Joseph Lister & Antisepsis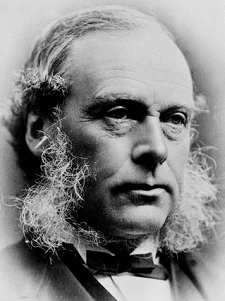 Sir Joseph Lister (1827-1912) was an English surgeon who pioneered antiseptic surgery after Louis Pasteur had shown that microscopic organisms (bacteria) were responsible for postoperative infection in patients. Till then sterilization techniques were not enough to avoid postoperative infections. Influenced by Pasteur's work on bacteria, Lister introduced the technique of soaking dressings and surgical instruments in Carbolic acid and that strict rules of hygiene be adopted to avoid sepsis in hospitals. As Lister succeeded in using carbolic acid as a sterilization agent postoperative fatalities caused by infection were markedly reduced.

In practice, Lord Lister insisted that all instruments used by the surgeon be cleansed with carbolic acid; the surgeon's and nurses' hands were to be washed with carbolic acid; and the patient's body was to be cleansed with carbolic acid, including the place where the operation was to be performed. Doctor's and nurses' clothes were to be treated with carbolic acid. These procedures first induced laughter on the faces of Lister's fellow doctors and surgeons. But Lister was right, and his methods showed wonderful results.

Historically, the importance of cleansing the hands with Chlorine-containing solutions for prevention of puerperal fever was demonstrated by a Viennese physician Ignaz Sammeliveis in 1884. He worked on this procedure to avoid "childbirth fever" or puerperal fever as it was known later. Joseph Lister in 1867 announced his method of sterilization of wounds, bandages and surgical instruments by phenol (carbolic acid). It was stressed by Lister that "Surgical sterility is not necessarily absolute sterility".

Thus, Joseph Lister was responsible for making surgery a much safer procedure by using phenol (carbolic acid) to kill pathogenic bacteria responsible for postoperative infection in surgical practice.
23-Nov-2019
More by : Dr. Frank S. K. Barar
---