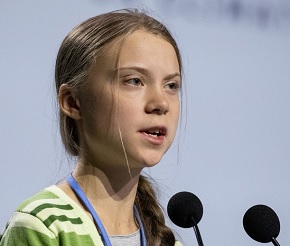 A year back, a 15-year-old girl sat outside the Swedish Parliament with a placard, "Skolstrejk For Klimatet" (School Strike for Climate). She was a lone figure then. Today, when she is blaming the elders for the inevitability of the climate catastrophe, the world is listening to her. The UK Parliament heard her saying, "You did not act in time." In November, this diminutive teen called, Greta Thunberg, addressing a youth climate rally in Los Angeles, said: "The older generations are failing us. They are failing future generations, but future generations do not have a voice and the biosphere does not have a voice." She then asked the rally, "Do you think they are listening to us?" When the crowd shouted loudly, "No", she replied equally loudly, "Well, we will make them listen." And this has become a primal and a personal reason for Greta to forge this new path.nbsp;

It is this kind of loud voice that is what is now needed to address India's air-pollution crisis that is inflicting an incalculable toll on public health and economic growth. Many credible studies have attempted to quantify the impact of air pollution. A study carried out by IIT, Bombay estimated the cumulative economic cost for Delhi alone by 2015 was $6.4 bn. In 2016, Delhi residents experienced a deadly smog "with the particulate matter at 15 times higher than the safe-levels". In 2018, the World Health Organization declared Delhi the most polluted city on the planet.

A long list of air-quality indicators is painting a grim picture. There remained many more yet to be quantified such as the extent to which the cognitive abilities of children growing amidst such air pollution are adversely effected. Similarly, we do not know the impact of loss of productivity of a person due to air pollution on the dependent family members. All this is a sure pointer towards the emergence of a greater threat from air pollution than what we have comprehended so far.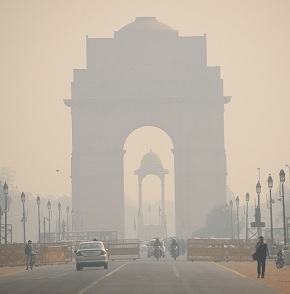 In the first week of November, Delhi was covered by toxic smog. It was so thick that flights were to be cancelled. Local government announced closure of schools. Indeed, it encompassed the whole of Indo-Gangetic plain. The position—AQI is exceeding 500—is getting worsened from year to year with the rise in consumption of dirty fuel by the ancient trucks, tractors, autos, cars and two wheelers that clog the newly laid out 4-lane roads, besides large scale biomass burning. Despite such a grave situation, no matching response to counter the menace of air-pollution is forthcoming from the government as well as the people.nbsp; A recent survey carried out by EnvEcoLogic group in Delhi covering about 5000 individuals across the nine districts of Delhi region revealed how poorly the Delhiites are aware of the air pollution crisis and the regulations launched by the government to curb its ill-effects: 35% respondents do not consider air pollution in Delhi is an emergency; nearly 60% of respondents do not consider indoor air pollution in cities as a threat to life; and 50% of people are not aware that burning of garbage is banned and it attracts a penalty of 5,000.nbsp;

That being the awareness of the people about the impending crisis—a 'public health emergency'—it is no wonder if the 'command and control' model adopted by our policymakers to handle the pollution-related problems failed in delivering the desired results. In other words, it tells us that mere framing top-down policies with a hope that people would simply tow government's line will not give results till the people at the bottom are sensitized for a productive bottom-up contribution as well.

For instance, farmers in the rice-wheat cropping system of Punjab and Haryana states are known to burn an estimated 35 million tons of rice residues during October 15 to November 15 of every year in order to prepare their fields for the next wheat crop. But such burning, though cost-effective for farmers, causes air-pollution. Indeed, it is identified as one of the man-made causes for the worst air pollution that Delhi experiences. A mere top-down policy measure of penalizing the farmers for such burning simply failed in arresting this practice. For, a number of socioeconomic factors influence farmers' residue management decisions: if a farm is owner-operated and if he owns large number of livestock he may resort to full residue removal by way of harvesting it for cattle feed; on the other hand, if the turnaround time between the harvesting of rice and the sowing of wheat is less, a farmer may resort to burning of the residue. So, unless policymakers come up with technological innovations to make rice residue removal and sowing of wheat crop less costly, farmers may continue to do what they have been doing all along.

That is where the need for leaders like that young Greta Thunberg is felt acutely to forge a movement, a movement that could address Delhi's air pollution crisis effectively. For, such people-driven movements would be more powerful to bring in the desired behavioral changes in the society at large: scientists will address the underlying issues more diligently and come up with innovative answers to the problems; media would give vent to the voices of all the concerned by differentiating them into human frames, scientific frames, or policy frames, and policymakers would be better armed with requisite information to adopt right measures to mitigate the crisis, and people being aware of the underlying reasons for the 'public health emergency' actively participate in all the sustainable campaigns that are launched by the policy makers.