Jingle Bells, Jingle Bells,
Jingle all the way!
Oh, What fun it is to ride
In a one horse open sleigh.
Jingle Bells, Jingle Bells,
Jingle all the way!

December 2019:

As my wife and I get prepared to embark on our journey back home to India, I am reminded of the days ahead…with Christmas and the New Year just around the corner.

After living in Saudi for almost two decades, it is perhaps the first time, we would be in India during the season, so the excitement is palpable and the eagerness just to get there is really pleasant and intense.

These thoughts draw me to my childhood days in one most the most cosmopolitan cities of India, Visakhapatnam. The celebration in the city was always so vibrant. In Yarada Park, the Housing colony in which I spent my childhood, the grandeur and gaiety of the celebration was just many levels more.

The excitement would begin days before…to the run up to Christmas, where we would witness the confluence of various Carol groups from several different churches, into the Colony.

Although, we did not belong to the Christian faith, my parents and I, have had friends in all the Carol groups and we had the rare and unique privilege of all the Carol Groups visiting our home and singing the Christmas Carols. Some of them would arrive at our home, almost at midnight. But even as young children, we would jump out of our beds, to join the Carol group, sing with them, partake in their happiness, share the sweetmeats and drinks that my mother would already have prepared in anticipation of their visit. These moments used to give us so much happiness….something that is difficult for my kids to fathom, despite my explanation…experiences that I wish I could "re-live" sometime in my life….all over again…

The spirit of Christmas just transcended the boundaries of religious differences….everyone celebrated and enjoyed it to the core!

On the day of Christmas, all the children would be dressed in their best, in different hues, their comely costumes shining and their faces bright and radiant….

The celebration was so "infectious" that even my Mother used to bake a cake and make special meals, usually Biryani and something special.

The "icing on the cake" for Christmas would be the trays and trays of sweets and goodies that used to flow from various neighbors. They were so kind and generous, that we used to enjoy the treats almost until New Year!!

As a child of five or six, I used to be so excited to see Santa coming and giving us sweets. Only many years later did I realize that it was Jimmy Uncle who was dressed as Santa.

We shared our neighborhood with a few fabulous Christian friends around us. The Abrahams, The Zacharias', the Burgess's' the YV's, the Guerra's…the Thomas's…et al….

I used to visit each one of their homes, have animated discussions with the friends, share their Christmas gifts…gifts "that Santa would leave in their "Socks" during their sleep". I really believed that it was Santa coming during the night. One day, I went home and cried…asking my Mother, as to why Santa was not visiting us and leaving toys for me. My Mom assured me that he would come the next year…and the next year…but never to happen…till I realized that the gifts were only from the parents of my friends and not the legendary Santa!!

My wife and I, run that proverbial "extra-mile" to create the same magic in our home in Saudi Arabia. We put up our Christmas tree, we bake our cake and have our home-made wine…partake in the same with family and select friends…something that we have been doing for years on….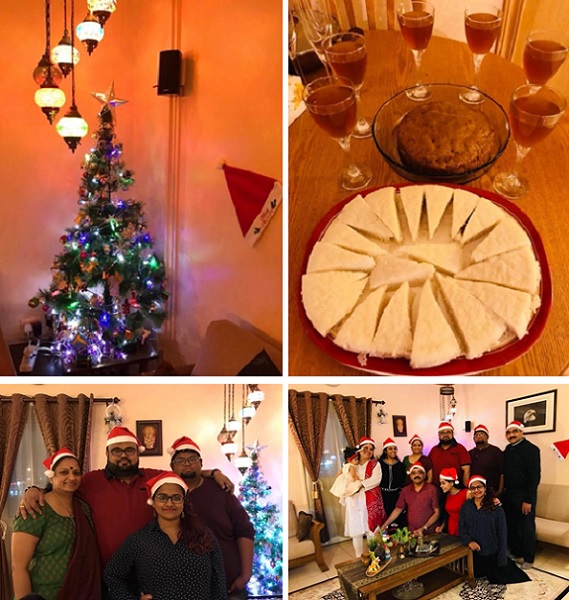 This year we will celebrate Christmas in India…we will join my sister and her family to re-create those magical moments and God willing have yet another fabulous Christmas…something that I can reminisce and write about in the years to come!!

I take this opportunity to Wish all my friends, family and all the readers of this humble write up, "A Merry Christmas and a Happy New Year"!!

May the spirit of Christmas, help us to regale in positivity and large-heartedness, that will pervade in our homes, hearts and communities around!!

God Bless!!