Birth Centuries of some Music Legends and My Reminiscence on them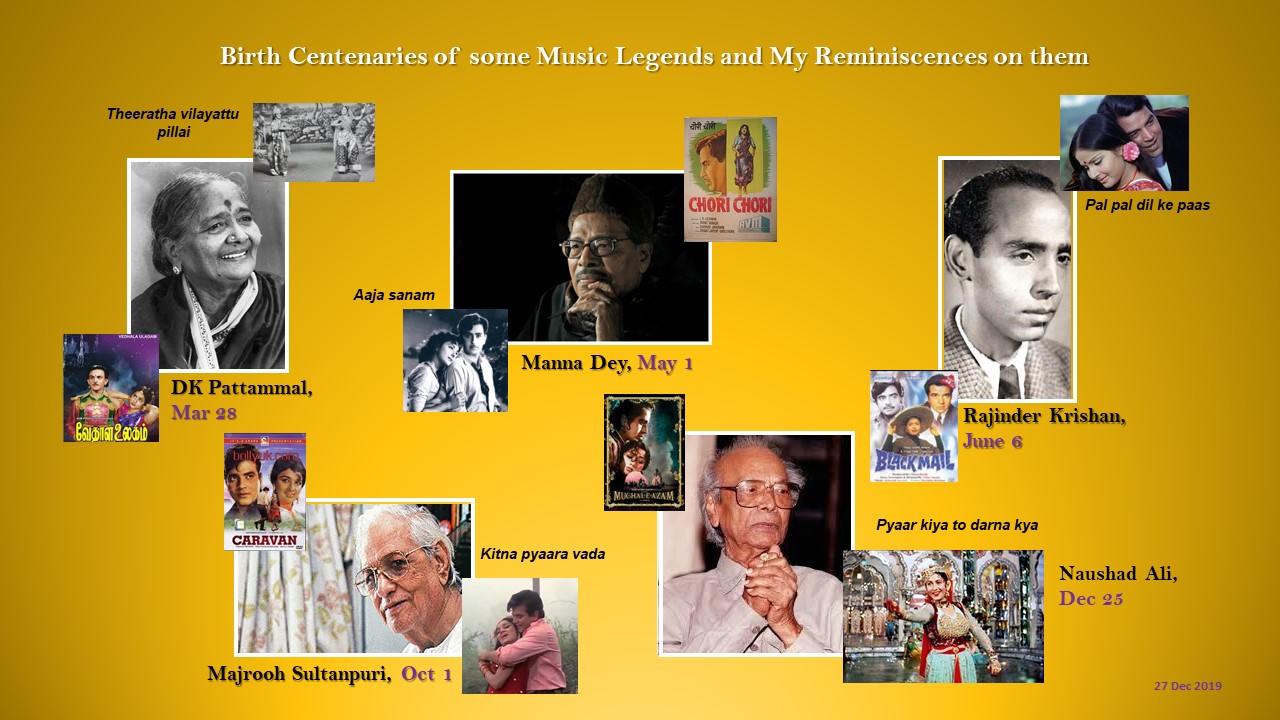 Recently I read a small news item in The Hindu mentioning that the year 2019 had been the year of Birth Centenaries of many music related highly acclaimed personalities. When I went through the item, I found some of my favorite Hindi film lyricists, music directors who had given memorable songs which are etched in my memory even today. DKP is an exception who belongs to the classical Carnatic genre.

DK Pattammal though basically a classical musician of excellence, she had also sung in films and independent songs earlier and her popular numbers which I still remember are:

1. Aaduvome Pallu paduvome – Naam Iruvar
2. Verti ettu dikkum etta – Naam Iruvar
3. Pooguyil koovum pooncholai Kalki's song
4. Theeratha vilayattu pillai – Vedala Ulagam
5. Santhi nilava vendum – Sethu Madhava Rao

1. Itna na mujhse tu pyaar – Chhaya
2. Chup chup khadi ho – Badi Behan
3. Yeh zindagi usiki hai – Nagin
4. Pal pal dil ke paas – Black Mail
5. Tumhi meri manzil – Khandan

Majrooh Sultanpuri is one another famous lyricist who had been writing for a long time. Some of my takes are here:

1. Aaja aaja meri – – Teesri Manzil
2. Kitna pyaara wada – Caravan
3. Chura liya hai – Yadon ki Baarat
4. Hume tumse pyaar – Kudrat
5. Jaiyen aap kahan –Mere Sanam

And finally, Naushad whose music enchanted many Hindi film music lovers have several to his credit. Honestly, many of his very old songs I have no acquaintance. My known favorites are as follows;

1. Bachpan ke din – Deedar
2. Mohabbat ki jhooti – Mughal-e-Azam
3. Pyaar kiya to darna kya – Mughal-e-Azam
4. Yeh kaun aya roshan – Saathi
5. Mere mehboob tujhe – Mere Mehboob
6. Utaye ja unke sitam – Andaz (1947)

May be some of you might have heard these songs. I just went down the memory lane and collected and collated my favorites on these luminaries' birth centenary.