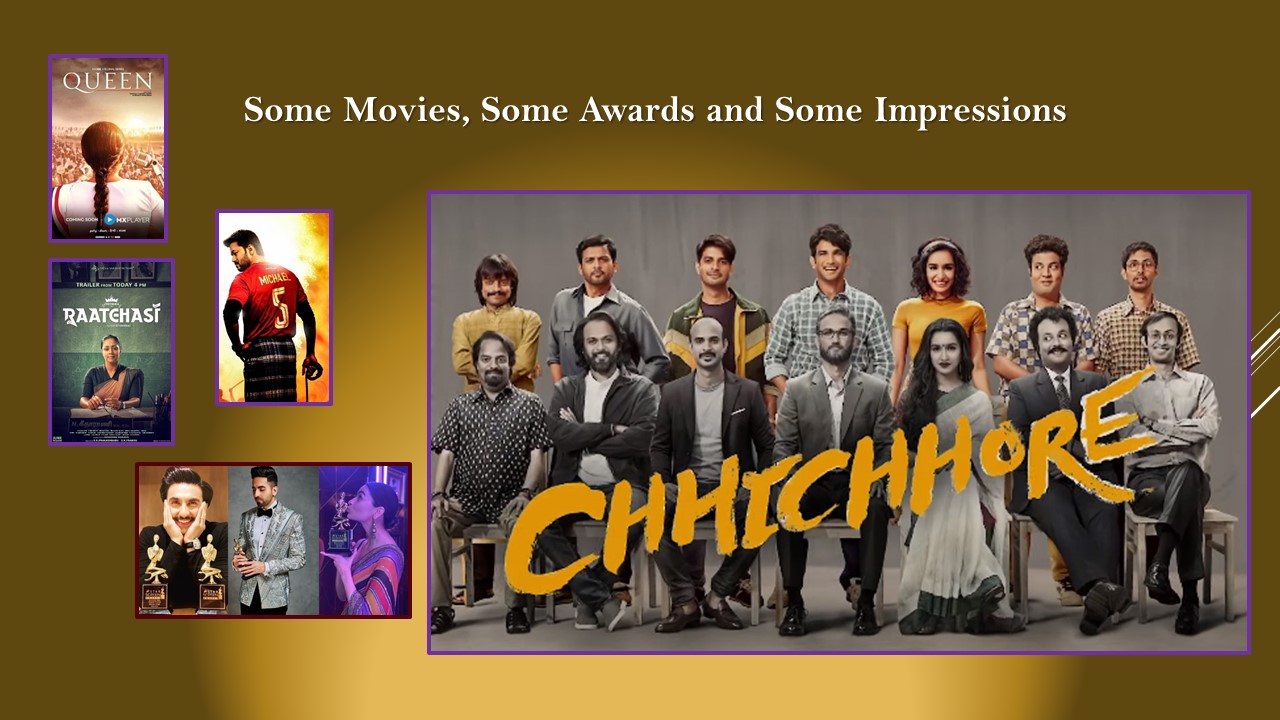 As usual, I would like to record my impressions on three movies I watched. One, the web serial 'Queen', Season 1 with 10 episodes of roughly 30-50 minutes each. Though it claimed to be a fiction, everyone and every media had mentioned who is the protagonist of the web series. I have never come across such a drab web serial so far. It is insipid and painfully slow like an art movie and the casting is nothing but terrible. If it clicks with the audience, it must be a miracle.

I watched another movie 'Ratchasi' about a woman who comes to a remote village in Tamil Nadu and takes efforts to achieve best results in making a messy government school into a disciplined and performing one. Though preachy, it was not boring or testing your patience.

I could watch only 20 minutes of a popular actor's movie which was declared as a flop by some and success by his fans, accused of shop lifting from an American film by his adversaries. Just unbearable and I switched it off.

The Star-Screen award for 2019 was very amusing; 'Gully Boy', (a positively boring film for me) had bagged awards under 10 different categories! Phew! The selection of 'Article 15' and 'Saand ki Aankh' seemed to be sops! Well. Alia's performance in 'Gully Boy' doesn't merit an award. It should have gone to Taapsee Panu for her arresting acting in 'Badla'. It is also shocking the dim and hazy cinematography of 'Gully Boy' too had won over the superb sets and crystal clear cinematography of 'Kalank'. It is, therefore, obvious something else works behind all these award melas.
I watched 'Chhichhore' (translated as 'flippant') out of sheer curiosity; it is because of its box office success and many rave reviews.

Well. The film starts well. It is a bonhomie between a single parent father and his present day teenage son whose ambition is to join engineering by passing the JEE. But, when the results say 'Better luck next time' he jumps from the tallest balcony in his friend's place to be admitted in the ICU and fights for life. It is almost the news item we read every year during the admission times.

The separated forlorn mom and the repenting father (in fact, their marriage is a love marriage as she was his junior in the engineering college) unite to hear the terrifying doctor's declaration 'your son does not want to be a loser and he wants to die.' Till this point, the movie created great expectations.

The father says he himself was a loser during his college days and to substantiate his statement he brings his close buddies to come and narrate the boisterous, boorish, to impossible incidents of their college days and how they have become successful in life notwithstanding their miserable performance mainly in sports. Remember, nothing about their academics! What sort of motivating act is it?

A nearly 147-minutes movie with just only one female character (Shraddha Kapoor) with a bunch of funny, grotesque to good looking (only Sushant Singh Rajput) actors the narrative winds through the passage of their college days. I too was an engineering college student once and also know the unruly side of hostellers. The steam of the movie starts withering off even before the interval as the story goes back and forth and trying to throw nothing tangible except fights, gags and irreverent humor. Their anecdotes convince the teenager the importance of self-confidence. Nonsense!

It is true that just academic excellence doesn't get anyone to the top or great success. It is the opportunities in life and their smartness (I consider it 'luck') in utilizing them alone count.

But, 'Chhichhore' is a big hit; so the dreary and overstretched narrative becomes irrelevant.