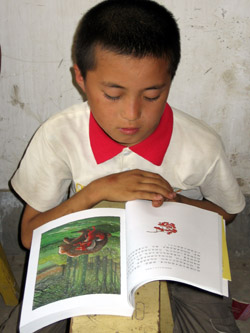 "You can realize your dreams if you persist. If the youngest brother had run away, like his elder brothers did that night, he would never have married the beautiful princess," Zhang Ke,11, from Run'an Public School in China's eastern Anhui Province.
He is talking about a character in the fairy tale 'The Princess in the Glass Mountain', which tells the story of the brave son of a farmer who survives earthquakes to capture three horses, three suits of armor and the heart of a beautiful princess.
Schoolmate Guo Shengcheng has a different take: "The story tells me that even if you are not the smartest, sometimes you can be happier than others." Qi Yang strongly disagrees. "I think the little brother is selfish. He should share his riches with his elder brothers. After all, they're family and they should stick together."
These are online discussions on a blog where children discuss fairy tales. The blog itself is part of a distance education project sponsored by the Citigroup Foundation and implemented by National Centre for Educational Technology (NCET) and UNICEF. The project aims to improve children's reading, listening and imagination skills - important aspects of a child's learning and development.
The fairy tales they are discussing originate in Norway. The Royal Norwegian Embassy in China had presented 2,500 copies of a book called 'Norwegian Fairy Tales for Children' - translated by a young Chinese diplomat named Zhong Shujia - to UNICEF in 2005. These books were then distributed to more than 700 project schools, mainly in rural western China, making the books accessible to over 250,000 children.
The folk tales in this rare collection were passed down the generations through word-of-mouth in the Norwegian countryside. In fact, these tales had not even been written down until 1841, when Peder Christian Asbjørnsen and Jørgen Moe visited hundreds of villages, transcribing the stories that the local people told them. Today, these stories - of fearsome trolls and powerful kings, of beautiful princesses and crafty heroes - are regarded as Norway's national treasures.
And they have now found their way to children in a country far, far away from Norway.
Lack of storybooks has remained an obstacle for the rural schools of China, which are often unable to purchase books. For instance, in the three project schools of Jingxi County, Guangxi Zhuang Autonomous Region, a student has only nine story books to read in the school's reading room, against the government's national standard of 15 books. And all the books of these schools were purchased before 1999. Naturally, the schools also fail to meet the requirement of increasing storybooks by 5 per cent each year.
"We know that students in China's rural areas lack both original textbooks and story books. So we cooperated with UNICEF to send them more books, and help them enrich their school life," says Ola Breidal, Culture Attaché, Norwegian Embassy. "No matter where they are from, children know how to appreciate fairy tales and they never get enough."
He says that as a child, he once read a Chinese fairy tale of a fisherman fishing at the threshold of the Yangtse River wearing a rattan rain cape with a crane on his shoulder. "This was my first impression of China, and I thought the country was fascinating."
Children seem to be responding likewise to Norway. "I first mistook Norway for Denmark, because I had read the Hans Christian Andersen fairy tales and I supposed that foreign countries which produce fairy tales must all be alike. But these tales made me curious about Norway. I searched the Internet, and found out about the location, national flag and emblem of Norway. More importantly, I calculated that the total land area of Norway equals that of three Anhui Provinces and 10 Taiwans," says Wang Yu, 11.
Three times a week, students listened to their teacher read the story, then wrote it up in their own words. They drew illustrations and even acted as characters in the story. They also shared their feelings on the Internet.
"Norway's folk tales are easy to understand but full of imagination," says Zhang Danfeng, 11. "There are deeper meanings to simple tales, but the story is funny. I feel it's fun, not tiring, reading them." But he also finds some stories a bit repetitive. "Although they are long, there's no solid plot. Perhaps they are more suitable for younger children."
The annual per capita income in Jinxi County is low at 1,280 Yuan (US$1=8.01 Yuan Renminbi). In Pilot Elementary School here, with its 1,606 school students, the Norwegian folk tales are more than stories. For six years, there have been no book acquisitions in the school's reading room.
Nong Guilu, 11, from the school admits she has rarely had a chance to read foreign fairy tales. "The rural areas in Norway are so beautiful and clean in the book's pictures. When can our hometown be like that?" she asks. She had only read Chinese traditional legends like the Monkey King before this. "But that's far removed from my life. The Norwegian fairy tales tell stories about ordinary farmers, children in farmhouses, animals in the fields - which make me feel that fairy tales can happen around me."
"These fairy tales open a door for Chinese children to better understand a different culture, way of living and value system," says Professor Xu Xiaodong from the School of Educational Information and Technology of Guangzhou-based South China Normal University, who is also the project monitoring expert. "Children imagine themselves in others' shoes and recognize that differences create variety in the world. When they grow up, they are less likely to be biased or intolerant towards other cultures."
"Folk and fairy tales speak the same language around the world, and teach you life skills," says UNICEF project official Annette Nyquist who, as a native Norwegian, heard these folk tales even before she was able to read. "The ideals and values portrayed in these fairy tales are similar to what we find in Chinese values, like making use of your own capacity to do good to and respect others, to be brave and independent and make decisions for life."
The fairy tales project "asks students to use their eyes, ears, hands, mouths and hearts together to take an active part in interpreting the folk tales; far more effective than merely sitting in the classroom being stuffed with knowledge like a Beijing Duck", says Xu.