Jayalalithaa: Manamum, Mayayum (Intellect & Illusion); Kalachchuvadu, Rs.195; 342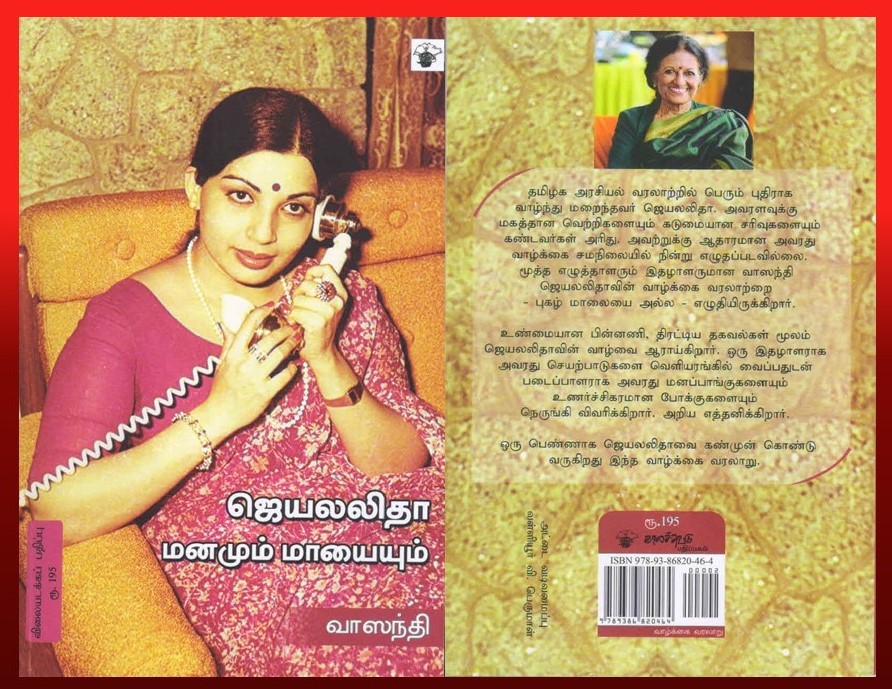 I would say with certainty that of all the books I have read on Jayalalithaa's life, this Tamizh biography written by popular Tamizh writer Vaasanthi is the most genuine and engaging one.

Vaasanthi should have started collecting the material for her book long back when Jayalalithaa was alive; but, when Jayalalithaa learnt about it she had forbidden it. Later, during Jayalalithaa's prolonged hospitalization, her book titled 'Amma' was released. It presented just a peripheral account of Jayalalithaa's life.

But, this book in Tamizh, Vaasanthi had written very eloquently on Jayalalithaa and her life with many ups and downs in great detail.

Everyone knows Jayalalithaa remained a paradox including her mysterious hospitalization and death. Yes. She was.

I wish the younger generation of Tamil Nadu read this book who knows Tamizh as the writing brings out the best and worst side of the most popular leader of a strong regional party. Not just that; it also reveals how difficult it is for a woman to reach a leadership in politics and remember, her film popularity had brought her only raunchy comments and despicable abuses. Jayalalithaa had swallowed everything and fought her battle to reach the top till her death notwithstanding her debacles in elections and also several court trails slapped on her apart from tireless travel for electioneering.

The present day Tamizh movie stars feel that they can enter Tamilnadu politics and to sit in the CMs chair with the help of their punch dialogues, opaque intellectual quips or vituperative oratory, media hype and blind hero worship of their fans.

They should read this book and understand how many hurdles, abuses, testing situations, visible and hidden enemies, election debacles, court cases to achieve what to become a leader in politics. In films, a star basks in the glory of the integrated and collective efforts of several persons. But, in politics it is not.

Let them understand that 'Film Popularity and Hero Worship' is different from 'Political Life and Party Leadership'.