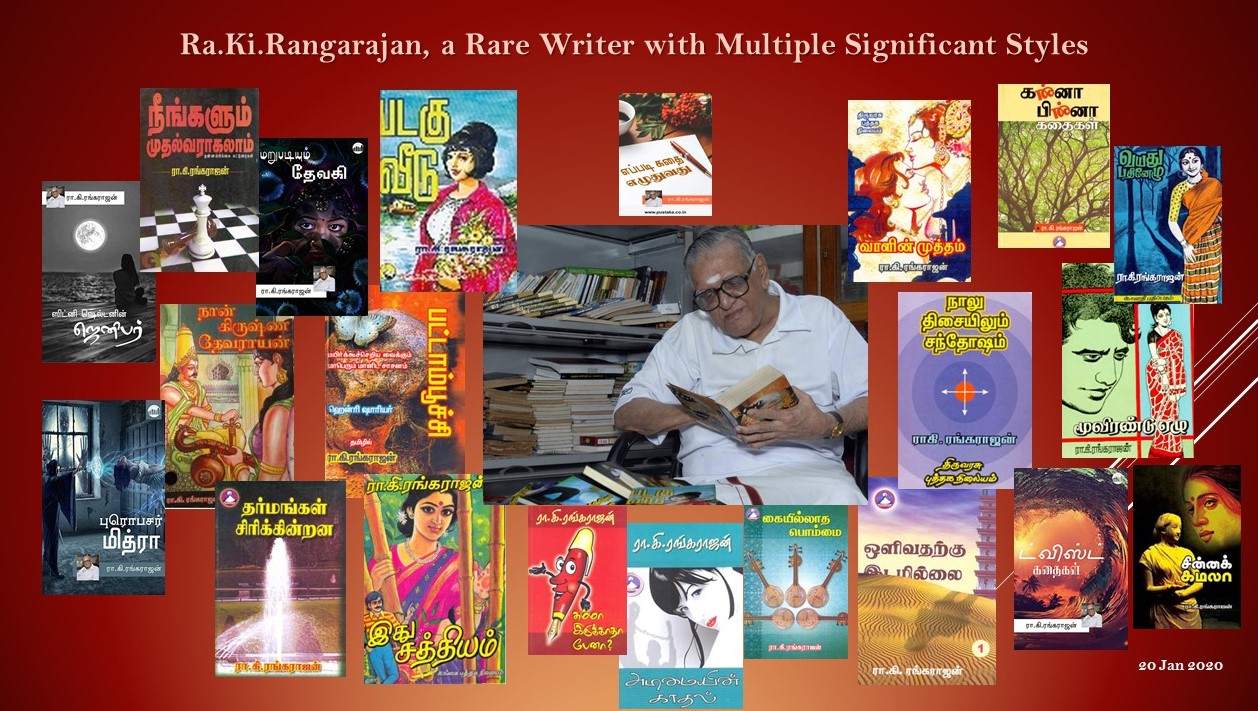 Tamizh Writer Ra.Ki. Rangarajan is someone highly prolific who had almost touched all genres of writing in his long innings in journalism. He served with the popular Tamil weekly 'Kumudam' for nearly 4 decades and more. He not only flaunted his writings in a host of pseudonyms like Krishna Kumar, Hamsa, Mohini, Surya, Mulri, Avittam, T. Duraisami to name a few. Each style would be different from the other and it is practically impossible to identify him when he wrote in other pen names. However, his poignant novels like 'Ithu Saththiyam', 'Padagu Veedu', 'Naan, Krishnadevarayan', ' Adimayin Kaathal', 'Vaalin Muththam' (Mohini) , 'Olivatharku Idamillai' (T.Duraisami). 'Professor Mithra', 'Marupadiyum Devaki' (Krishna Kumar) are still popular among his fans. And also with me.

In recent times, I happened to read some of his four books which were some sort of a breezy jottings and a drama also which are a blend of something serious, some hilarious, some silly and some philosophical. 'Naalu Disaiyulum Santhosham' is a compilation of his weekly columns in Anna Nagar Times. Here he had dealt with many topics from the civic issues, his interactions with many popular figures, certain comical situations of real life, his pilgrim jaunts, visit to USA and participation in public functions. The essays aren't too long but at the same time very crisp almost every one with a tinge of humor.

The other one is a self development sort of a book. Ra,Ki, Ra had acknowledged that he had been influenced by the book 'Instant Analysis', the author had created a characters who are shy, confused, doubtful, hesitant , procrastinating, complex, indecisive come and seek the advice of a professor named Siva Chidambaram living in a cosmopolitan residential quarters. Rangarajan with his immense experience in fiction writing created characters who needs a solution for their problem seeking counseling with him. Instead of preaching directly in sterile words, he moves the conversation as a stage or radio play characters strutting now and then. Serialized in 'Nakkeran' the book carries beautiful illustrations by artists Syam. Title of the book: 'Neengalum Muthalvaragalam'. He had his stint with the Tamil film world also through 'Ithu saththiyam', 'Sumai Thangi', and 'Mahanadi.'

'How to write a Story' was the tile of the third book. Here, he tries to impress on the aspirants of fiction writing with the basic lessons on how to conceive an idea and to convert into a story, how to develop it, the significance of conversation and the need to extend them carefully without slipping into boredom, the twist needed to make the story memorable. He explains each aspect with an example so that an amateur writer can understand the nuances of a short story and how to execute them.

Ra.Ki.Ra's speciality lies in his ample variety touching almost every form and style of writing. He had also translated Henry Charrière's popular voluminous novel 'Papillon' as 'Pattampoochi' and Sydney Sheldon's 'Rage of Angels' as 'Jennifer'. After his long innings in Kumudam he couldn't stop writing. He was regularly contributing to Anna Nagar Times.

Writers like Ra.Ki.Ra (5 Oct,1927 – 18 Aug 2012) are rare to come across. He had undoubtedly carved a niche for himself in Tamil literature though the recognition he got from the literary circle was not that significant.

But, there is no doubt he was very popular during his days in 'Kumudam' and later also had admirers like me, who followed and enjoyed his writings even today.