Hippocrates: The Greek Physician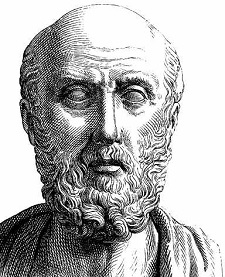 Hippocrates (460-375 BC) was born on the island of Cos. He was the son of the Greek physician named Hiraclides, and he followed his father's footsteps and pursued a medical carrier.

Hippocrates became a renowned physician, and is often called the "father of medicine". He wrote over 100 books and monographs that influenced the practice of medicine over centuries. His collection of 70 books known as Hippocratic Collection details all aspects of ancient medicine of his times. Hippocrates decidedly was ahead of his times, specially in an era when medical problems were treated
by false priests and witch doctors.

Hippocrates wrote many texts on medicine and medical ethics, advancing ideas that were more like those of the twentieth century, rather than the doctor practicing in the 4th Century BC. He developed the notion that for curing the sick the doctor must consider the nature of humans in general, and of each individual, together with the characteristics of each disease.

Hippocrates also recognized that the broken ends of a bone must be aligned for normal healing of a fracture, and traction has to be applied for proper alignment. Mobilization was recommended at an early stage, as "exercise strengthens and inactivity wastes". This maxim is still followed by doctors to avoid "atrophy of disuse".

Hippocrates in fact constructed the framework of modern medical practice. The Hippocratic Oath written by him continues as the cornerstone of modern medical practice. Each doctor has to take this oath before being eligible to practice medicine. This oath includes the doctor-patient confidentiality, a doctor's responsibilities
towards his patients, and a doctor's duty to treat anyone regardless of his status in society.
25-Jan-2020
More by : Dr. Frank S. K. Barar
---