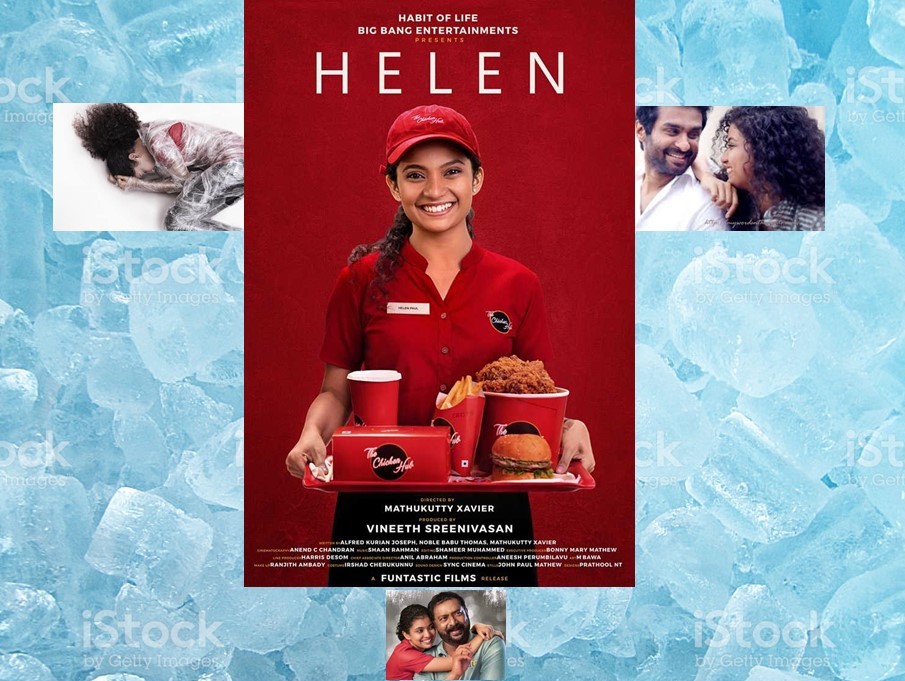 While surfing the movies in the Prime video I was struck by the smiling face of a young girl in the dress of some joint like McDonalds, titled 'Helen'.

Out of sheer curiosity I watched this Malayalam movie; this nearly two-hour tale was quite riveting because it brought out the surviving instinct in some strong humans notwithstanding a terrible situation. That being the main objective of the movie, a soft story was spun around the protagonist, the young girl Helen who is a graduate in nursing aspiring to go to Canada for better life. Helen has a doting dad but a compulsive smoker. Helen keeps her affair with a Muslim boy Azhar, as secret who is also in search of a job. Helen along with her preparation for IELTS works as attendant in Chicken Hub at a swanky mall.

Like Murphy's Law, if something goes wrong it goes till the end. The day Helen and Azhar returning home late they are caught by the traffic police. Their names are recorded and Helen's dad is summoned to the Police station. The next day night Azhar has to leave for Chennai to take up a job and Helen is sulking and that night before returning home after all the merchandises are closed, she gets trapped in the cold storage where meat is stored at minus 17deg.C.

With her phone kept outside the cold storage and her whereabouts not traceable panic strikes her father and boyfriend who cancels his trip and joins the search team. The police show hostility and non-cooperative and all hell broke out. The horrendous 5- hour trap in the freezing cold storage changes the body of Helen slowly but does not dampen her spirits to survive. Fate almost takes her near death due to hypothermia.

After the breezy intro of the main characters, the pandemonium outside after her disappearance and Helen's struggle to get out are effectively juxtaposed. The relationships especially of Helen with every one including the security of the Mall are endearing with her toothy smile which she flashes now and then.

The importance of sharing info, mutual understanding among people, the indifference of some police officials, the presence of minds of youngsters at the same time their hasty and irresponsible behavior are captured with impact.

A catchy drama on human ambitions, relationships, foibles, survival instinct and the need to install alarms and safety provisions in dangerous spots are highlighted well.

The debutant director Mathukutty Xavier, the screenplay writers and the main players deserve appreciation. While Anna Ben as Helen steals the show with her cute looks and natural acting others too play their parts with a natural touch. A clean movie with a clear message.