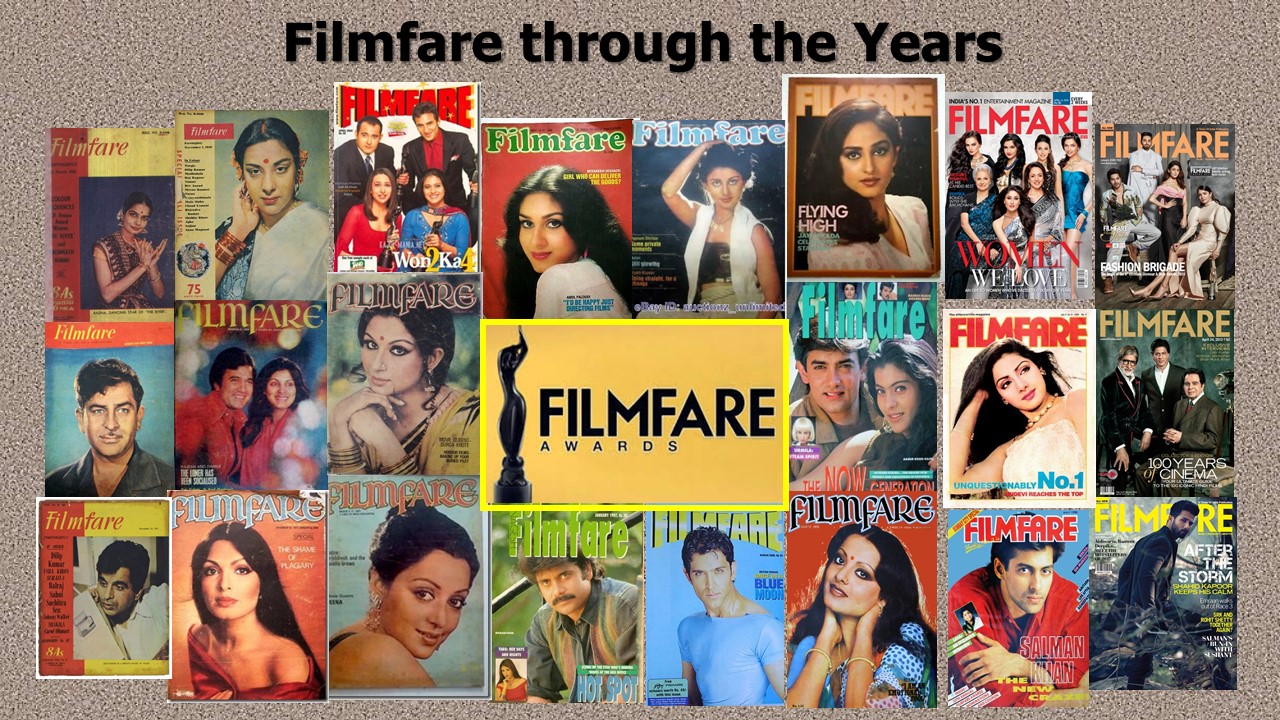 This year (2020) 65th Amazon- Filmfare Awards Ceremony is to be conducted for the first time in Guwahati – Assam on 15th February.

I think I started reading Filmfare after the magnificent entry of Hindi films in Chennai with the historic run of Rajesh Khanna-Sharmila Tagore starrer 'Aradhana' in Little Anand. Till that time, though familiar with some of the names of the popular Hindi film makers and stars like Raj Kapoor, Dilip Kumar, Nargis, Madhubala, Vyjayanthimala, Md. Rafi, Lata Mangeshkar, Shankar Jaikishen etc., I was not much interested in the stars or their interviews and other films being made.

'Aradhana' and the movies followed interested me mainly because of songs; it gradually initiated me to read about the upcoming movies and interviews of the stars and to know more about the popular Filmfare Awards. I started posting letters to their Mails column. Surprisingly, my first letter appeared in Filmfare in 1974, criticizing their selection of Awards for 1973 Tamizh movies. I have written 'if you wanted to give the award for Sivaji Ganesan for 'Gauravam' you should have renamed it as 'Award for the Best Overactor' and also criticizing their choice of Jayalalithaa for 'Sooryakandhi' instead of 'Arangetram' Prameela. I remember my ardent Sivaji Ganesan fan friend fought with me for my comments.

Later, I have posted several letters to Filmafare and surprisingly my pungent criticism of MGR and Shabhana Azmi won Best Letter prizes for me in the later years.

The fortnightly Filmfare turned monthly for some years and again fortnightly and presently turned to monthly. In between the magazine was unceremoniously kept closed for a year or two if my memory is correct. However, reading the magazine had become a practice for me during all these years.

The January 2020 issue of Filmfare carried my letter as a Second Prize winner.

Here I have presented the various covers of Filmfare from time it was started (March 1953) to Feb 2020 to just contemplate over the ever changing design and lettering on the cover.

Some lesser known facts about the popular and prestigious Filmfare Awards
The Award was instituted in the year 1954
The first award function was held on March 24, 1954 at Metro Theater Mumbai. The Guest of Honor was Gregory Peck, the world's most popular star. As his flight got delayed he couldn't attend the same but participated in the banquet later arranged at Willington Sports Club.
Only 5 awards were presented in 1954; Best Director, Best Film, Best Actor, Best Actor (Female), and Best Music Director.
'Do Biga Zameen' is the first movie to win Best Film Award. So was the Director Bimal Roy for the same movie.
Vyjayanthimala refused accept the 'Best Supporting Actor' for 'Devdas'.
Biggest block buster 'Sholay' got only one award in 1995 for Best Editing.
In the year 2005, the film 'Black' bagged 11 awards in a single year. Next two movies which won 10 awards each in a single year are 'Dilwale Dulhaniya Le Jayenge' and 'Devdas'.
The maximum number of best actor award had been given to two actors; Dilip Kumar and Shah Rukh Khan, each 8 times.
Lata Mangeshkar after winning the best singer award in 1970 for her song 'Aap mujhe achche' from 'Jeene Ki Raah' requested that her name need not be nominated thereafter.
The award referred as 'Black Lady' was initially made of bronze and heavy; in the 25th year it was changed to silver. In the 50th year it was made of gold. Few more changes have been made to the trophy to give it a 3-D look and feel.