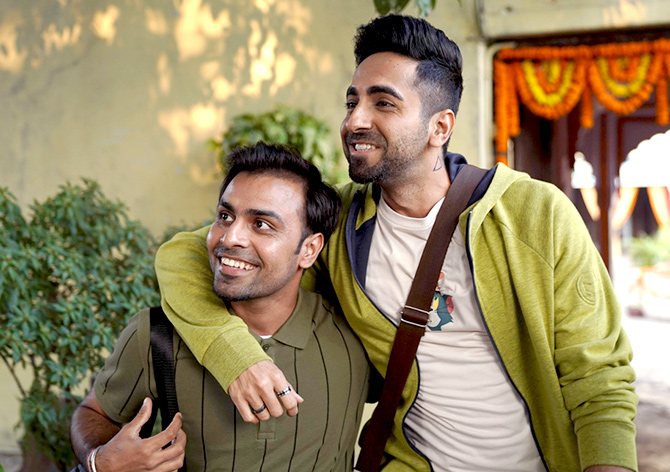 Homosexuality, to be honest, is a tacky subject in India, even today and also will be on the coming days. Most of the times, gays are shown either as criminals, mentally sick persons or comedians. The last one is the most frequent occurrence in all possible silly manner. It is surprising an absolutely comedy crap like 'Shubh Mangal Zyaada Savdhaan' is receiving positive reviews as if it carries a wonderful message in the wake of decriminalizing Homosexuality.

There is no denial of the fact that 'sex' is the integral part of this relationship, such relationships extend beyond that also; it is true in the case of 'normal' man-woman relationships also after a period of time.

Indian culture with its innumerable complexities and ifs and buts, for strange reasons was following the British law till a few years back while most of the world just approved of gay sex and gay relationships.

'SMZS' is no way different from the comical representation of gay characters in other main stream movies; probably the difference here is they are the protagonists. The staple ingredients of a typical Hindi movies like pompous marriage, idiotic relatives, sudden serious speeches, stupid comedy, ridiculous dance and song sequences are aplenty to deliver and drive home a serious topic. I don't know how many so called educated are aware of 'dopamine' and 'oxytocin' whereas the idiotic looking lovelorn Aman reels out such medical and scientific terms to his 'scientist' (he must be a botanist) father!

The press, the critics and a part of the public praising this movie may be just to extend their support the LGBTQ community or for providing them laughs once again at the expense of queer relationships.

A subject which should have been approached with at least an iota of seriousness and sensitivity had been reduced to another comic caper! Sad!