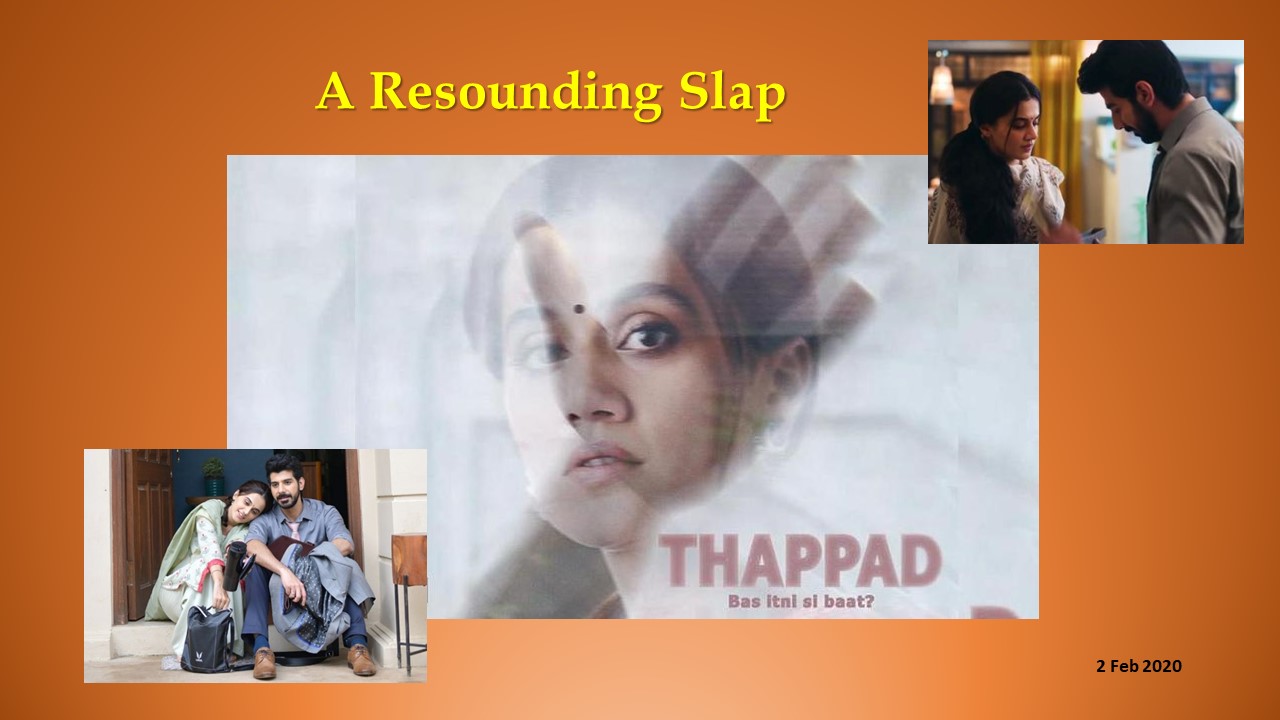 How important self-esteem to a mundane house wife or to put it delicately 'home maker'?

The Amrita (Taapsee Pannu) in the opening scenes of 'Thappad' makes the viewer wonder what she could do to displease her husband and give her a slap? She is pretty, simple, vivacious, loving and an over indulgent wife, devoted daughter in law and a lovable Kathak dance guide to the neighboring teenager. The obedient wife who dreams of packing her bags to London with her husband all turns turtle with that one slap from her husband Vikram in the party hosted in their home.

Amrita goes to the extent of asking for a divorce notwithstanding the fact that all her family and even the lawyer advise her to rethink and move ahead. In fact, the sullen look in her face, the brooding eyes and the way she says her otherwise loving husband Vikram (Pavail Gulati) 'I don't love you' give us a sense of shock.

The parallel stories of four other women from different strata of society and how they have been making compromises to go ahead with their family lives raise a logical question 'Is marriage is full of compromises?'

Well. Everyone (rather every married man and woman) knows it is.

Then why Amrita alone feels that she doesn't deserve such a treatment from her husband even though he brings a glittering diamond bracelet but not saying 'I am sorry for my act'? He says it but it turns too late.

A completely a different perspective on woman psyche and a deep study by director Anubhav Sinha make the movie a completely a different experience. I have never come across such a powerful dialogue oriented emotional scene in recent times that too just on the dreams of a young housewife to her empathetic mother in law. It simply stands out and tells the core of the whole movie.

When the writer director is powerful even the supporting characters turn memorable. Same happens here also. For Taapsee, it is one more feather in her acting career cap. She again proves that she is a director's actor and an audience delight.

Watch the movie if you don't mind watching heavily dialogue oriented, serious and a tad slow moving cinema.