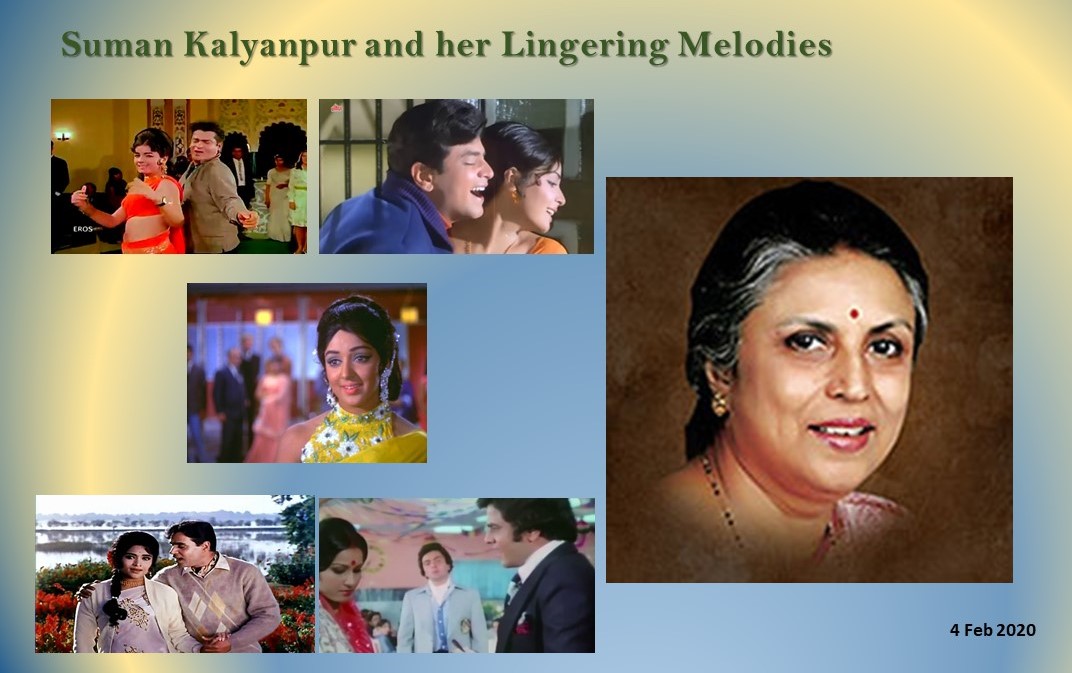 One may almost likely to mistake it for the voice of Lata Mangeshkar. Probably, that was the weakness of once popular playback singer Suman Kalyanpur.

When I started listening to Hindi film songs, I made that mistake. 'Mera pyaar bhi tu hai' from film 'Saathi' with Mukesh, I thought it was Lata. When it was announced (those days Vividh Bharati used to clearly mention the name of the lyricist, music, singer and the movie!) it was Suman Kalyanpur. So sweet tenor her voice used to have but on closer observation with familiarity, one can distinguish Suman from Lata. Later, it wasn't difficult for me also to differentiate the two talented singers.

Surprisingly, her closeness to Lata's vocal, didn't pale Suman Kalyanpur into insignificance. She had her share with all the famous music directors of that time though she had always been a great favorite of music director Shankar-Jaikishen and Usha Khanna.

Suman's popular numbers still in my memory are 'Aaj kal tere mere' from 'Brahmacharai' with Rafi, the title song of 'Jahan pyaar mile', 'Ek thi nindiya' from 'Seema', 'Behanane bhai ki' the title song from 'Resham Ki Dori' (all by Shankar-Jaikishen), 'Barka bairan zara tham ke barso' from 'Sabak', (Usha Khanna), 'Na Jaane kaise' from 'Badalte Rishtey' with Kishore Kumar and Mohammed Rafi, 'Zindagi Imtihan leti hain' with Kamalesh, Anwar Awasti from 'Naseeb' (Laxmikant-Pyarelal), 'Kam dev jaisi' from 'Tum Haseen Main Jawan', 'Dil ki kitab kori hai' with Rafi in 'Yaar Mera', 'Aayana humko pyaar jatana' with Mukesh in 'Pehchan' (SJ again) to pick some.

She had sung a host of devotional songs both in Hindi and Marathi and also in several other languages.

In Suman Kalyanpur's case there were no grudges, no imitation or no sidelining accusations. She had her fair share of songs which are still remembered for her soulful or buoyant renditions.

Such gracious nature is rare in show biz. But Suman Kalyanpur is a standing testimony for that elegance.