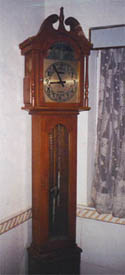 It was 26 January, 2001 . A pendulum clock in the Circuit House of Morbi, a small town in Gujarat stopped at five minutes to nine in the morning. It wasn't a mechanical failure. The clock stopped because the ground shook so violently after a massive earthquake that struck Gujarat at 08 hours 46 minutes 42.9 seconds.

It was not only the petty, old clock that stuck, life in Gujarat was completely paralyzed. The Bhuj earthquake of 7.7 magnitude turned out to be one of the worst seismic catastrophes in the last 50 years on the Indian soil. Geologically Bhuj falls in the Kutch rift basin. Such places on the earth where rifts have taken place in the geologic past are prone to worst geohazards. Bhuj is one such place. The earthquake took a toll of 13, 805 human lives; injured 1.67 lakhs and damaged 1.2 million houses in an area of 1.40 lakh square kilometer. Five districts of Gujarat, namely Kutch, Ahmadabad, Rajkot, Jamnagar and Surendernagar took the brunt of the catastrophe with 99% of casualties and damage in these areas.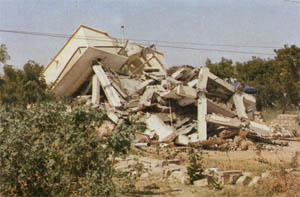 Ground heaved for a minute in Gujarat while the nature was at the peak of fury. Strong ground motion disrupted the telecommunication links, power supply, hampered rail-road and air links, damaged water supply and huge overhead water tanks in Kutch came tumbling down.
A first hand report, excerpts from the diary of Shiv Shanker Prasad, a geologist of Geological Survey Of India, who happened to be there by chance and escaped unhurt by sheer providence, makes an interesting reading. 'I was camping at Godharvani Dharamshala at Bhuj. Early morning of 26 January 2001 was chilly. At 0830 hours I was bathing and suddenly felt as if a noisy train was passing close-by.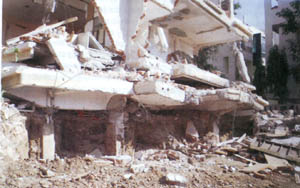 I could feel the ground vibration too. For few seconds I was confused about the happenings. Suddenly water in the bucket too was shaking and started to spill out. I was convinced that the place was being rocked by an earthquake. Wrapping a towel around with clothes in hand I ran out for safety to open ground. The scene outside was frightening. The building in which I was staying and the electric pole were shaking violently. Ground shaking was so violent that it was difficult for small children and old persons to stand on their legs.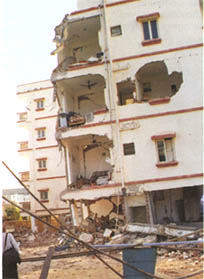 Ground developed deep, east-west fissures. Within five minutes everything was over, the Dharamshala was a mass of bricks and the manager who was a late riser was buried alive. With great difficulty I managed to travel from Bhuj to Gandhidham in an auto. On way at Anjar I saw the deadly destruction, where 400 school children had perished while parading for the Republic Day'.

Pathetic indeed! The nature's fury was reminiscent of Lord Siva's Tandav.

The epicentral tract of earthquake around Bhachau occupied an area of 780 sq km, where the intensity was X on MSK-64 scale. The Medvedev-Sponheuer-Karnik scale of earthquake intensity has been in use in India and Europe since 1964. Referred as MSK- 64, the scale is particularly useful for areas where ancient buildings exist. Parameters like force of the earthquake as felt by the people, behavior of the people, damage to buildings and structures and impact upon the ground or geology are used in this scale and accordingly the intensities are grouped from I to XII. Thus intensity X on this scale denotes, 'Impact- Devastating; Behavior- General panic; Damage- Brick buildings destroyed; Impact on ground- Rails twisted, landslides on riverbanks and formation of new lakes'. Prabhas Pande, Director Earthquake Geology, Geological Survey Of India and his team worked out that almost 38% of total casualties occurred in this tract.

Similarly an area of 10,000 sq km was hit by the intensity IX. This included places like Bhuj, Anjar, Rapar and Gandhidham. Destruction was very heavy and 54% of casualties were within this tract. The foot print of intensity VIII encompassed an area of 35, 000 sq km with quite high damage to houses. Ahmadabad, Surat , Rajkot, Bahvnagar and Bharuch were hit by an intensity of VII. Casualties in this area were only 4% but there was considerable damage to selective buildings. Much larger areas were affected by lower intensities of VI and V, but there was no loss of life or property.

Kutch, for the geologists is an active tectonic domain. Hidden powers or energy from the depths of the earth keep moving the earth's plates. The moving and rubbing plates release lots of energy, the root cause of trembling in earth. Prabhas Pande in one of his papers published in 2003 says that energy of the order of 1.33 x 1023 ergs has been released in Kutch during the last two centuries. This caused three devastating earthquakes in which about16, 000 people lost their lives. That is why this hyperactive domain has been included in the Zones IV and V of the Seismic Zoning Map of India (IS: 1893, Part 1, 2002).

Geologically Indian landmass is not one single piece of land, but made of several plates. Thus within the intra-plate region of India, the Kutch Rift Basin is a vibrant seismic unit marked by low earthquake recurrence rate at high energy level. Apart from earthquakes of more than magnitude 7 in 1819 and 2001, the Anjar earthquake of 1956 of magnitude 6.1 was quite devastating. Some seismologists have identified a paleo-earthquake of strength comparable to Anjar earthquake, some 800 to 1000 years ago.

To a geologist the earthquakes may be cardiograms of the earth, but to humanity in general they are a grim reminder of the Nature's powers. Before reading about earthquake mitigation and management in India, know about some tremors that shook other parts of the country in the next issue.