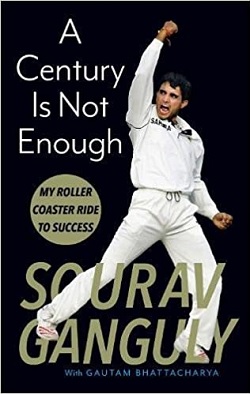 A few months ago Sourav Ganguli had said in a conversation with a participant in the programme that he anchors that none should ever try and emulate him as his life had been like a roller coaster ride right through – up and down, up and down again. At that time I did not quite believe it; I thought it was his modesty that was making him speak like that. Now that I have read his biography – not exactly an autobiography as there is a co-author – I have come to realize how true his statement was and how well-meaning it was.

"A century is not enough" written by Sourav Ganguli and Gautam Bhattachary is an account of Sourav's cricketing life including his brief fling in the Indian Premier League, better known by its acronym "IPL". Although immensely endowed with cricketing talent his life in the Indian cricket team was not easy, barring, of course, the period of five years when he led the national side. During his captaincy he built up a team virtually of world beaters. In building it up he gave wide berth to favouritism and parochialism, the two evils from which Indian cricket used to suffer. He spotted talents and picked them up on merit and always gave them enough time and space to blossom.

Born with the proverbial silver spoon, his father encouraged him to opt for cricket instead of football – a more popular team-sport of West Bengal. To help him achieve his aspirations he used to be sent to England in summers to hone his cricketing skills. He emerged eventually as a right arm medium pacer and a left hand batsman. It is said that he chose to be a left-hander because he could use his brother's cricketing gear. As a south paw his exploits from the crease were amazing and he amassed a sizable number of records. He may not have been as prolific as his close friend Sachin Tendulkar but he was not far behind - perhaps only next to him. He had another advantage over his friend and that was that he was also a bowler and collected an appreciable number of scalps in Tests and ODIs with his medium pacers.

Everybody knows how Sourav got into the Indian Cricket Team in 1992 and then was laid off for as many as four years. As an 18-year old entrant in 1992 he was only a passenger in tours of the team. He was hardly ever picked up to play; only he reportedly picked up numerous adverse comments about his attitude. Although he denied the allegations his attitude born out of superior social and financial status of his family kept chasing him for quite some time. He was even called "snooty" in England and his nick name "Maharaj" that his father used to call him by did not quite help in the matter.

Be that as it may, his ascent to the status of captain of the Indian team was dramatic and he laboured hard to prove that he was a fighting and admirable skipper. He not only tried to build up a team that would not only challenge the best in the world but also beat them in their own backyards. Before him the team lacked homogeneity; there was no spirit of commitment to the team or the country. In short, the members of the team lacked the attitude that would make them stand out in the world. Ganguly went all over the country to search for talent and that fire in the belly to perform. He picked them up and gave them enough scope and time to shed their inhibitions and concentrate on performance.

His selections were transparent – and honest with no consideration other than cricketing skills. His boys Zaheer Khan, Mohammed Kaif, Harbhajan Singh, Yuvaraj Singh, Mahendra Singh Dhoni and a few others became parts of the team, gave off their best and then retired as legends of Indian Cricket.

For more than half a decade his team ruled over the world cricket beating the legendary West Indies, South Africa, England, Australia, Pakistan, Sri Lanka, Bangladesh and New Zealand on quite a few occasions in India and abroad thus giving to the team the habit of trying to win – not throwing in the towel or play for a draw. He brought into the team a new element of aggression disorienting the world cricketing community, bringing in trophies and laurels for the country.

Then came his nemesis in the shape of Greg Chappell! He, in his enthusiasm to challenge Australia – at that time, by far the best team in the world - sought Chappell's help in sorting out technical issues in respect of the Australian grounds. Having been terribly impressed by his cricketing acumen he decided to have Chappell as the Head Coach for Team India. Despite many knowledgeable persons advising him against his move to have Chappell as the Coach he pursued the matter with the BCCI. Even Ian Chappell, Greg Chappell's brother, a former skipper of the Australian team, spoke to Dalmia, the then BCCI Chairman, advising him against his brother's appointment as the Indian coach. Ganguly's efforts succeeded but soon it turned into a virtual war with him. Greg Chappell behaved cussedly and was hell-bent on removing Ganguly from the captaincy. Chappell's efforts succeeded but it broke the spirit of the team.

Everybody wanted to hear from Ganguly what exactly went wrong between the two but one does not get any answers from the book. Ganguly was aware that Chappell was gunning for him but he did not reveal any reasons for Chappell's dissatisfaction with him. He, though down for some time did not give it up and fought his way back into the team. Even his father, who had encouraged him to take cricket as his profession, was miserable to see his son weighed down by worries and frustration and advised him to throw in the towel. But Sourav wouldn't listen to him.

This is the most interesting and instructive part of the book. He fought his inner strife by himself shedding all self-doubts and frustrations and came out blazing with his bat. His instrument for discarding all negative sentiments was to remain physically fit. He used to run more than a dozen laps at Eden Gardens. He did retire soon enough, as he said, for being always put on trial; but he retired on a note that was by far more positive. His is an example of how a man of immense mental strength deals with adversities even if these are not self-inflicted. He has always been saying that cricket is a mind game; it is played more in the mind, not simply on the crease. To be in a national side one has to have not only perfect hand-eye coordination but also a strong and analytical mind.

After having been one of the most dynamic skippers he has emerged, phoenix-like, as a respected and admired cricket administrator. Soon after retirement he was elected president of the Cricket Association of Bengal and then three years later he was unanimously elected Chairman of BCCI, a nationally coveted position for all cricketers and cricket lovers. This is the first time a cricketer was elected for the post, barring, of course, the brief term of Sunil Gavaskar. But Gavaskar was a Supreme Court appointee. Though Ganguly's term may last only for nine months because of the cooling off provisions there are many who hope it would be extended.

"A century is not enough" i

s a well written book and thankfully it is shorn off of most of the technicalities of cricket which I used to come across decades ago in the books by Don Bradman, Len Hutton, Denis Compton, Jack Fingleton or Sid Barnes. The technicalities may not appeal to all lovers of the game, including Ganguly's female fans that are there all over the country. As is well known, he is universally called "Dada" (elder brother), admired for his deportment as also for his handsome looks. No wonder he anchors a hugely successful reality show called "Dadagiri" on Zee Bangla channel every weekend. Though the name of the show suggests something different, including coercive behavior, there is no such thing in the show. Kolkata's high and mighty have appeared in the show and they seem to have been hugely pleased to have been there.

Ganguly is mercifully not from among the Kolkata crowd who do not speak any native language. Though educated throughout in Kolkata's St. Xavier College he speaks impeccable Bangla. Besides he is a true Bong who celebrates Durga Puja wearing dhoti and kurta and plays on the "dhaak" - Bengali percussion instrument. The other night he sang and played on a guitar. I wouldn't be surprised if I see him in front of an easel with an artist's palette. He is such a complete well-rounded package.

Shahruk Khan made a huge understatement when he told Ganguly while walking a lap in Eden Garden after an IPL match, "Dada, they love you here". They not only love him, they idolise him.