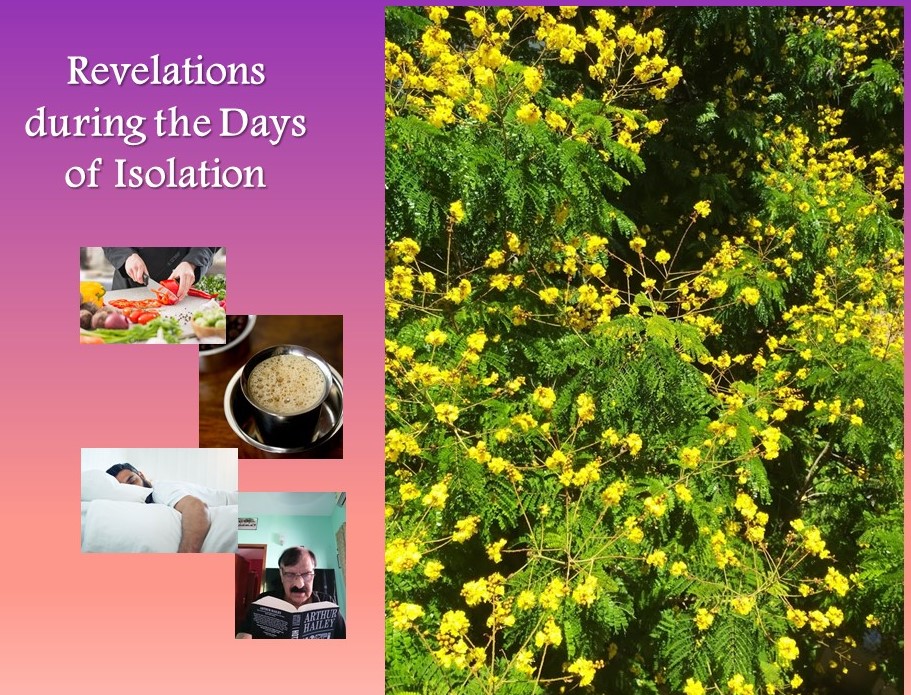 There are certain revelations came to me after these more than 3 weeks of quarantine, isolation, social distancing etc., because of this enigmatic, never ceasing CORONA or, COVID19 or whatever name you call it.
I relish solitude and it doesn't affect me much

I could sleep for long hours

I prefer to read, write and draw, listen to old songs both classical and filmi without getting bored for one or two hours.

I am not tired of two things; net surfing and reading.

I feel sick watching the News Channels and their inexorable harangue on the pandemic and feel irritated that every nation in the universe try to politicize everything on earth be it a pandemic or an event or a statement!

Domestic work needs as much of attention as we do office work

While cooking or making the supposedly simple one like coffee needs a lot of 'presence of mind' and the most daunting task is that they end up with a lot of vessels for us to clean! But, it definitely keeps one engaged!

Silence is golden no doubt but once in a way we need to hear 'some noise' from outside (not from tv!) to make you feel that 'the world around you is alive and active!'

It is really amusing to me that most unexpected persons suddenly call up and try to speak but nothing more than a few words about corona, house arrest, spending time and a few pleasantries

I miss going out for a walk or a drive at least twice or thrice a week to a bookshop or library or a mall for window shopping or a departmental store to pick and buy something and seeing people moving and busy around me. In fact, that indirectly charges me with some sort of invisible energy!

I just wonder, even without doing much work why I feel hungry?
I am very sorry to say that the word 'social distancing' is the most absurd, impractical and stupid word and is a remedy that had been suggested for this particular pandemic. Even in a palatial flat in a small family of four or five persons, they cannot keep themselves at an arm's distance always! Nonsense!

Surprisingly, Nature doesn't seem to care about what the humans do and don't do, they keep growing and flowering since Spring had started. Just see the photo of the full bloom of cassia fistula close to the window of my flat!