Believe it or not, Pakistan is now facing identity crisis. Pakistan government has planned to create new South Punjab province from Punjab, the second largest province and politically influential area after Baluchistan. The hidden agenda behind its division is to reduce the influence of Seraiki which are above 60 percent in Punjab itself. Thus Pakistan will have the sixth province after Balochistan, Khyber Pakhtunkhwa, Punjab, Sindh and Gilgit Baltistan (Gilgit-Baltistan - de facto province-like status without constitutionally becoming part of Pakistan).

On 1st March, 2020, curtain was raised when formidable six political parties united opposition under Molana Fazal ur Rahman, Chief of Jamiat Ulema-e-Islam (F) and Mehmood Khan Achakzai, Chairmen Pashtunkhwa Milli Awami Party (PMAP) in one voice supported the demand of creation of Saraikistan province. The opposition alliance was further strengthened by involving Abdul Majeed Kanjoo chief of Seraiki National Party (SNP), Abdul Latif Junejo of Sindhi united Party, Dr. Qadir Magsi head of Sindh Taraqi Pasand Party, Mir Hasil Banjajo National Balochistan Party Prof. Sajid Mir of Jamiat Ahle Hadith, Ahmad Khan Sherpao and Pakistan People's Party-Sherpao faction in a meeting. Mehmood Khan Achakzai openly declared to take out Pakistan from the constitutional mess indicating the real problem –weather the army is for Pakistan? Or Pakistan is for the army?

Indication are very rife that the opposition front has started gaining momentum and appealed to other political elements in Pakistan to get united on this simple and fair constitutional agenda, and the international organizations of the Human Rights to look into the grief situation faced by the component oppressed nations of Pakistan and raise the voice along the political element of Pakistan.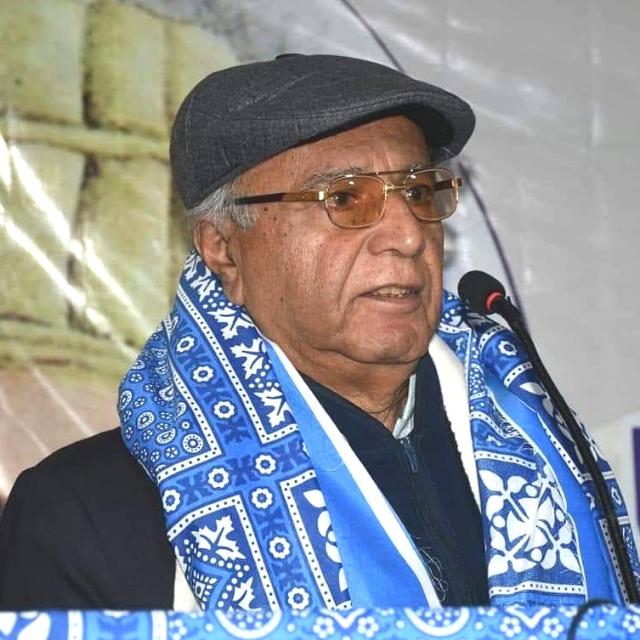 Meanwhile, in proposed division plan of Punjab province, Pakistan government has earmarked Multan, Bahawalpur and Dera Ghazi Khan divisions in the name of south Punjab. But, Seraiki nationalists are not ready to accept the creation of a South Punjab secretariat as an alternative. "We want a Seraiki province comprising 21 districts out of 36 in Punjab, based on shared language, culture and history including two districts Tank and Dera Ismail Khan from Khyber Pakhtunkhwa as well. We will not accept any other name except Seriaikistan," said Abdul Majeed Kanjoo, the chairperson of Seraiki National Party. According to him , " the demand is restoration of historical geography of Multan the formerly princely state of Bhawapur state of 1818 which Maharaja Ranjeet Singh had conquered it in 2nd June 1818,"

The creation of a Seraiki province would not only address the issue of deprivation but also the issue of cultural identity.The case of the Seraiki people has also been acknowledged by Pakistan Oppressed Nations Movement (PONM) which recognises the Seraikis as one of the five indigenous ethnicities of the country. The survival of many a political party lies in creation of the province but not a single party has addressed the issue with sincerity. In present situation the creation of South Punjab province will not be possible without a two-thirds majority in Senate, National and Provincial assembly. Imran Khan hopes that Pakistan People's Party (PPP) will favour the bill. He also urged Pakistan Muslim League-Nawaz (PML-N) leaders in the Parliament to convince their leadership to support the bill. But chances are bleak because the members in national assembly and senate representing respective ruling political party from Sindh, Parkton areas have decided not to vote in favour of bill.

Pakistan was created. But the real stake holder, Bengalis, Seraikis, Sindhis, Pashtuns, Baloch and Punjabis were kept in the same status as colonies and handed over to expanded Punjab, the Punjabi army and the Mullahs to rule. And these non state actors were recognised by the British – US superpower at the time of partition of India.It is a fact that Pakistan is running without mandatory constitution and federal units,. The pressure of Seraiki activists having the support from international organizations of human rights has forced the establishment to eliminate the Seraikistan issue. They are up to choosing half of the Seraiki area to make an administrative unit by the name of Southern Punjab. Seraiki National Party has been continuously warning about the evil designs of the establishment.

Political observers believe that the carving out South Punjab would be a future road map of Pakistan government to keep tug of war alive between imposition of South Punjab versus Saraikistan. It is also the fact that the strong opposition of todays do not respect the present government of Imran Khan