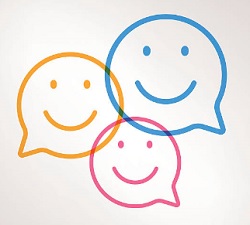 Yesterday I looked up the dictionary to find a definition of the word 'Smile ', a facial feature that we have not been seeing for quite some time now, or we are prevented from seeing any semblance of it by a new survival accessory, the ubiquitous mask.

I wanted to refresh my memory on its spelling and meaning and description as I know that a man named Alzheimer likes to stalk aged people like me in the environs of their brains, and that `if one comes under his spell one may lapse into forgetfulness, or sheer oblivion, any day, any minute. It is prudent, therefore, to make a habit of refreshing one's memory, occasionally, on words, names, faces, events.

Hence the dictionary search on Smile - one of the most fascinating and endearing facial expressions of humankind. The dictionary does not in fact convey to you the ethereal feeling that you may get when seeing a beauteous, radiant smile. Its definition, according to an online dictionary, is bland, if anything: 'Smile is the thing you do with your face when you are happy, or want others to think you are. Your expression softens and your mouth turns up at the corners.' The 'thing that you do with your face' may also be frown, grin (grin even like a Cheshire cat), grimace, beam, or simper. Wikipedia is somewhat better in describing smile: A smile is formed primarily by flexing the muscles at the sides of the mouth. Smiling is an expression denoting pleasure, sociability, happiness, joy or amusement.

There are many, in fact 19, variants of smile, the BBC tells you with authority. Of the 19, only six denote happiness, says a BBC feature describing the history and antiquity of this facial expression, the bizarre experiments conducted by many, including the father of electrotherapy, the 19th century French neurologist Duchenne de Boulogne, who, incidentally, had remarkable pedigree, having been born as the son of a French pirate. He had a penchant for subjecting his patients to mild, not so mild or severe electrocution, to study the different kinds of smile, one variety of which, giving crow's feet or wrinkles formed on the corner of the eyes, still going by the name Duchenne smile.

Whatever it be, it goes without saying that a smile is pleasing and often adds beauty even to a plain face. In the case of a beautiful girl or a handsome man a genuine smile literally enhances the goodness of their facial features. Smile comes naturally, instinctively to people and is never contrived. Even strangers one comes across on the road may begin to give a half smile when you pass by, because that is generally accepted as the most civil thing to do in the society.

A very popular song from the 2014 Broadway musical 'Annie' extols the indispensability of smile: You are never fully dressed without a smile. What more can you say on it? 'Your clothes may be Chanel, Gucci/ Your shoes Crocodile/ But baby you are never fully dressed without a smile.'

Unfortunately during the global lockdown days one is not considered fully dressed without a mask, which, among other things, masks a smile.

How long will it be when a smile lights up the face of a person you meet on the road? In the present circumstances, no idea at all! Will it be too long for a change in the situation, enabling the people to unmask their smiles? To have that instinctive, beautiful twist to the corners of the mouth that transmits to self and others a marvelous do-good feeling!