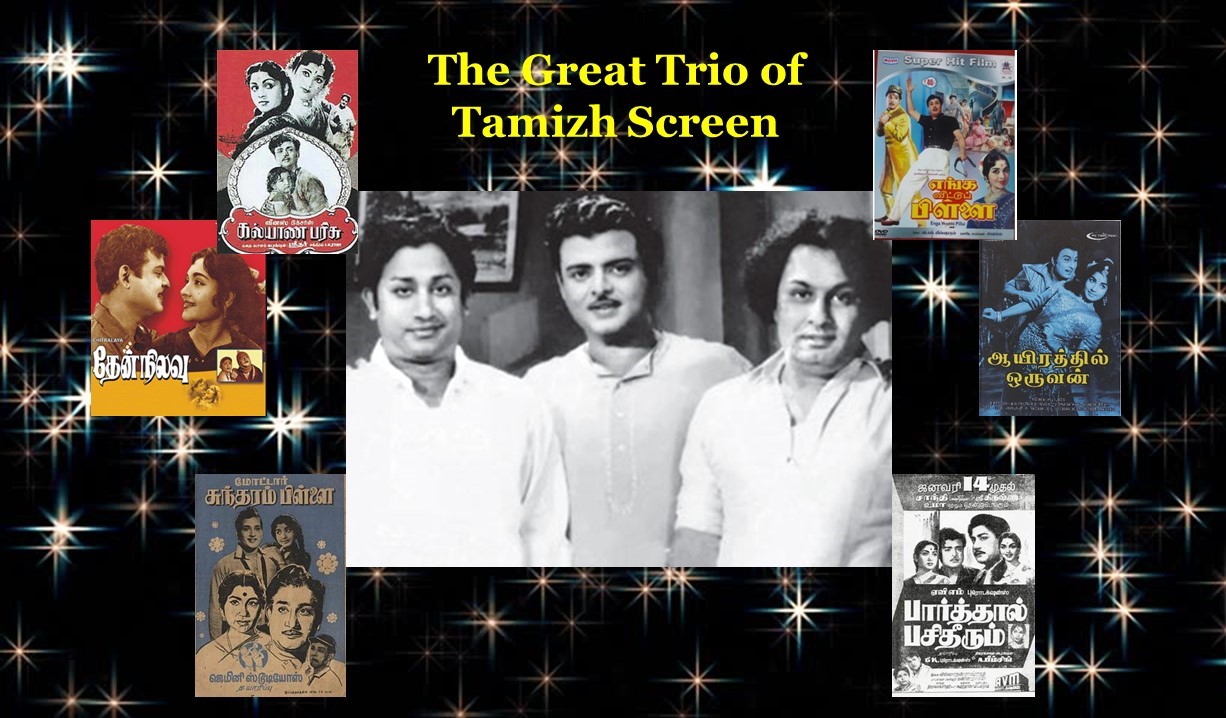 In today's Dinamalar Varamalar in the concluding part of a series on actor Gemini Ganesan carried a rare photograph. The trio of yesteryears Sivaji Ganesan, Gemini Ganesan and MG Ramachandran.

It triggered my early school days when these three heroes were in the top, though Gemini Ganesan was not considered to be a top actor by many at that time. He was also given a sobriquet 'Saambar' meaning he is a dumb or dull or actor who could hardly considered to be an actor. Well, that was a view. Even MGR was never considered as 'an actor of great histrionics' but only as a star of mass appeal nonpareil which was also a fact. Sivaji Ganesan alone was holding the credit of 'a classic actor'. That is also a verity.

I had the pleasure or experience of watching all the three icons on screen and many of their movies are definitely to be remembered for their worth though people can carry different views about those movies and the performances of these popular stars.

Each one had their favorable and unfavorable points. Nevertheless, each one carved niche for themselves. It is also an indisputable fact that during those times, a fair dose of overacting alone was applauded. In such cases Gemini was miserable and MGR never indulged in that. Sivaji Ganesan alone was able to touch the pinnacle of 'perfect' as well as 'over acting' in his own style which received universal appeal.

Though I can write pages on these trios' several performances, I don't want to do that here. Just a few aspects and my points of view.

Gemini 's presence in movies like 'Kalyana Parisu', 'Then Nilavu', 'Panama Pasama' and his later movies like 'Naan Avanillai' and the fag-end 'Avvai Shanmugi' still linger in my mind. He had a charming and handsome screen presence in the earlier ones and in the last two with a highly sophisticated touch of comedy.

MGR's movies were typical propaganda cannons which are even followed by the present gen actors with wild dreams. Yet, it was MGR's unique way and I enjoyed many of MGR's movies like the unrivaled hits 'Nadodi Mannan', 'Madurai Veeran', 'Enga VeetuPillai', 'Kaavalkaran', 'Kudiyiruntha Koil', 'Anbe Va', 'Adimai Penn' to name a few. These movies were absolute entertainers with excellent songs and visuals. In all these movies, please remember, the heroines had sufficient footage and presence with memorable duets unlike the present day popular stars' movies.

With the ultimate title of 'Nadigar Thilakam' Sivaji Ganesan ruled the Tamil filmdom like a colossus for long. True, his presence and acting are still memorable once again with fair footage for the heroines of those times. Sivaji performed both; good acting as well as overacting. I was his great fan and watched many of his movies. My unforgettable movies of Sivaji Ganesan are 'Deiva Piravi', 'Motor Sundaram Pillai', 'Parthal Pasi Theerum', 'Rajapart Rangadurai', 'Thevar Magan' to name a few. In these his acting was quite subdued unlike in 'Pasa Malar', 'Vietnam Veedu' and 'Gowravam' specially for hyperboles.

There is no doubt that in all these movies, the heroines, dialogues and songs to a very large extent contributed to their success.

I sure remember them as 'The Great Trio of the Tamil Screen' even today and forever. Yes; they deserve that honor.