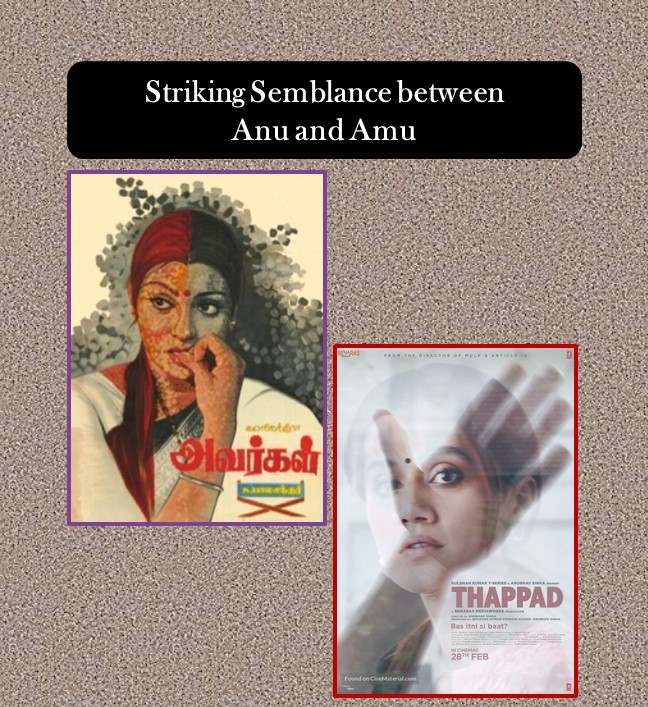 It so happened that yesterday I just watched K Balachander's 'Avargal' which was released in 25 Feb 1977. The movie is, therefore, 43 years old. I cannot but instantly compare it with the very recent movie 'Thappad' which was released just on 28 Feb 2020. Both are female oriented movies and also sending a strong message about the home making women's never ending tussle with the misogynist men of India. In both the central characters are Anu (Anupama) in 'Avargal' and 'Amu' (Amrita), indeed, another strange coincidence!

I didn't feel when I was watching 'Avargal' again that I am watching a film which is four decades old. Though I do remember the scenes, it looked as fresh as a new movie. In both, Anu and Amu try to show themselves as individuals of strength and conviction. While an emotional angry slap from Vikram wakes up the self respect in Amrita, several scorching insults from her sadist husband Ramanathan triggers Anu to walk out. Nevertheless, Anu though brave, at heart naive in her assessments. She trusts her husband's sudden change in behavior to be his victim again while Amu is completely non compromising.

The major difference being that two more suitors for Anu of 'Avargal' but, there is none for Amu of 'Thappad'. Further, Amrita is more firm in her certitude. Another similarity is both the protaganists are favored by their mothers-in law; one overtly and garrulously while another silently. Unbelievably, both Anu and Amu don't shed tears till last but only cry their hearts out to their respective mothers-in-law in poignant scenes.

I cannot but feel proud and surprised by writer-director K Balachander's vision and intelligence who could make a movie which was much ahead of his times; in fact, that was the period when the popularity of the two giants Sivaji Ganesan and MGR started waning and Kamalhaasan and Rajnikant started waxing.

Sujatha with her absolutely non glamorous persona walked through the role with high competence like Tapasee Pannu.

On the flip side KB's pet symbolism and some over dramatized scenes stand out like sore thumbs. But, that is surely pardonable as he had included Kamalahassan and ventriloquism in an endearing way in 'Avargal'.

Well, honestly speaking I miss all of them; yes. KB and Sujatha have passed away. Kamal and Rajini are no more worth watching with their awkwardly cultivated new images. Yes. Forty years are quite a long period of time.

The great consolation is that I could see writers and directors like Anubhav Sinha and Mrunmayee Lagoo and actor like Tapsee Pannu and a host of urbane supporting artistes.

Before I forget let me add one more thing; I enjoyed two beautiful songs one from each; 'Kaatrukkenna Veli' from 'Avargal' and 'Ek Tukda Dhoop' from 'Thappad'.