When asked what she would like to become when she grows up, Khushboo, 12, promptly responds, "A doctor". Firoza, 10, beams and says: "I want to become a teacher so that I can teach many children." Ask Subodh why he attends school and he says, "Because I want to learn more about the world and gain knowledge. I also want to go to America!"

In the mall-studded metros of our country, it is not uncommon for children to harbor such gilt-edged aspirations. Yet, for Khushboo, Firoza and Subodh, simply imagining career trajectories requires an enormous leap of the imagination. Like slum-dwelling children across the nation, they live virtually invisible to our modern-day social structures - non-existent to the government and civil society, bereft of dependable educational and medical welfare - they live, literally, in the fly-infested, dung-splattered crevices of our society.

CRY's statistics are staggering: 17 million Indian children (the largest number in the world) are child laborers, less than 50 per cent between the ages of 6 and 14 go to school, 74 per cent below the age of three months are anemic. And the list goes on and on.

"What is happening to India's children is constitutionally illegal, and demands immediate accountability from the State," says Ila Hakku of CRY.

To draw national attention to the alarming state of child rights in India, CRY - formerly known as Child Relief and You - formally changed its name to Child Rights and You on March 30, 2005 and unveiled a Child Rights Charter. "The name change reflects the evolution of our work towards a rights-based approach over the last 27 years, and is not meant to represent any dramatic shift in our work. It is merely a formal step in the process," explains Ingrid Srinath, Chief Executive Officer, CRY.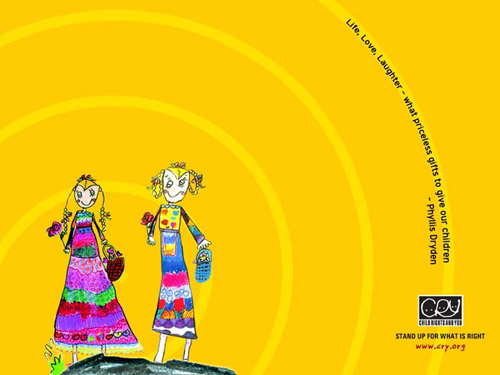 However, the name-change represents a shift in CRY's public message, intended to bring child rights into the political arena to demand justice for children. "Every alternative to a rights-based approach is illegal, unjust and ineffective," says Srinath. "A relief-based approach can provide a 'Band Aid' type of solution, but it is not long-term or sustainable." CRY advocates a holistic approach to promoting child rights, which comprises examining the root causes of the injustice meted out to children and seeking the implementation of policies and laws that address these causes.

Critiquing the scheme-based, relief-oriented approach adopted by many governmental and non-governmental organizations, Hakku says, "We need to move from the narrow prisms of education, health and violence to the underlying causes of injustice, such as caste, gender and slum demolitions, and mobilize efforts to address these."

The change of name is also a not-so-subtle exhortation to citizenry: CRY strongly believes that ordinary citizens, especially from the middle- and upper-classes, must get involved in order for children's rights to figure on the national, corporate and media agendas. "Child rights can only become central to a country's agenda if its people choose to make it a priority by ensuring government accountability to actualize the rights of children," says a CRY press release.

Through a diverse array of newly-unleashed communication strategies - such as films, public service announcements and web-based initiatives - CRY aims to incite action from local citizens and, ultimately, the government. Referring to the apathy of citizenry and media to the enormous number of child-deaths in this country, Srinath rhetorically asks, "A 'genocide' of sorts occurs on a daily basis in this country, yet why do we not see a public outcry similar to that produced after the acquittal of the murderer of a page 3 model?"

Activists Aruna Roy and Jean Dr�ze were present at the press meeting to discuss the relevance of a rights-based approach based on their experiences with rights movements. Roy, who has pioneered the path-breaking Right to Information movement, noted the ways in which the various rights-movements could benefit from and support each other on a national scale.

Right to Food activist Dr�ze says, "India has some of the worst indicators of health in the world despite its runaway economic growth. The most astonishing aspect is that health goes virtually unnoticed and unspoken of in Indian media. Emphasizing a rights-based approach is a means to challenge this silence." Putting an issue in the 'rights framework', he stresses, can create a large impact on a macro and micro-scale, as rights lend bargaining power to citizens, can be put in a legal framework to bolster the directive principles enshrined in the Constitution.

It is in this context that CRY had put forward its demands of the government's budget in February 2006 to coincide with the Union Budget Session. These demands, in brief, were:
Increase expenditure on education to 10 per cent: Additional resources - and not just the two per cent cess and foreign loans - should be committed to ensuring quality secondary education. This would mean taking a broader, long-term view. It would translate to:

- providing quality education till the age of 18;
- ensuring that secondary schools are within a one km radius of hamlets;
- employing well-trained educators on tenure , instead of hiring
inadequately trained para-teachers on contract.

Renew commitment to child protection

Provide for a universal healthcare programme

Prioritize child rights
The Child Rights Charter drafted by CRY "to stress its commitment to the fact that all children have equal rights, promised to them in our Constitution and in international treaties" is to be presented to the President of India, in CRY's first political effort to demand State action. In a country where youth are often left out of decisions - both in the private and public spheres, CRY's message to the public is well timed, and much needed.