A Truthful Lie: A Lockdown Day Story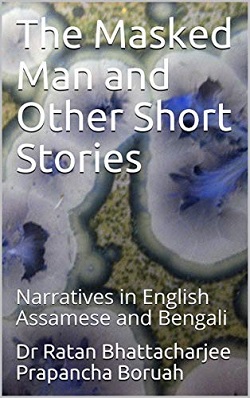 Unlocked Door
... is a part of the forthcoming book The Masked Man and Other Stories
It was midnight. I usually sleep after midnight as I keep myself busy in writing and reading till late night. But in the lockdown days all day I am free. So I need not keep waking late night hours. After Amphan cyclone devastation this is the calmest night cool and serene. The roads were all empty and not even the dogs are there to bark. My wife was snoring deeply. I heard the sound of the fan revolving at high speed. Sleep was not coming because of my earlier bad habit of hitting bed at late night. But suddenly I heard a sound. Someone seemed to have opened the fridge. I thought it was my doubtful mind. But again I heard the sound of someone's footsteps inside the other room. Who may be this - man or cat or dog?

Our house is fortified and there is no possibility of anyone entering so easily unless the door is not tightly bolted and locked. Usully my wife does this before her sleep. But that night she slept early and as I sleep late she left it for me. I recalled that I did not bolt the door and may be some entered our house.

I took my torch and came out of our bedroom. Yes it was a man who collected all the clothes and food from our fridge. Blood came up to my head. I wanted to catch hold of him. How dared he doing all these? I caught him finally after much effort and tied him to a pole with a sari as no rope was available. I called the police over the phone and police came immediately. They took him outside to lift him to the van.

We were watching all that happened. All our valuables were returned to us. We did not take the food back. Although he was a thief he might hae been hungry, a poor man. But suddenly we saw the man running fast from the clutch of the police personnel. We got angry and asked the police why he released him. The police in mask said, Sir he is a corona patient. We cannot take risk of coming into his contact in this position. He will be sent to quarantine. We informed others on the road. They will arrest him. They are special police for tackling Covid patients. My wife woke up and asked me angrily, please from tomorrow you stop writing your nonsense stories of lockdown. You forgot to lock the door of your own house.
I think she was absolutely right.
30-May-2020
More by : Dr. Ratan Bhattacharjee
---