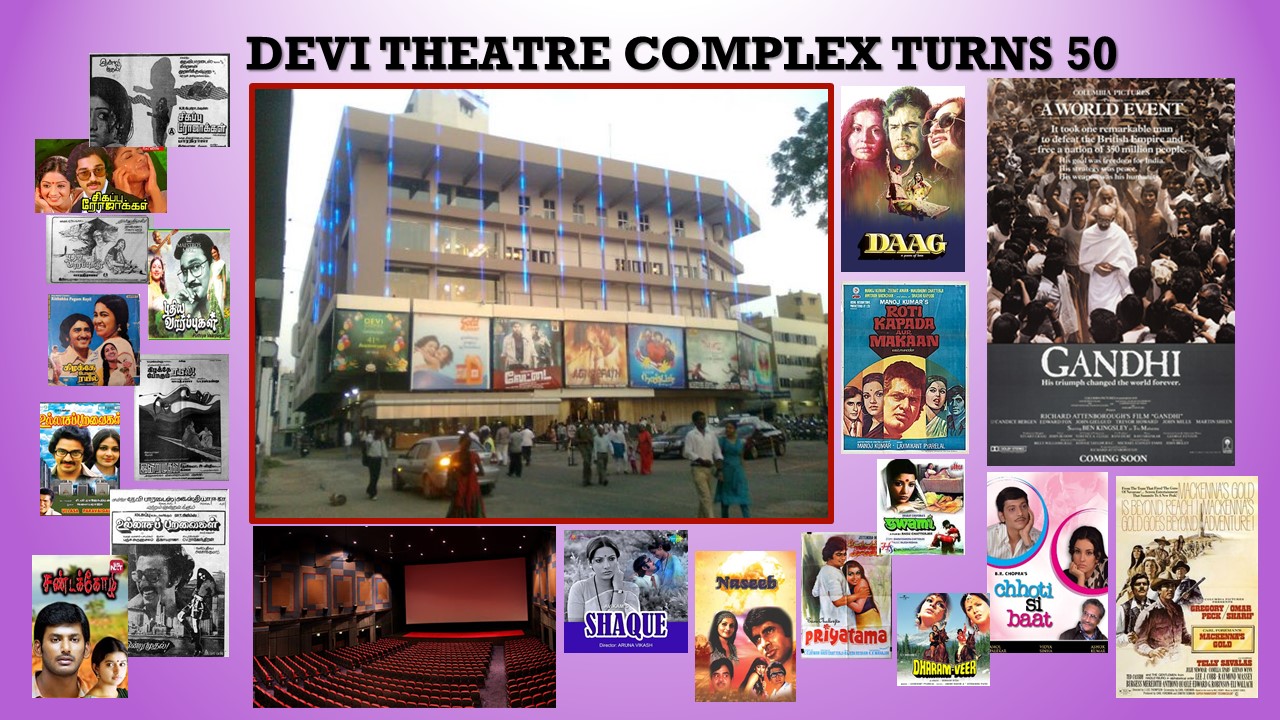 On May 28th I read a small news item in The Hindu 'Devi Theater in Anna Salai turns 50, spruced up during locked down phase'.

The news sent me into a nostalgic trip down the memory lane. Once a popular haunt for cinema goers like me, it had turned into a past dream watching a movie in the huge theater complex. My last visit to Devi complex was for the Tamil film 'Sandakkozhi' in 2005, in Devi Kala, one of the two small theatres in the complex. I was horrified by the shabby ambiance, the poor projection facilities and the terrible toilet conditions; I stopped my visit to the theatre after that. But, from the newspapers, I understood that the complex was functioning and screening movies.

Well, once upon a time Mount Road aka Anna Salai was the main attraction for movie goers. Starting from Safire Complex in the South end, the main artery housed several cinema houses till its end near Anna Statue and on the other side across Cooum bridge; Safire complex, Anand, Alankar, Wellington, Plaza, Midland, Melody (Odeon), Devi Complex, Shanthi, Anna, New Elphinstone, Casino, Gaiety, Chitra, Paragon, Childrens Theater later converted into Kalaivanar Arangam. Ofcourse many of them are not there now.

Devi Complex housed four projection halls, two huge and two small. Devi and Devi Paradise are very big auditoria with 70mm screens around 1200 seats approximately, if my memory is correct. The ramp to Devi Paradise which was in the upper storey of the building was a special feature of the compelx. For both the halls the foyers were big. Devi Bala in underground and Devi Kala in the middle level were mini theatres. During its hay days, all were maintained well and watching movie in the complex was a good experience. Devi screened very pouplar English movies like Mackanna's Gold (Gregory Peck- Omar Shariff), 'Guns of Navrone' etc.

But, I have watched most of the Hindi movies of 1970 to 1990s in all the theatres. To mention some of the popular ones 'Daag', 'Roti, Kapda aur Makaan', 'Dharam Veer', 'The Burning Train','Naseeb' are some. Devi Bala and Devi Kala screened small budget movies like 'Chottisi Baat', 'Priayatama', 'Swami', 'Gharoanda', 'Shaque' etc. Popular Tamizh movies like 'Sigappu Rojakkal', 'Varumayin Niram Sigappu', 'Guru', 'Ranuvaveeran', 'Ullasa Paravaigal' and some in both Bala and Kala. Bharati Raja at that time had the special credit of having his three movies running to packed houses in the same complex at the same time; 'Sigappu Rojakkal', 'Kizhakke Pogum Rail' and 'Pudiya Varpugal'.

The most important movie to be mentioned is 'Gandhi' which was released in 1983 in Devi.

Notwithstanding its huge area, Devi Complex is not fortunate to have an imposing appearance from the main road. It was ducked inside a small walking space and almost sandwiched between Shanthi and Plaza.

I really don't know how it will be now. Hope I get an opportunity to rekindle my memories by visiting the complex in the near future.