During this prolonged lockdown for COVID-19, I recalled my taking class last year in an American University on Henry David Thoreau's Walden and Bhagavad Gita. In Walden written in 1954 from his experience of living alone he explained the bliss of solitude and the wonders of living alone with oneself. He wrote "I find it wholesome to be alone the greater part of the time. To be in company, even with the best, is soon wearisome and dissipating. I love to be alone. I never found the companion that was so companionable as solitude."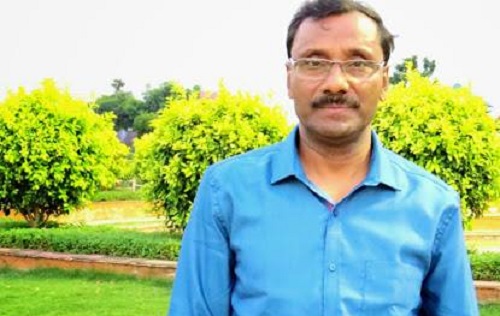 It was interesting that Thoreau read Bhagavad-Gita at Walden Pond and he equated Walden Pond with the sacred Ganges river. Miller, Barbara S. "Why Did Henry David Thoreau Take the Bhagavad-Gita to Walden Pond?"explained Thoreau's love for solitude and the Bhagavad Gita in the Walden Pond . Thoreau wrote : "In the morning I bathe my intellect in the stupendous and cosmogonal philosophy of the Bhagavad Gita since whose composition years of the gods have elapsed, and in comparison with which our modern world and its literature seem puny and trivial; and I doubt if that philosophy is not to be referred to a previous state of existence, so remote is its sublimity from our conceptions. I lay down the book and go to my well for water"

Thoreau was influenced by Indian spiritual thought and unlike any American maddened by the American Dream for gold rush he could tell us: "Most of the luxuries and many of the so-called comforts of life are not only not indispensable, but positive hindrances to the elevation of mankind."

This is exactly what we are learning slowly in the solitude of Corona lockdown. Money is coming to our bank account as salary but we have lost the cravings for consumerism. We do not frequently rush to market for shopping . There is no more craze for going to the malls, restaurants, cinema halls parks or stadium . At one time our children were addicted to Pizzas and KFC burghers. Now they have learnt to take home-made snacks. They do not feel like rushing to the malls for playing games in the Playzones. They are getting used to e-learning . They pass their time at home in playing indoor games and drawing or painting or composing verses. The single child family now learns how to live alone with oneself. This is the precious learning of life in the Lockdown period.

The earth hath bubbles, as the water has and we are breaking the bubbles the phantasy of materialistic desires. The whole world is practicing it in the name of social or physical distancing. You cannot even show your face. Keep it in mask – is the mantra of today. That craze for posting selfies on social media will now fizzle out slowly as men and women are learning the importance of hiding their face and to negate their material self. Living alone like the yogi and to be free of all urban lures developed as a habit unconsciously in the lockdown period.

Thoreau followed various Hindu customs, including a diet largely consisting of rice, flute playing reminiscent of the favorite musical pastime of Krishna and yoga. In an 1849 letter to his friend H.G.O. Blake, he wrote about yoga and its meaning to him: "Free in this world as the birds in the air, disengaged from every kind of chains, those who practice yoga gather in Brahma the certain fruits of their works." Thoreau admired yoga and placed himself in the role of the yogi, absorbed in contemplation who can contributes in his degree to creation and breathe a divine perfume and hear wonderful things.

Thoreau moved to the woods of Walden Pond to learn to live deliberately. He desired to learn what life had to teach him. He moved to the woods to experience a purposeful life. He desired to help others understand that a simplified life is a meaningful life. Walden is an eloquent account of his experiment in near-solitary living in close harmony with nature; it is also an expression of his transcendentalist philosophy. At the very heart of Walden is one man's ability to move away from materialistic living and experience living off the natural land.. In solitude, simplicity, and living close to nature, Thoreau had found what he believed to be a better life.

Richard Hendrick wrote one of the best poems on Covid -19, "Yes there is fear. But there does not have to be hate. Yes there is isolation. But there does not have to be loneliness," wrote Richard Hendrick. He seemed to have resounded the thoughts of Thoreau in a poetic way.

There are moments when all anxiety and stated toil are to be calmed in the infinite leisure and repose of nature .What lies behind us and what lies ahead of us are tiny matters compared to what lives within us.
To the choices you make as how to live
Today, breathe.
Listen, behind the factory noises of your panic
The birds are singing again
The sky is clearing,
Spring is coming,
And we are always encompassed by Love.
Open the windows of your soul"
Thoreau taught us all these in his Walden life of solitude when he was walking alone in the deep woods where he visited none and no one visited him. In the Shakespearean words we can describe life now as philosophically " Life is a walking shadow that struts and frets and is heard no more." Living alone meaningfully with oneself leaving all materialistic madness is the lesson we are learning by our heart spontaneously and unconsciously.