Until very recently, each year between October and April, Mangal Phoolwani, 10, moved with her parents to Mumbai to sell junk jewellery on Juhu beach. During the same months, Pooja Shinde, 7, migrated to Karnataka with her parents to a sugarcane factory and spent her days washing utensils, cooking for the family and looking after her siblings. Ashok Chavan, 7, accompanied his parents to Gujarat to collect sugarcane grass to sell as fodder and earn money for the family.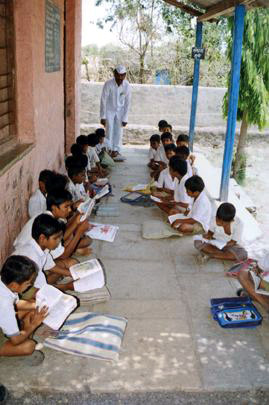 Education for all three children - belonging to the drought-prone Pathardi block (Ahmednagar district, eastern Maharashtra) - would come to a standstill during these months. Areas like Pathardi witness mass migration between October and April, the sugarcane-cutting season. Hundreds of families migrate as these months offer the only chance to earn money. Each family can earn around Rs 10,000 (1US$=Rs 47), and if the children pitch in, the income is higher.

Pathardi, Shevgaon, Jamkhed and Karjat - the four talukas (blocks) in eastern and southern Ahmednagar - with a bare 200 mm average annual rainfall - have been officially declared as drought-prone areas. It is from here that labor for sugarcane factories in Maharashtra, Gujarat and Karnataka, is hired. The lives of thousands of children are disturbed and their education disrupted.

However, in April 2005, Prajakta Lavangare, Chief Executive Officer of the Zila Parishad (district council) of Ahmednagar, decided to evolve an alternative education system for the migrant laborers. She suggested Setushalas (residential bridge schools; setu means bridge) for the children - a stopgap arrangement for the continuation of education.

In an unprecedented move, for the first time in Maharashtra, 78 residential schools were set up in Ahmednagar district in November, 2005. Like Mangal, Pooja and Ashok, 2,500 children of migrant laborers (between 6-14 years) stayed back in schools that also took care of their lodging and boarding.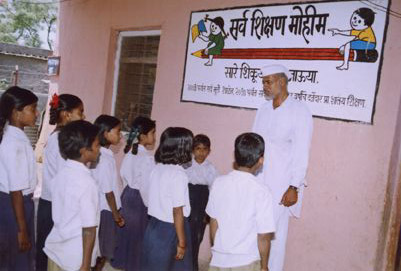 Under the Central government's 'Sarva Shiksha Abhiyan' (programme for universal elementary education), Ahmednagar district receives Rs 30 crore annually. Says Lavangare, an IAS officer, "Rs 1.75 crore have been allocated for alternate education in the 2005-2006 budget. During my frequent visits to Pathardi and neighboring talukas in early 2004, I found that although parents take the support of their children to boost their earnings, they would prefer to avoid a break in their child's education if a good and safe alternative was available. I realized that if an alternative was provided for those 100 days when the families migrated, the parents would not mind leaving their children behind."

Thus, guided by the 30-day syllabus format already prepared by the state government for alternate education, Lavangare designed a 100-day syllabus around it. The mission was to effectively halt the migration of children. During the month of April 2005, students of Classes 8, 9 and 10 carried out a door-to-door census.

Lavangare says, "We involved Community Based Organizations (CBOs) like village education committees and other local committees to start, maintain and control this new system of education, so that there is hope for consistence and acceptance."

NGOs were kept out of the picture, for their involvement can prevent the community from being responsible towards the project.

A key component of the programme was the interface with the parents. Says J H Pardhe, head of the alternate education cell of Ahmednagar district, "We went door-to-door to convince the parents about the benefits of these residential schools. Some of the parents insisted on seeing the facilities."

In Ambikanagar village - about 80 km from Ahmednagar - all the 45 children who belonged to the migrant community were convinced to stay back. Says sarpanch (head of village council) Arjun Shirsat, who also heads the village education committee: "Out of the 45 children, 10 were taken away by the parents at the last moment. But after they heard about the good and safe facilities, they too sent their children to Ambikanagar."

In other villages, community volunteers stopped the trucks that came into the village to carry laborers to sugarcane cutting sites and prevented children from being taken away by convincing their parents.

In Ambikanagar, the Zila Parishad's primary school doubles as the 100-day residential school. Toilet facilities have been built and village women have been hired to cook nutritious meals - breakfast, lunch and dinner. Two classrooms are converted into hostel rooms - one each for girls and boys. Two volunteers, who are class 12 graduates and are paid an honorarium of Rs 700 per month, monitor the 45 lively children.

The sarpanch and the principal are vigilant round-the-clock. Pointing to the mesh that has been put on the windows, they say that this is to ensure that snakes do not enter the rooms, a fear harbored by some parents. Primary health centers also play a key role if any child falls sick. This pilot project has brought cheer to many. Mangal Phoolmali, 10, says, "I don't miss my mother at all. There (on the site), I had to do a lot of hard work. Here, I am studying hard and love the good food. I hope to become a police woman one day." Ashok says, "My body used to hurt, carrying the sugarcane grass. I will never go there again, I will stay back in my school."

Chief Education Officer Suman Deshmane observes: "The health and the mental state of the children in these residential schools has improved, thanks to the nutritious meals and a controlled atmosphere that encourages camaraderie and extra-curricular activities."

But what happens after the 100-day period? Says Lavangare, "After the 100 days of controlled educational environment, the biggest challenge is to ensure that they become a part of mainstream education (between June and October)." For this, volunteers will be assigned during the months of May and June to interact with the parents and children to sustain interest in attending school. Also, education officers are on the look out for ashram shalas (schools based in shelters) and private residential schools.

Will this unique residential school mission survive or will it be a flash in the pan? Time will tell, though Lavangare puts her hopes in the CBOs who have now experimented with capacity building of such schools and therefore the mission has become close to their hearts.