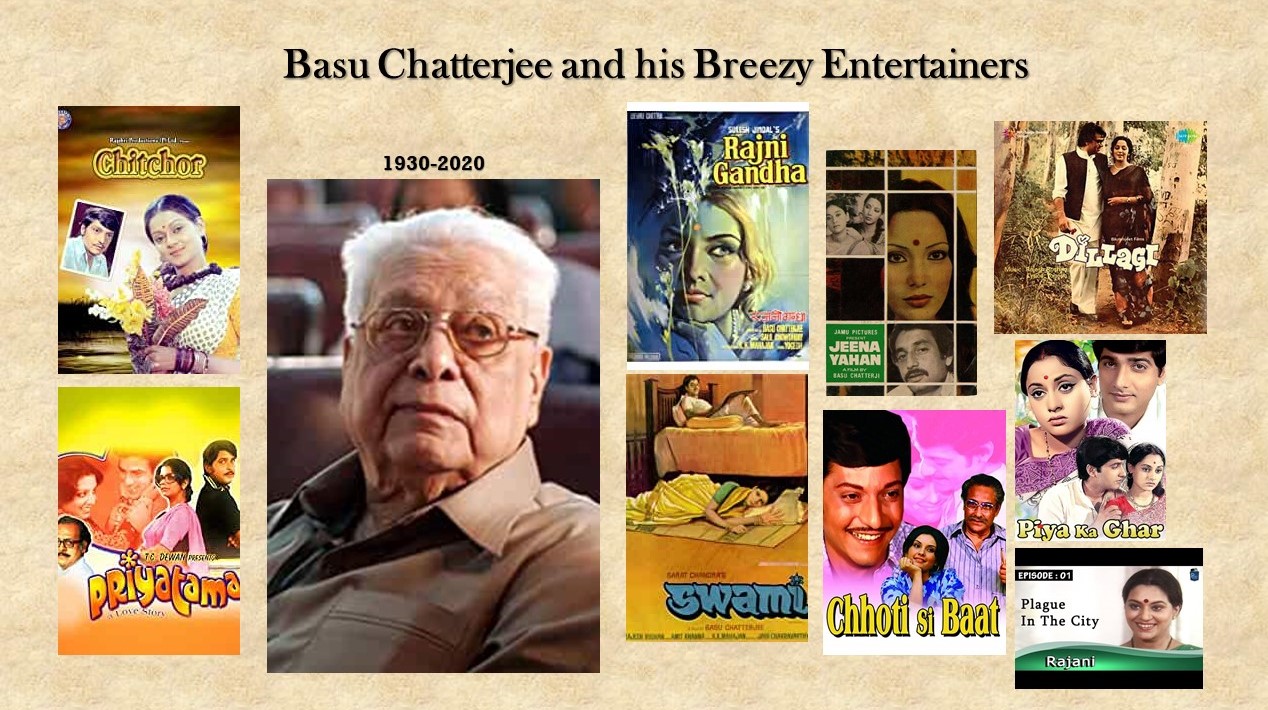 I am not sure whether I am competent enough to write a requiem to Basu Chatterjee who had passed away at the ripe age of ninety.

Nevertheless, the movies I have watched of Basu-da are quite enjoyable in the real sense. They are simple, straight forward stories without much complexities; the complications will be with the humans moving around. The movies I have watched and relished also had an undercurrent of humor which may not make you let out a guffaw but a smile. 'Rajnigandha' (1974), 'Piya ka Ghar'(1972), 'Chotti si Baat'(1976), 'Jeena Yahan'(1981), 'Chit Chor' (1976), 'Priyatama'(1978), 'Swami' (1977) and 'Dillagi' (1978) are the movies I have watched. I have already written about 'Rajnigandha' and 'Jeena Yahan' in my earlier postings. I feel all the above movies were impressive both to the common movie goer and a discerning critic. Basu-da's movies never moved on rough terrains; the stories are told through linear narration; but, he allowed many cameos to come in and go out with significance.

I felt 'Piya ka Ghar', 'Chotti si Baat' and 'Chit Chor' stand out simply because these films had very nice songs also. Except for 'Chotti si Baat', the music was by his favorite Salil Chowdhary but 'Piya Ka Ghar', it was Laximkant Pyarelal, 'Chit Chor' Ravindra Jain and for 'Manzil' it was RD Burman. Yesudas became popular in Hindi with his 'Kyaa Karon Sajni' in 'Swami', 'Chit Chor' songs and 'Jan-e-man' from Chotti si Baat.

I remember to have watched 'Khatta Meetha', 'Baton Baton Mein' and 'Shaukeen' but I couldn't recall anything special about them except that those were also light hearted entertainers.

Surprisingly, many of the popular stars of those period like Ashok Kumar, Rajesh Khanna, Amitabh Bachchan, Sanjeev Kumar, Dev Anand, Dharmendra and Jeetendra have acted in Basu Chatterjee's direction. But, none were big hits or talked about.

Basu-da believed in clean entertainers with wafer thin story lines building events with casual approach. He had been quite successful in that to a great extent. The then new medium television also provided him space in DD National to do interesting series like 'Rajani' with Priya Tendulkar as a social crusader and 'Darpan' with short stories of popular Hindi authors. His constant companions were KK Mahajan for cinematography, mostly Yogesh for lyrics and Salil Chowdhary for music.

Basu Chatterjee introduced a trend that a simple or mundane daily life also could be transferred on screen interestingly to a great extent. That was his strength and also his tender spot.