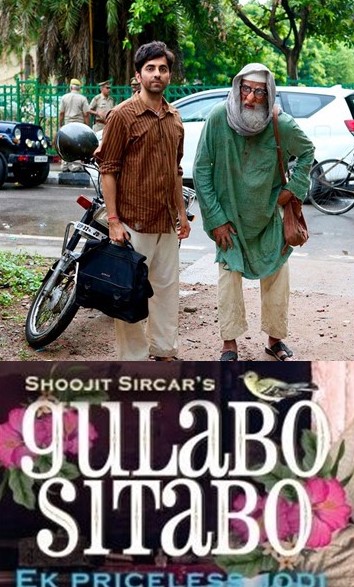 Honestly I wasn't very impressed with the start and the proceedings of 'Gulabo Sitabo' (a puppet show depicting the caustic exchanges between two females, the exhausted wife and a lively mistress of the same man); because almost every scene is the feud between the peevish Mirza, a hunch back, dirty old man supposedly owner of a dilapidated mansion 'Fatima Mahal' in Lucknow and a fiery, equally grumpy young man Baankey who is a tenant. There are a host of supporting characters who move around these two. The actions turn into seriousness when Baankey kicks the rickety toilet wall and breaks it.

A useless police complaint and the entry of an archaeological department guy who sets his eye on the massive outdated mansion and a lawyer who tries to sell this property to a real estate owner give a kick to the dumb narration till then. The owner of the mansion Fatima Begum in her nineties with an aide always at her disposal and never fails to throw acerbic comments at her husband Mirza at all instances.

The lawyer tempts the Mirza he will become the owner of the property if his wife dies or transfers the property in his name. The mean minded Mirza foolishly tries his nasty ways to execute this. Once when he is told that she is serious and the doctor gives up his hope, he even goes and buys her a shroud and reserves a place in graveyard also. But, when all the incidents converge to the climax to take over the mansion, they are all in for a terrible shock.

The combination of Juhi Chaturvedi and Shoojit Sircar creates an interesting tale after a point with the supporting characters also contributing effectively to the development of the narration.

I couldn't identify anyone except Amitabh Bachchan who looks absolutely his character whose presence is positively disgusting to match the despicable character. It is again another good opportunity for Ayushmann Khurrana to showcase his versatility pitted against Bachchan.

The story unravels how greed can drive a person to any extent and ultimately ruin him. In one place, there is a dialogue which refers greed as poison. True. The song 'aana hai jaana hai, jeevan chalte jaana hai' tells us the evanescent life where one ultimately owns nothing but has to keep moving.