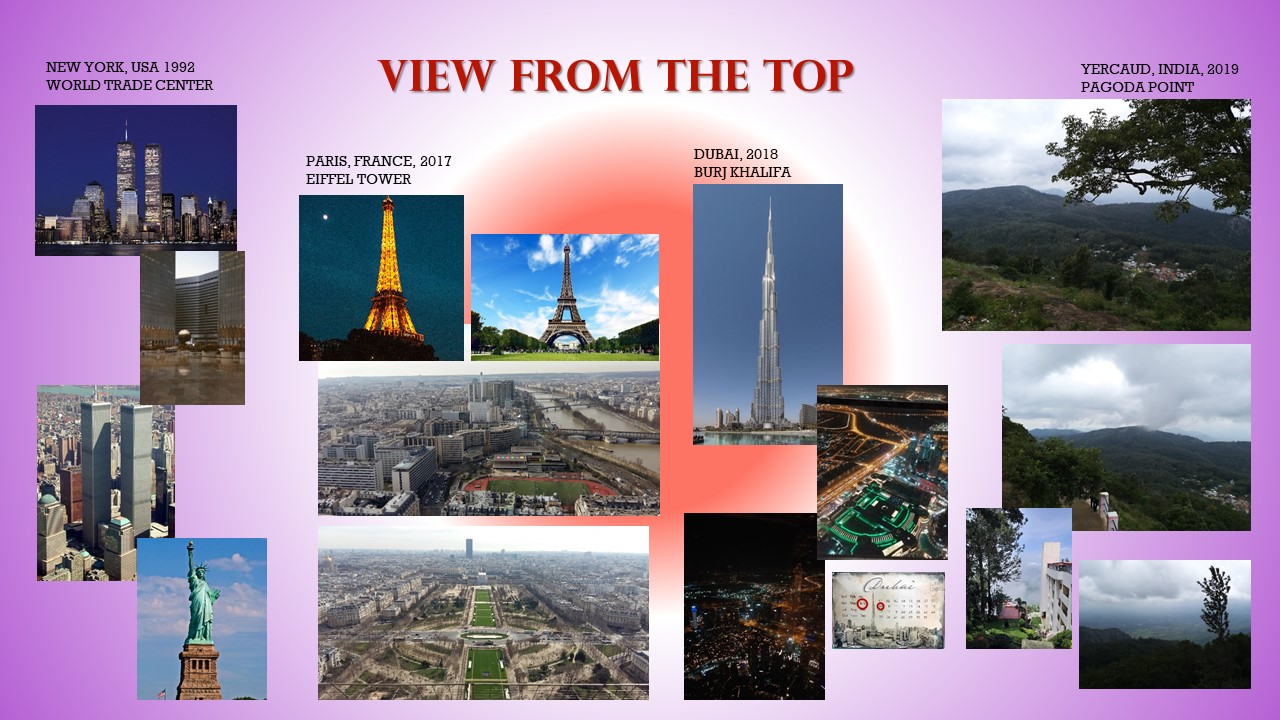 I haven't enjoyed the pleasure of traveling across the world frequently; yet, I was destined to see some important monuments or icons of the world.

My first international travel itself was to USA in 1992. Though my place of visit for a training in Boston, I was received by my former student Venu in Philadelphia. I was taken to Boston and stayed there for a week and then returned to Philadelphia. Venu made arrangements and gave me a lot of advice and guidance to visit New York and Washington.

In New York visit, I was fortunate to visit the famous World Trade Center in Manhattan. The height of the tower was 417m (1368 feet) and as a tourist we were allowed only up to the 44th floor for having an aerial view of New York. I carried a local camera with me which cheated me and it didn't't work at all. I went to Liberty Island also to see the Statue of Liberty, but not went up to the torch. In fact, I remember my visit a bit vague because it was for 10 days and more than 25 years before. Since my photos didn't come, I had to depend on the cards of New York City I bought as memorabilia.

In 2017, during my visit to The Netherlands I was lucky to visit Paris. Thanks to Kiran Kumar, again my student friend. I went up to the viewing floor of Eiffel Tower located at Champ de Mars. There was crowd but manageable. Though the height of the tower is 324m (1063ft) visitors are allowed and can view the city from the height of 276m (906ft) only. This time my mobile camera worked and I could click pics of Paris from the Top

I visited the tallest Burj Khalifa at Dubai again with Kiran in 2018. The height of the structure is 829m (2722ft) but the view point stops at 124th floor at 452m. There was a breathtaking view of Dubai and beyond and an awesome fountain light show which I could record with the mobile. These are manmade engineering marvels and icons of those countries and cities. I received a small memento, a calendar for any year, when I purchased the ticket to go up.

Well! How did I feel when I watched the land from the top?

Yes! It is amazing; breathtaking; awesome and made me feel that they are just unbelievable that we are standing at such a height and watching the world below. It makes one feel the power of human brain which is deployed to create a wonder.

The recent height I scaled was at Yercaud, a rather humble hamlet in Shevroyan Hills. The top location here is Pagoda Point and Gent's Seat. There is nothing man made here except a few seats and a small structure. It is 5000ft above sea level. The view from here is incredible. I could click a few snaps here which I have shared earlier in my posts. My friend Guruprasath accompanied me this time. When we reached the top point beyond this place, we could not see anything because we were surrounded by just white clouds. In fact, we were in Cloud Nine. It was so ethereal, in fact.

When I reached the top and looked down from man made structures I felt how man could conquer and challenge the Nature with engineering marvels, while I watch down from a hill top I felt how small we are in front of the magnificently beautiful nature.