In his famous essay "Self-Reliance", Ralph Waldo Emerson said that if we do not master circumstances and situations, they will master us. Self-reliance means riding the wave. It is pertinent that India thinks of being self-reliant in the times of COVID. Let us list out the conditions first. The concept of self-reliance is averse to capitalism. Capitalism basically means taking things from others and making life easy. Capitalism makes life easy by exchange of goods, expertise and man power. In today's world, there is nothing like total self-reliance. Today's economy is an intricate world wide web in itself. If part slides, the rest of it is bound to shake and even falter. Having understood this basic fact of contemporary life, now let us turn to self-reliant India in the times of COVID.

Domestic Self-Reliance

It may sound small but it is not so. We must teach our children to do domestic chores and cooking. COVID has exposed the brutal Indian mentality where no one wants to do one's own work. For everything, we need servants. In times when social distancing is essential for human survival, we realize that dish washing, sweeping, dusting, clothes washing and cooking are life skills. This work has to be gender neutral. The moment our kids step out of home, the biggest problem that faces them at coaching cities or colleges is that of unhealthy food consumption. Fresh, healthy and tasty home cooked food becomes a dream. Kids go for poisonous fast food, fried, salty, spicy, stale and dirty food all around. One has just to take a stroll in the by-lanes of Kota, the coaching capital of India to realize how dirty food is consumed by our youth. "Chaat" stalls tight I've sewage lines serve our kids poison in the name of food.

The first step towards self-reliance is domestic self-reliance. Every child must be taught to sustain herself or himself at all times. There is no shame in doing one's own work and in cleaning the washroom and other rooms. Self-reliance begins from home.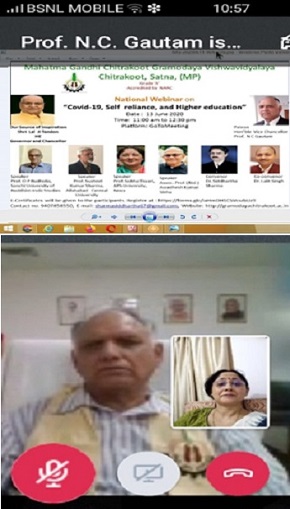 Academic and Intellectual Self-Reliance

The biggest challenge today is being intellectually self-reliant. Television, 24 X 7 news channels, movies, rules regulating social media, and the vast web content are forever bombarding the mind of the individual. The biggest challenge today is to think afresh and to think with an open mind. That is the biggest challenge.

The impact of colonialism and perpetuation of neo-colonialism is a constant battle. Indian education system must incorporate Indian texts, Yoga, Ayurveda and meditation techniques in order to have self-reliant and self-respecting generations. No time should be lost on crying over the lost time. This is the time to change and change we must.

Scientific Trends and Self-Reliance

Today only a major health diagnostic company has announced the use of artificial intelligence in disease detection. Banking and insurance sectors are already using and are bound to use artificial intelligence in a big way in the near future. Crime detection and virtual techniques are already going hang in hand.

This means that Al will be doing or is already doing the work of thousands of humans. To be prepared for computers is being self-reliant. We have to command computers, understand them and talk to them. We CA talk to computers in their own language only. That is why every students an adept computer language and must know basic programming.

Disaster Management and Self-Reliance

Climate change is a reality. Sea levels have already risen. Weather cycle is already muddled up. One season we have long, scorching summer. Come next summer, and all that we have is rains. COVID 19 has rung the warning bell. We have to prepare our generation's for calamities like storms, earthquakes and virus invasions. Even locust patterns have changed dramatically. Basic disaster management must be part of every course.

Farming, Supply Chain and Quality

If India has to even think of being self-reliant, the profession of farming has to be at a prime place. Farming is the basic profession of humans. Organic and scientific farming must be taught. Useful indigenous techniques have to be incorporated. The government and society must put it's might in making farming a profitable profession. COVID has taught us the importance of food. We must remember that corona virus CT into being out of killing and eating of animals by humans. COVID will impact human food habits in a big way and in a lasting way. In this context, India must take a lead in quality organic farming. The supply chain must begin from the village itself. Every village must have ample cold storage facilities. The farmer must get the bulk profit.

Indian Capacity to Complete Projects and Assignments

We compare ourselves to China all the time. We often come across foolish WhatsApp forwards about boycotting Chinese goods without realizing that the phone is our hand is a Chinese product.

We must remember that today we are living in a bipolar world which is slightly tilted towards China. While China is a communist country, it's economy is capitalist. The strength of China lies in bringing the end product to the table in a timely and qualitative manner.

India cannot afford to underestimate China. In this context, sincere introspection is needed in evaluating Indian capacity to complete infrastructure, production and scientific projects on time and in a standardized manner without corruption or compromise.

The Prime Minister has said that self-reliance for India means importing less. We must make things which we can. For this, we need more discipline and hard work. The quality of humans in India must improve. That will make us self-reliant. The education system has a role to play in this.

Our response to COVID 19 must be more informed. No government or organization can help people if people act stupidly. In the urge to get to normalcy, many Indians have gone into the denial mode. They have started overlooking the safety guidelines for fighting COVID 19. This is dangerous. Our response to COVID 19 mist be more educated, sensible and informed.

All these factors are important in making India self-reliant in times of COVID.
NOTE - The above lecture was delivered by Prof. Shubha Tiwari on 13th June 2020 in the national webinar conducted by Mahatma Gandhi Chitrakoot Gramodaya Vishvavidyalaya, Chitrakoot, Satna, Madhya Pradesh, India.