Paolo Zegna of menswear giant, Ermenegildo Zegna, speaks to M H Ahsan of suits, cuts, fits and exquisite tailoring, with the easy eloquence of a poet. "India is on everyone's lips," says he, even as he remains poised for expansion in Delhi and Kolkata.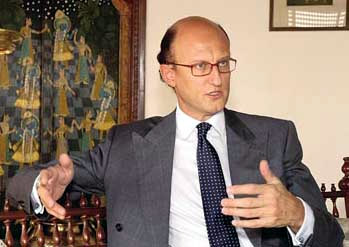 He wears his lapels on the broader side, his tie on the narrower and his trouser crease, razor-sharp. His perfectly cut suit is the stuff that men dream of. His ice blue shirt mirrors the color of his eyes. Paolo Zegna is a picture of sartorial elegance and indeed a walking portrait of the Ermenegildo Zegna Group, world leaders in fine men's clothing, managed as a family business, by the fourth generation of the family. With 379 stores in 64 countries, the closest being at Crossroads, Mumbai, Zegna has put Italian menswear, 'ready to wear' as well as 'made to measure', on the Indian man's style diary.
At the Festa Italiana 2004, an Italian fashion show featuring Zegna, celebrated the virtual liberation of menswear. Formal wear in exclusive fabrics - melange, pin-stripes and micro-Pattern tweed, were cut closer to the body, with narrower ties on fitted shirts. Sporty chic was revealed in leather styles, knits and jeans. The most colorful were the casuals with fresh hues of apple green, delave pink, mint green and light blue. Unusual colors and combinations ruled the day.
A far cry indeed from the sartorial old-age splendor of the company's chief executive officer and owner. Paolo Zegna, however, bowed to the dictates of fashion in a customized Nehru jacket, resplendent for the occasion, held on the sweeping steps of the Asiatic Society's heritage edifice.
Are women responsible for what men wear?
Formerly, women were completely responsible for what men wore. Today, men have acquired more personality in their buying. Now, men know how to purchase and how to match things. Women, however, love to buy accessories for men and these are designed to attract women.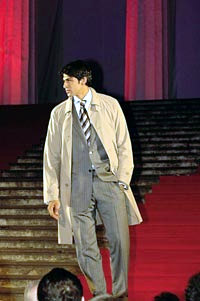 How has men's fashion evolved?

There has been a distinct 'feminization' of fashion for men. Our new sartorial line, Zegna, has garments that are conceived on women's lines. Men are adopting the attitude of women, in dressing. They are more courageous, trying out new colors, new combinations, new directions. The global trend is tending to move from formal to casual.
Does menswear follow women's fashion?

Yes, there is some co-ordination with women's wear. It was a very boring time for us when women wore only black. Then, when women got into color, six months later, men did. We moved from plain to fancy fabric, we could bring out the beauty of fabrics, we had much more fun. With color, there is more of a challenge.
Has Zegna adapted from Indian traditional wear?
We did not have a guru jacket or guru shirt - now, we do. In India, we want to suit better the requirements of specialization. We arrive, laden with swatches and designs, at private houses, establishing direct contact with customers to offer a made-to-measure service. We even have made-to-measure fabric woven with the customer's name in the side.

Personal style?

I tried a little experiment some days ago, wearing a 15-year-old suit that fit me perfectly. It looked just as good. In my free time, I would wear some classical sportswear but I too am moving slowly into casual clothes.