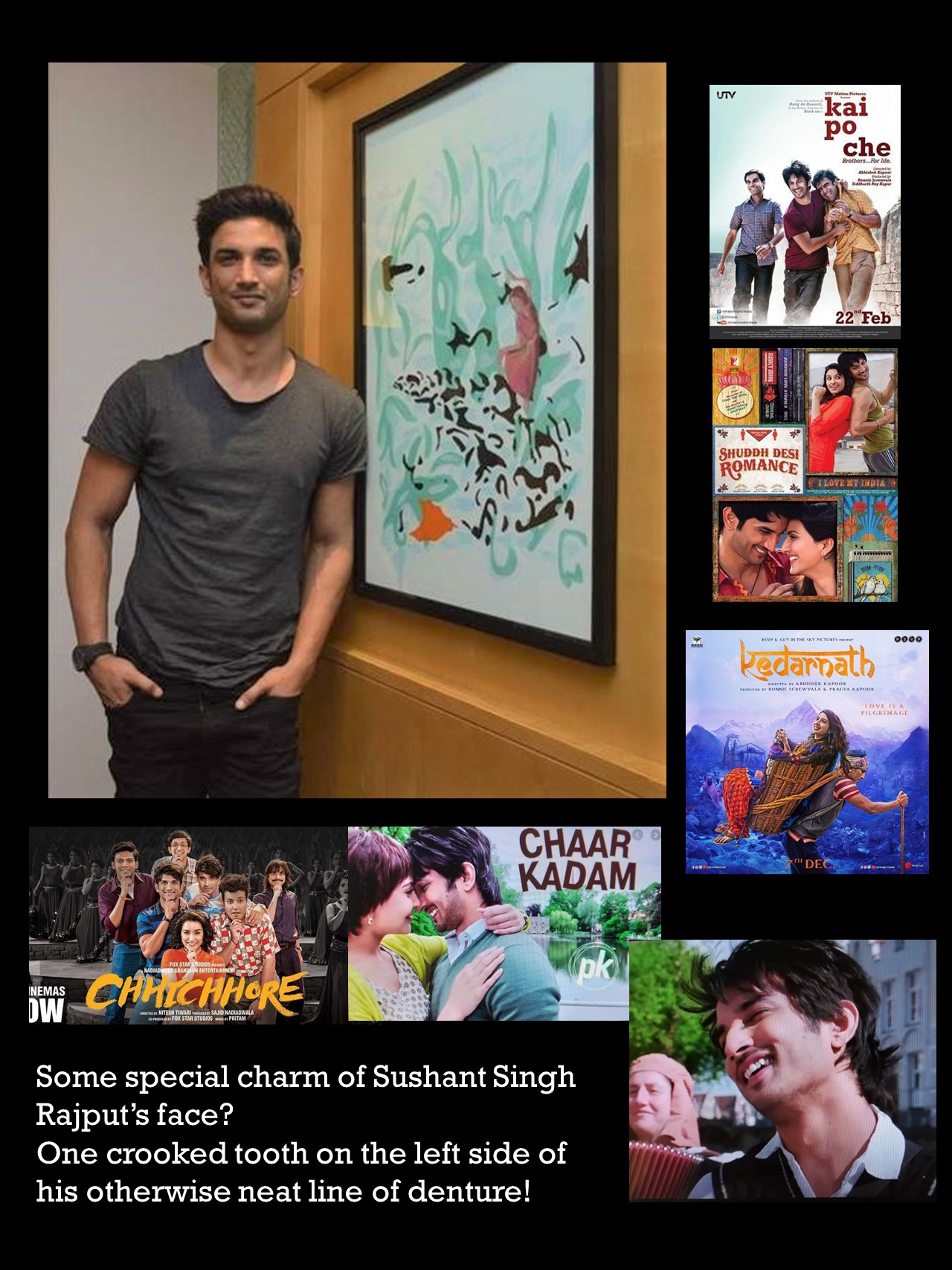 More than the unexpected, untimely and deplorable death of an up and coming young actor Sushant Singh Rajput, the countless accusations and counter accusations make the scenario terrible.

The life, death and the subsequent reactions clearly show the intolerance levels and the ability of the personalities of the glamor world which had unleashed a volley of abuses and verbal tirades.

True. Sushant's death raises a lot of questions because the artiste who is no more is not seemed to be an actor of either mediocrity or who indulged in unsavory ways to retain his position or climb the ladder to stardom. His career seemed to have started with a television serial and dance shows which brought him the to the big screen. He was handsome, talented and never lived below expectations in any of his movies.

I haven't watched all his movies; but his first outing 'Kai Po Che' was a sort of an art movie in which he played Ishaan an irritatingly flamboyant and typically emotional one among the three friends with perfect understanding. I watched him as the most confused hero Raghu in 'Shudh Desi Romance', a film which was as confused as its characters. No blaming of Sushant as he did his job with conviction.

The other movies I watched were quite good ones; in PK he had a small part as the lover of the heroine, 'Kedarnath' a sober romantic youth and in his recent 'Chhichhore' as a responsible father who tried to bring his son from his suicidal tendency by recalling his own younger days' carefree life and also his close buddies. The biggest irony is the 'character' he played in his last film turned reverse in his own personality as a reality. He seemed to have succumbed to his depression of not able to fight with the hurdles put on his path to super stardom.

Well, now there are discussions on the topic with 'murder', 'boycott', and the 'mystery' shrouded his death. The invisible power unleashed by the Bollywood Bigwigs are dragged with some specific names by some film fraternity itself.

Here, I just want to share only one biggest aspect of life. In the most mundane and secured government or private jobs too have the bane of politics, favoritism and nepotism. The so-called intellectuals who control all these are no exceptions in playing their tricks. The farce called 'Awards' and 'Honors' have been beaten to death since long by the personalities and the media. Having said this, film world is more complex, complicated and ruthless as for as unsavory activities are concerned with respect to sex, cheating, undercutting, back biting, money matters and illegal dealings. If someone claims they are angels in the glamor world, it should be taken with a cartload of salt. So anyone who aspires for their future in this vast but ruthlessly competitive and dubious world of cinema, he/she should be ready to face all these. I am not presenting anything new; these have been discussed threadbare in great detail by several articles time immemorial.

I am not specifically accusing India for this aspect. It is prevailing worldwide. Integrity is the least expectable commodity in the glamor world all over the world.

Those who enter that should either be ready to make compromises and tread his/her way or quit silently.

Name, fame, wealth and popularity invariably come only with a heavy price tag.

It is sad that young and talented Sushant Singh Rajput, though intelligent failed to fathom this and had fallen a victim. My tears are for the suddenly snapped life an ambitious, talented and handsome young star!