In the current times of the pandemic, women's voices have often remained muted owing to various types of pressures on them – on the home front, on the professional front and most importantly, on the economic front! Being inherently resilient with a strong in-built coping mechanism, women are doing their best to manage the current uncertain times!

It is in this context that a trio of Indian buddies Hema Ravi from Chennai, Dr. Sridevi Selvaraj from Chennai and Padmaja Iyengar-Paddy from Hyderabad put their heads together and came up with an initiative that provided a platform to women poets to voice their concerns – "Connecting Across Borders – An International Webinar of Women Poets".

This exclusive all-women-poets' event was organized on Google Meet on 11 July, 2020 that saw the participation of 33 poets – one each from Bangladesh, Malaysia, Mauritius and Sri Lanka, and the rest from various Indian States viz., Andhra Pradesh, West Bengal, Chandigarh, New Delhi, Jharkhand, Karnataka, Kerala, Maharashtra, Tamilnadu and Telangana.

As women poets were joining the event, a slide show of the women poets' names, photos and their brief bios kept playing. This slideshow was executed and presented by Dr. Sridevi Selvaraj.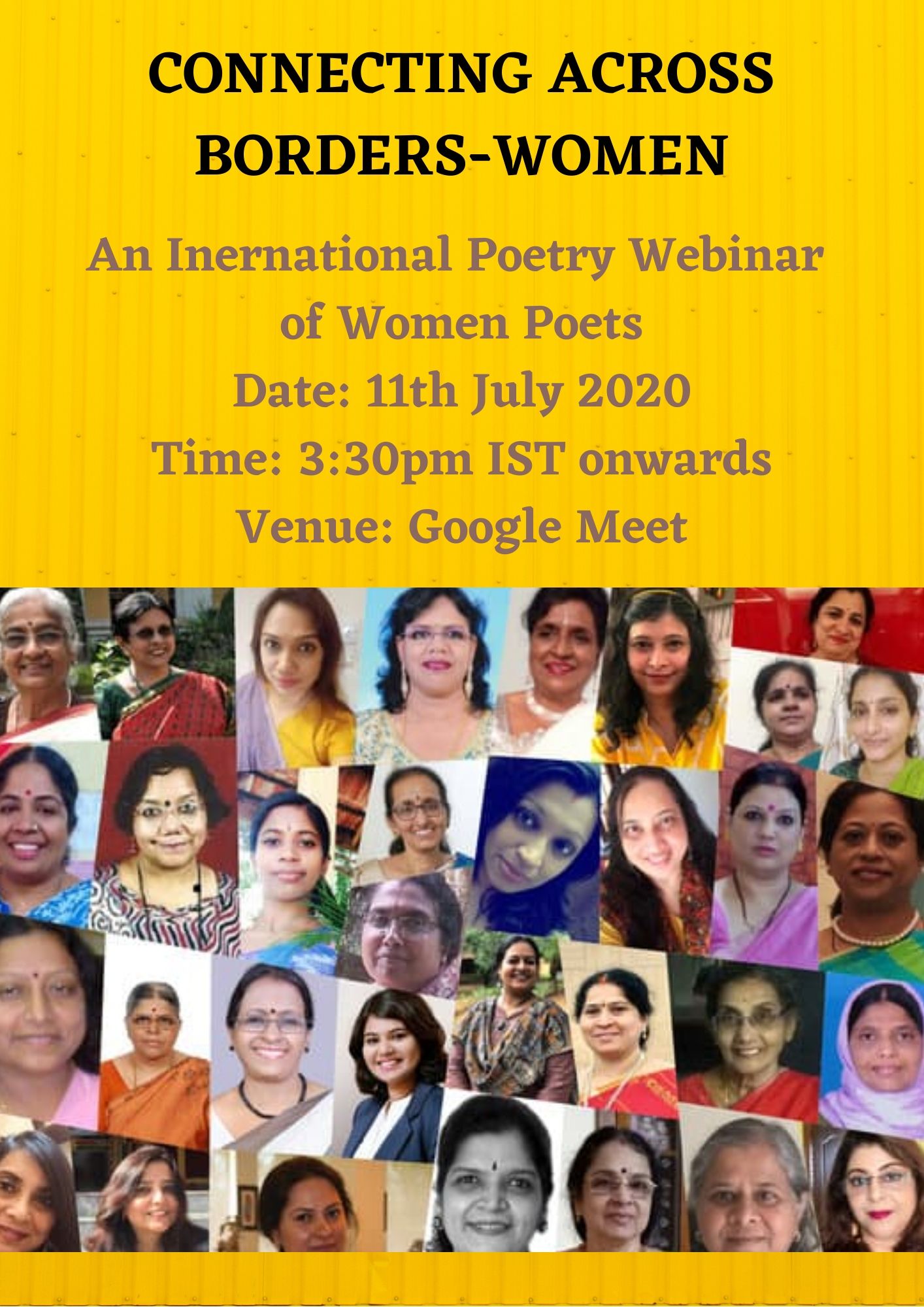 The event commenced with a soulful rendering of a Sanskrit prayer song by Sri Lankan Tamil poet Gayathree Srikandavel. Composed by the great Indian sage Late Kanchi Paramacharya, the prayer song set the tone for the event as it carried an important message: Shreyo Bhuya Sakala Jananam - May all the people of the world be happy and prosperous!

Dr. Varsha Das, an eminent Indian poet, writer and translator, and a recipient of several awards notably the Kendra Sahitya Akademi Award, was the Chief Guest at the event. She also launched "Connecting Across Borders – A Poetry Anthology of Women's Voices", a compilation of the poems that were to be read at the Webinar.

Padmaja Iyengar-Paddy invited the guest poets from overseas to read their poems, introducing them to the other poets by reading out their brief bios – Shafinur Shafin from Bangladesh, Dr. Raja Rajeswari Seetha Raman from Malaysia, Pushmaotee Subrun from Mauritius and Gayathree Srikandavel from Sri Lanka.

Hema Ravi anchored the poetry readings of the Indian poets commencing with poetry reading by Dr. Varsha Das, the Chief Guest.

The event concluded with an impressive slide show titled "Connecting Across Borders – What Contemporary Women Poets Say" comprising snippets from the poetry readings with the poet's name and photo, excellently compiled and presented by Dr. Sridevi Selvaraj.

The event saw a lot of camaraderie, laughter and some light banter among the women poets, as each one was so happy to be there, to see the others – as if we were all meeting in person!

Going further, besides the poetry anthology, the enterprising team of Connecting Across Borders has also come up with an Audio Book "Connecting Across Borders – Poetry Anthology of Women's Voices" with a Video link via YouTube of the poems read at the event.