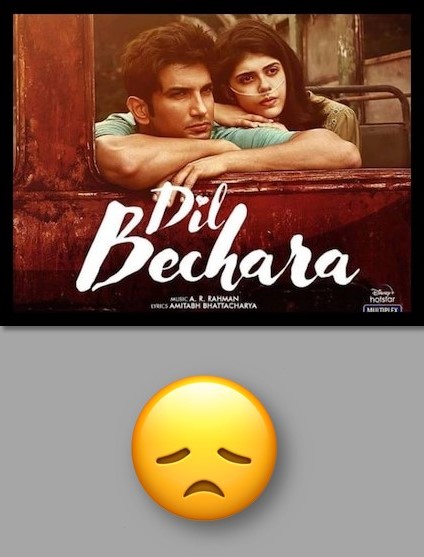 I cannot say whether the release of 'Dil Bechara' is accidental or predestined. The dark love story of two terminally ill young cancer patients Manny (Sushant Singh Rajput) and Kizie (Sanjana Sanghi) where unlike many tragic love tales both the lovers die at the same time, (in fact, it would have been quite logical in this case!) but, one outlives the other. There is scene of a mock funeral talk at the church by Manny's friend and Kizie at the cynical behest of Manny in his presence. This scene paradoxically turns out to be more shocking; because here once again as the popular dictum goes 'Truth is stranger than fiction'.

I have no idea like other reviewers about the original of this movie or novel 'The Fault in our Stars'. To make the movie probably lighter, Manny and his buddy are shown as those who take life easy and funny notwithstanding the awaiting end. In most of the places, except one or two scenes others turn out to be tomfoolery, according to me. The reason for Kizie's trip to Paris is rather too contrived and unbelievable; but, indeed, a relief to see the busy and illuminated city in all its glory.

The new face Sanjana Sanghi is good. Sushant Singh Rajput once again showed that he is a good actor however stupid the scenes and sequences are. No doubt Hindi filmdom had lost a young and spontaneous performer.

Watch the movie if you are a die hard Rajput's admirer. I am an admirer of Sushant but, I am sorry; I didn't like the movie.