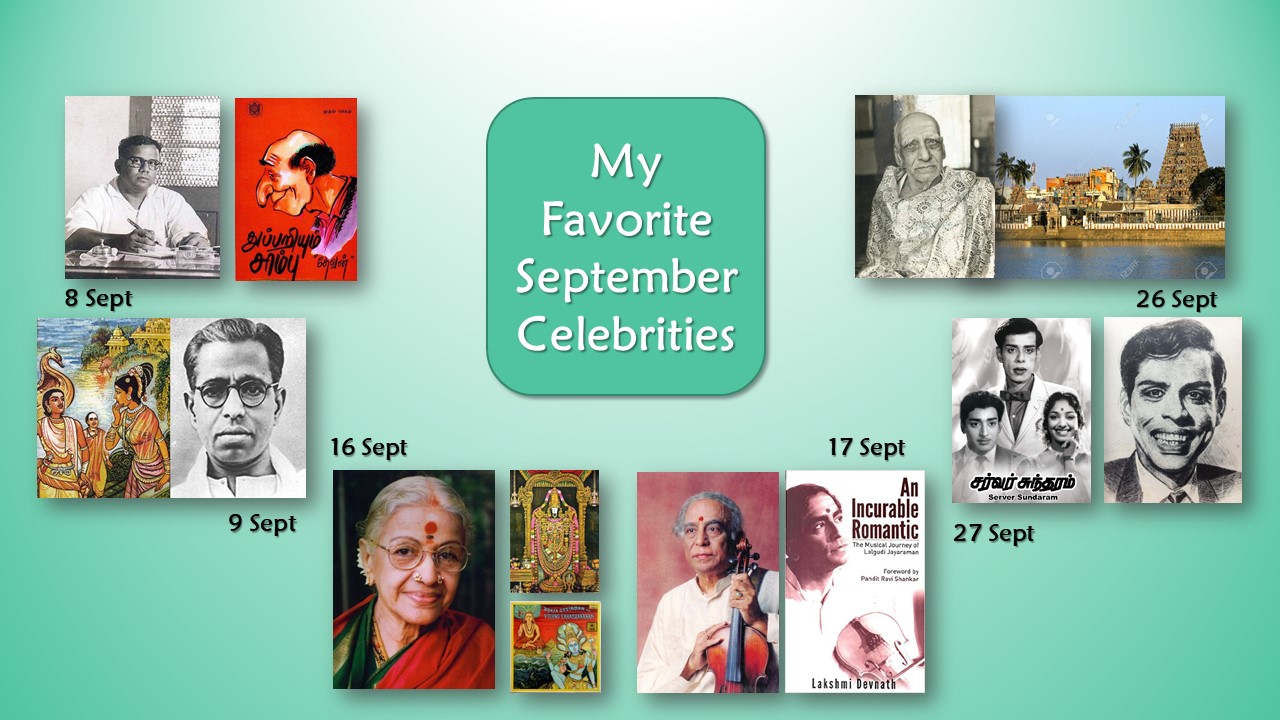 I just would like to recall some of the popular and legendary personalities of Tamil Nadu born in the month of September. It is true that none of them are alive now and it is something impossible too. But, the legacy they have left is something remarkable and eternal.

Devan: (8 Sept 1913- 5 May 1957) R Mahadevan born on 8 Sept at Thiruvidaimarudur, in his short span life of 43 years achieved something which cannot be achieved by any other writer that easily. Joined as the editor of the popular Anandavikatan, Tamil magazine he churned out several short stories, novels and travalogues. A writer with a great sense of gentle humor, the characters he had created during his time are still immortal. 'Thuppariyum Sambu' topping the list, Sriman Sudarsanam, Mr. Vedantham, CID Chandru and Justice Jagannathan. Gomathiyin Kathalan, Miss Janaki, Lakshmi Kataksham and Mythili are his other famous novels. His Mallari Rao stories are equally popular. Devan's way of writing is something to be read and enjoyed.

Kalki: (9 Sept 1899- 5 Sept 1954) R Krishnamurthy was born in Puthamangalam, Tanjore District was another celebrated writer, cirtic, journalist and poet who also started his career with Anandavikatan. After his stint in Vikatan he started his own magazine titled 'Kalki'. Known for his magnum opus 'Pooniyin Selvan' even today, the writer has specialized in writing interesting historical novels like 'Parthiban Kanavu','Sivakamiyin Sabatham' and social novels like 'Tyaga Bhoomi', 'Alai Osai' and 'Kalvanin Kathali'. A prolific writer, he was also music and film critic in different psydonyms.

MS Subbulakshmi (16 Sept 1916 – 11 Dec 2004) Madurai Shanmukhavadivu Subbulakshmi needs no introduction to even those who have the leaset knowledge of classical Carnatic music. The name 'MS' brings only one divine face in mind who is popularly referred as 'MS Amma'. Her 'Venkatesa Suprabatham', 'Vishnu Sahasranamam' and 'Meera Bhajans' are exemplary contributions to the world of devotion and disiciplined music. A musician non pareil, MS's concerts at Edinburgh International Festival of Music and Drama in 1966, Carnegie Hall, New York, the UN General Assembly on UN Day 1966, Royal Albert Hall, London in 1982 and Festival of India in Moscow in 1987 were landmark events of MS as the cultural ambassador of India to these foreign countries. MS's name will remain in the top world over as long as Carnatic music is alive. As a great philanthropist, most of her collections from concerts and royalities have been donated to many charities and the temple of Tirupati.

Lalgudi G Jayaraman: (Sept 17, 1930- 22 April 2013) Another great maestro of classical Carnatic music, Lalgudi G Jayaraman is known not only for his expertise on violin, but also for his varnams and thillanas he composed on the requests of popular dancers. Trained by his martinet father VR Gopala Iyer, Jayaraman started as an accompanying artist at the age of 12. His slow but steady ascend to popularity later made him a solo performer with his sister earlier and later with his son and daughter. His style or 'bani' focused more on the melodic aspect than instrumental calisthenics. He trained many youngsters who are presently shining in the arena of carantic music both as violinsts and vocalists. To know more about 'Lalgudi's musical odyssey, I advise one to read the book 'An Incurable Romantic' by Lakshmi Devnath.

Papanasam Sivan: (26 Sept 1890- 1 Oct 1973) Again a product of Tanjore District, Ramayya (his original name) had to move to Thriuvananthapuram due to the untimely death of his father. Ramayya was a very religious and pious young man who prefer to visit temples and sing in praise of gods and goddesses. His frequent visits to Papanasam brought him the sobriquet 'Papanasam Sivan.' His early stint with Tamil film music earned him great popularity because the songs were sung by MK Tyagaraja Bhagavathar and MS Subbulakshmi. He composed several songs in Tamizh to the delight of the Tamil enthusiasts and all are very popular in classical music concert circuits.
Nagesh: (27 Sept 1933 – 31 January 2009) Cheyur Krishna Nageswaran migrated to Chennai from Dharapuram in search of livelihood. His association at the struggling days with Vaali, CV Sridhar and later K Balachander connected to films made him into an actor with comedy being his forte. He reigned supreme for nearly 5 decades in the film world not only in Tamil but also in other indian languages. He is still popular for his characters in 'Kathalikka Neramillai', 'Neer Kumizhi', 'Server Sundaram' and 'Major Chandrakanth'. Later, also his role as an antoganist in 'Apoorva Sahodarargal' and 'Michael Madana Kamarajan' also brought him laurels. I still remember Nagesh in Radio play serials like 'Dubash Veedu', and 'Kappukkatti Chathiram'. No doubt Nagesh is a remarkably versatile artist of our times.