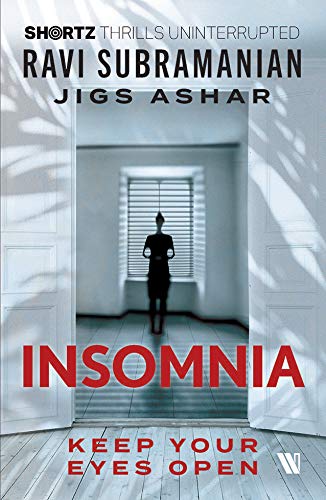 When it is a book, that too a thriller from Ravi Subramanian made me quite excited. It had been mentioned that there is going to be a new series of ' short(z) novels of thrills uninterrupted ', even before its release my pulse rate increased.

The first book 'INSOMNIA' by Jigs Ashar and Ravi Subramanian runs to 155 pages. An anonymous call from a man to Azad Maidan Police Station where a smart young lady Meera Dixit, an Assistant Commissioner of Police is in charge saying his wife is attempting to kill him sets the story rolling. Another smart young police officer Aditya Sachdev joins Meera in her odyssey to investigate the mystery. The stakes on the main victims of the mystery involve a multinational Pharma concern and millions of rupees.

Thriller? Yes. Up to a point. The mystery started to unravel by page 104. So for me the end wasn't surprising. Only the events need sorting out.

Some age old facts are reinforced through this novel; the media is the one who make decisions of what is crime and what is not; men are idiots in the case of pretty women however, intelligent they are. Money makes and unmakes things. Damp!

Honestly, it read more like Tamizh popular writer Sujatha's Ganesh - Vasanth thrillers. There will be at least some wise cracks by Vasanth which will make the reader chuckle or laugh out loud in some places. Here that was totally absent.

I expected better stuff from Ravi Subramanian!